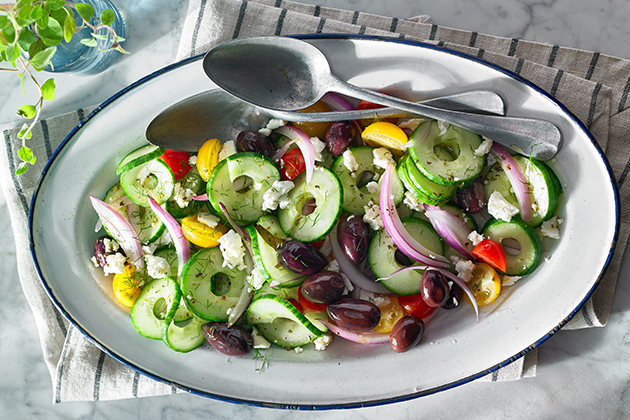 Greek Cucumber Spiral Salad
Makes 4-6 servings
INGREDIENTS
1 large seedless English cucumber
1 pint grape tomatoes halved or 2 cups chopped tomatoes
1⁄3 cup pitted Kalamata olives
1/4 cup thinly sliced red onion
3 ounces feta cheese, crumbled or cut into chunks
For dressing
1 tablespoon lemon juice
1 tablespoon red wine vinegar
3/4 teaspoon kosher salt
1/4 teaspoon pepper
1/2 teaspoon dried oregano
2 teaspoons fresh minced dill or 1/2 teaspoon dry
1/4 cup olive oil
DIRECTIONS
Attach Spiralizer Attachment to the KitchenAid® Stand Mixer. Trim the ends of cucumber. Center cucumber on fruit and vegetable skewer; attach to Spiralizer. Attach small core slicing blade and position at end of cucumber. Turn stand mixer to speed 4 and process until blade reaches end of cucumber. Slice the sliced cucumber in half to create individual slices.
Place tomatoes, olives, onion and sliced cucumber in a large bowl.
Whisk together all the dressing ingredients except the olive oil in a small bowl. Slowly add the oil into mixture while whisking. Toss the dressing with the salad, top with feta cheese and serve.

Print
*The Contributor of this post has been compensated by KitchenAid for this post, but this post represents the Contributor's own opinion.*