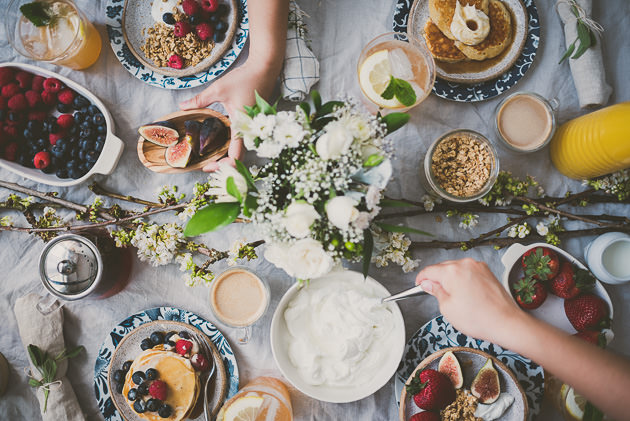 Brunch has always claimed a special part of my heart, especially during the spring and summer. When the snow starts to melt and the flowers begin to bloom, I always look forward to gathering with friends and going out to local brunch spots or hosting a brunch at home for a casual, intimate meal. Bright sun, cheerful plates of fruit, stacks of pancakes and a spread of beverage options – planning and putting on these brunches is almost as satisfying as the resultant laughter, good conversation, and full bellies. From formal and elegant gatherings to casual, buffet get-togethers, the options for creating your perfect brunch event are endless. I like to keep my brunches simple with a pancake bar and plenty of beverage options.

For pancake toppings, I suggest having an array of berries, honey, maple syrup, whipped cream, and vanilla bean crème.
For the beverage bar, I usually provide a variety of teas. I recommend getting loose leaf teas and serving with personal strainers for the best quality brew. Have some water pre-heated in your KitchenAid® Kettle with Full Stainless Steel Handle and Trim Band so your guests are able to pour themselves a mug of tea when they arrive.
Mimosas made with freshly squeezed orange juice are another classic drink option, but everyone knows that brunch isn't complete without coffee. With the KitchenAid® Pro Line® Series Espresso Maker, your friends can brew espresso and steam milk at the same time with the dual independent boilers. You can even create latte art with the frothing pitcher, for a barista-made feel.
For a final drink option, I always love to put together something unique, specially concocted for this particular brunch. It could be a cocktail, a twist on a mimosa, or a special latte. Since it's finally springtime, I decided to celebrate with a grapefruit ginger soda with homemade grapefruit-ginger syrup and plenty of carbonated water made with my KitchenAid® Sparkling Beverage Maker.
To make this soda, heat the zest of two grapefruits and the juice of one grapefruit with honey, fresh ginger, and a pinch of salt to make a potent syrup. Then, steep for at least an hour to allow the flavors to permeate throughout the syrup. Strain the mixture to leave behind the solids before adding carbonated water from your Sparkling Beverage Maker.
I keep the décor for my brunches casual. A napkin rolled up and tucked with a fresh sprig of herbs never fails to impress, and a mix of ceramics provides a light and cheerful feel to the table setting. Adding flowers to your tablescape can also bring glamour and style to even the most casual setting. To celebrate spring, I spread a few flowering branches for both texture and contrast, and complemented that with a mini floral arrangement in shades of gray and white.
After hosting a few brunches, my biggest tip for hosting is to prepare as much as you can beforehand. Make up the pancake mix the night before and lay out the drink options you plan to serve. Pre-chop fruits and select the vessels and serving dishes you'll be using. I suggest using the KitchenAid® Ceramic 4-Piece Nesting Casserole Set to add an elegant accent to your tablescape.
As I suggested, boil water in your your KitchenAid® Kettle ahead of time so that the water will be hot upon the arrival of your guests.
Lastly, I recommend steeping your grapefruit-ginger syrup the night before for an ample flavor profile in your beverage.
Less preparation during the morning of the brunch will help the gathering run smoothly. Don't be afraid to delegate – ask someone to prepare a playlist, bring flowers, or a bottle of bubbly!
Be sure to share your take on this Grapefruit Ginger Soda recipe with us on Instagram using #MadeWithKitchenAid for a chance to be featured.
Grapefruit Ginger Soda
Makes 4 servings
INGREDIENTS
For the grapefruit-ginger syrup
Zest from 2 pink grapefruits
Juice from 1 pink grapefruit
1 cup water
2 tablespoons lemon juice
3 thin slices fresh ginger
1/2 cup honey
Pinch of salt
For the grapefruit ginger soda
Grapefruit-ginger syrup
Fresh sprigs of mint, for garnishing
1 bottle carbonated water made with KitchenAid® Sparkling Beverage Maker
DIRECTIONS
For the grapefruit-ginger syrup
Place all the ingredients in a saucepan. Bring the mixture to a boil. Turn heat to low and simmer for a few minutes. Cover and let sit for at least an hour or overnight.
Strain to remove solids. Transfer to an airtight container. Use immediately or store in a refrigerator for up to 2 weeks.
For the grapefruit ginger soda
Place 3 tablespoons of the grapefruit-ginger syrup in a cup with some ice. Top with carbonated water from your KitchenAid® Sparkling Beverage Maker. Garnish with fresh mint!
Print
*The Contributor of this post has been compensated by KitchenAid for this post, but this post represents the Contributor's own opinion.*