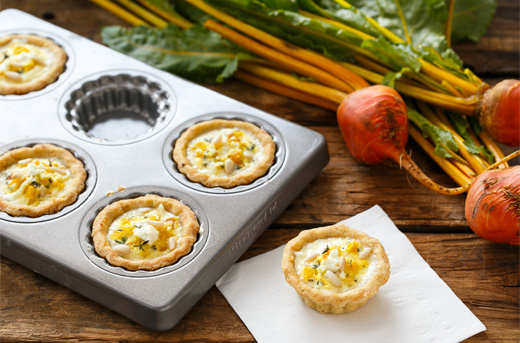 Quiche is often pigeonholed into a category with stuffy buffet brunches, their typically soggy crusts and none too interesting fillings don't make many favorite-foods lists. But quiche (basically a frittata with a crust) can be so much more interesting than mundane Lorraine.
These mini quiches are as tasty as they are cute, with a hearty filling of golden beets, savory herbs, and creamy goat cheese on top. They'd make a great anytime-appetizer at your next party, as they are equally enjoyable at room temperature.
Gorgeous, golden beets have all the earthy flavor of red beets but without the shocking color. Even on Easter, when colored eggs abound, pink eggs aren't exactly appetizing.
For those beet-haters among us (which, I implore you to give them a try in a recipe like this one before you turn up your noses once and for all) this recipe could easily be made with another roasted hearty vegetable like russet or sweet potato, or even a summer squash like zucchini (tender enough you can skip the roasting altogether).
The pine nut crust comes together with the help of the KitchenAid® 13-Cup Food Processor. Once you add the egg, just pulse a few times until the crumbs are evenly moistened (don't overmix or you'll end up with a tough crust). It's ready when you can pinch some between your fingers and it sticks together.
A 3 1/2-inch circle cutter is the perfect size for the KitchenAid® Mini Pie Pan, but you can also use a similar sized bowl and trace around the top with a pairing knife. Gently ease the dough into the cavities; the less 'stretching' that occurs the less the crusts will shrink in the oven.
I discovered that mini cupcake papers are the perfect size liners for the KitchenAid® Mini Pie Pan, and it makes filling them with pie weights (another strategy to prevent shrinking) incredibly easy. You can also use squares of parchment paper as a liner for the weights.
The crust also gets a quick egg-white wash, which essentially 'waterproofs' the crust against the moisture from the filling, allowing the crust to stay tender and flaky through and through.
Beets. Goat cheese. Pine nuts. Thyme. Indeed, this little quiches are packed with unique flavor. Boring granny quiches they are most definitely not.
Two-bites of pure, eggy perfection. Aren't they precious? I have to say this KitchenAid® Mini Pie Pan is all sorts of adorable, and as I've proved here, is perfect for savory recipes as well as sweet ones.
Bite-Sized Golden Beet and Goat Cheese Quiches with Pine Nut Crust
Makes 6 servings
INGREDIENTS
For the crust
1 cup all-purpose flour
2 tablespoons pine nuts
1/4 teaspoon salt
1/4 cup (1/2 stick) cold unsalted butter, cut into cubes
1 large egg
1 large egg, separated
For the filling
1 large golden beet
Olive oil, for roasting
1 large egg
1/4 cup whole milk or half-and-half
1/2 teaspoon fresh thyme leaves
1/4 teaspoon minced fresh rosemary
1 garlic clove, minced
Pinch nutmeg
salt and freshly ground black pepper
2 tablespoons crumbled goat cheese
Additional pine nuts, for garnish
DIRECTIONS
Preheat oven to 400 degrees F.
For crust, pulse flour together with pine nuts and salt in the bowl of your KitchenAid® Food Processor until finely ground and evenly incorporated. Add butter cubes and pulse until it forms pea-sized crumbles. Add egg and egg yolk (reserve remaining egg white for later) and pulse 3 to 4 more times until evenly moistened. If necessary, add up to 1 tablespoon of cold water until crumbs stick together when pinched between your fingers. Turn crumbs out onto a piece of plastic wrap, and knead once or twice until crumbs form a ball. Flatten slightly into a disc and wrap tightly in plastic wrap. Refrigerate for at least 30 minutes.
Trim the stem end of the beet and rub all over with olive oil. Loosely wrap beet in aluminum foil, cut side down, gathering foil around the neck of the beet. Roast for 40 to 45 minutes until fork tender. Remove from oven at let cool about 10 minutes. When beet is cool enough to handle, rub between two paper towels; the skin should slide off easily. Slice and cut into a 1/4-inch dice.
Reduce oven temperature to 375 degrees F. On a lightly floured surface, roll crust dough to a 7-by-11-inch rectangle, 1/4-inch thick. Cut out 3 1/2-inch rounds using a cookie cutter or trace the top of a small bowl with a pairing knife. Gently ease rounds into KitchenAid® Mini Pie Pan cavities, taking care not to stretch the dough. To prevent shrinkage, place a mini muffin papers inside each crust (or use a piece of parchment paper) and fill with pie weights or dried beans. Bake for 10 minutes, then remove weights and papers and brush with lightly beaten egg white. Bake for 5 minutes more or until just barely golden brown around the edges. Remove from oven and let cool for at least 10 minutes.
For filling, whisk egg, milk or half-and-half, thyme, rosemary, garlic, nutmeg, and a pinch of salt and pepper.
Spoon 1 tablespoon of diced beet into each crust. Pour in filling mixture to within 1/4-inch of the tops of the crusts. You may have leftover filling. Sprinkle with crumbled goat cheese and a few pine nuts on top, if desired.
Bake quiches for 15 to 18 minutes or until tops are set and no longer jiggly, and edges of crust are golden brown. Let cool slightly, then remove from pan with the aid of removable bottoms. Serve warm or at room temperature.

Print
*The Contributor of this post has been compensated by KitchenAid for this post, but this post represents the Contributor's own opinion.*