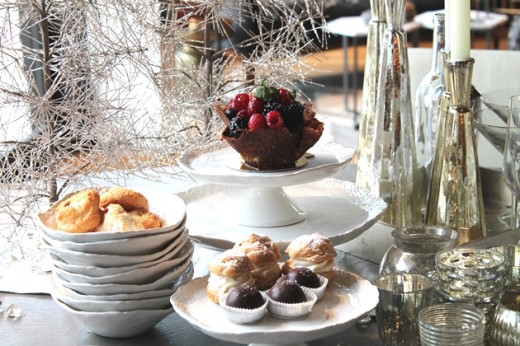 As the air begins to chill and the leaves start to turn, fall sets in and my excitement is uncontainable, as it's the beginning of parties and celebrations in my home with the holiday season upon us.  Living a gluten-free lifestyle, the way I entertain and the foods I prepare have not really changed too much, but I've recently been trying out a plant-based diet and it's stretching my cooking/baking skills for sure!  The big difference is really in the breads, sauces and desserts, but one learns to adapt quickly.  Nothing delights me more than to serve delicious food, so good my guests don't even know it's gluten-free.
Many of my friends struggle with what to make during the holidays as they're entertaining and catering to guests with various dietary needs.  "Rachelle what can I make that is gluten-free and not your run of the mill chips and salsa?"  It's really quite simple to be honest! Take classic dishes and put a gluten-free spin on it, as it's not only easy, but you'll blow your guests minds with how delicious eating gluten-free can be!
Where to start you ask?  Here are the a few simple steps to take entertaining to the next level and throw a great party:
Determine the theme of the party

:  Are you celebrating one of the many holidays or a birthday?  Let the holiday or type of party help guide you as to color palette/the styling of the party – you can keep it rustic or go modern.  Lay out your serving dishes ahead of time so you can get the right flow. Use items from around your home that add dimension and charm (e.g. French Market Wire Basket, candles, and cake plates).  Fresh flowers are always a lovely finishing touch – Add fruit to a clear vase for a pop of color (e.g. cranberries or lemons). You can also use Brussels sprout flowers as a floral decoration. Totally lost for inspiration? Spend some time at your local bookshop looking at design magazines.  Let's not forget such local style trend setter Camille Styles and other design blogs as a resource.  Houzz.com is my latest addiction!
Guest List

:  Do any of your guests have food allergies?  You'll probably already know by now if they do and they're coming to your party.  As someone with a food allergy, I always try to accommodate others even if I don't know of guests food allergies – so many people are trying to keep it healthy these days.  So when entertaining I always have dishes for meat eaters, gluten-free and vegetarian dishes.
Heavy appetizers or sit-down meal

:  Once you've determined whether you're serving appetizers or a full sit-down meal, you can begin menu planning.  Many times when entertaining during the holidays, guests have more than one party to attend.  Regardless of appetizers or a sit-down meal, pick out 1-2 dishes you can put your personal touch on.  Compose the remainder of the menu with minimal effort dishes to pull together – ones you'll simply plate.  Planning out your menu will also help you keep your cost down.
Preparation Timeline

:  Once you've set your party theme, drawn up the menu, put together a timeline to help you stay on track and be the "Hostess with the Mostess!"  Nothing elaborate is needed, just a simple list of cook times on dishes and what needs to be started first.  If you can prep items ahead of time to make the day of easier, go for it!
Don't hesitate to purchase pre-made items needed

:  I don't know about you but I know my schedule is jam packed so I leave it to the professional at times.  So for items such as seafood dip and hummus, I head to Whole Foods Market or Central Market, but any grocery store carries such items these days.  I know I can pick up good quality products that are going to be super tasty, gluten-free, make my guests really happy and make my life 100% easier!
Here is a sample menu for a party that was heavy on appetizers and desserts.  I love pulling together fresh-cut charcuterie and a selection of cheeses, as you can never go wrong.  Not everyone is a lover of chocolate (I know, really?) but it's important when entertaining to provide for your guests with several options that meet their dietary needs – at least I always try, being someone with a food allergy.
Appetizers:
Prosciutto de Parma
Mocetta (Bresaola Piccola)
Bonhomme Brie Isigny St. Mere
Hombult Blue Fog – hint of floral notes, herbal overtones and a citrusy finish.  Drizzle raw honey over the top and serve on a cracker or French bread.
Selection of Olives – Whole Foods Market or other specialty stores carry a variety of olives you can choose from (I usually pick up 1/2 quart of each.
Crudités – Pick up a packet of colorful early fall harvest tomatoes.  These are tasty bites and easy for your guests to eat & pair perfectly with meats and cheeses.  Another great addition is bell peppers – Cut up red, yellow & orange peppers to add vibrant color to your table and have options for vegetarian eaters
Stuffed Endive – Fill with a seafood mouse and top with caviar.  This is a light and delicious appetizer that's easy to make and guest love it every time even if they don't like caviar
Hummus – This is always a favorite regardless of dietary needs.  I put out gluten-free crackers and crudités, along with gluten-free French bread giving my guests several options on how to lop up this middle-eastern favorite.
Tea Sandwiches – Traditionally these include egg salad, tuna, cucumber with cream cheese.  Mix it up and add capers to the tuna recipe and smoked salmon to the cucumber sandwich.
Desserts:
French Macarons – Always a party favorite and gluten-free, these little French gems can be made ahead of time.  Don't have the magic touch with these cookies?  Many bakeries around town carry these as they've created a fever pitch here in the US the past few years.  Many bakeries make seasonally themed flavors which can add a level of sophistication to your dessert display and put a smile on your guests' faces.
Tarts – With the fall season upon us you have such a bounty of fruits to choose from.  Lemon, lime, berry, apple, pear – you can't go wrong with whipping up mini tarts.  This is one of the items I like to personally make as time and time again my guests rave about the crust on these delicious little bites.
Cream Puffs – Made from a choux, these can be made any size you like.  Have just a few guests coming?  Go big or go home!  These delightful airy desserts can be filled with chocolate or vanilla custard or a bourbon flavored coconut whip cream and finished off with powdered sugar.  Always a party favorite!
Parfaits – Just add a spoon!  Easy to carry for your guests and can be made up ahead of time.  They add a colorful touch to your table and can be made using mini ball jars for a rustic touch.
Candied Nuts – Make up a batch of spicy almonds adding in brown sugar and smoked paprika or pick up some candied almonds (think wedding favor type).  An easy add to your table and can be placed in a silver glass or canning jar to add dimension to your table.
Main Dish/Side Dish:
I'm keeping it plant-based this holiday season for the main course/side dishes I'm making.  There are so many savory dishes that you can whip up that are also gluten-free in addition to being plant-based.
Twice baked sweet potatoes
Fresh grilled vegetables
Butternut squash soup
It's really all about your guests – that's the important thing to remember, but it's also about having fun while entertaining.  Entertaining for me is about putting my best foot forward and serving up dishes my guests will want more of.  I receive so much joy in feeding others and entertaining – It really is at the core what makes me happy.
Don't forget about the bar/drinks station set-up.   Grab a few party favorites or come up with a themed cocktail.  Either way guests can have their favorites and enjoy new booze forward cocktails you've created for them.  Don't have a bar?  That's ok a side table works perfectly, as does a TV dinner tray or desk!
I hope these tips help you to entertain with ease – Remember you can put together an amazing menu, have fun and not drive yourself crazy pulling it all together. Happy Entertaining!
Want help with your party this year – I can work with you to pull together a great menu and setting for a lovely party. We'll have a ball planning a party!  For recipes not listed here email me directly at blindedbythebite@me.com.
Gluten-Free/Oil –Free Hummus:
INGREDIENTS
1 15-oz. can garbanzo beans (I prefer organic low-sodium)
1/4 cup vegetable broth (I prefer organic low-sodium)
2 garlic cloves
1 1/2 tablespoons of lemon juice (freshly squeezed)
1/4 teaspoon of Tamari
1/4 teaspoon salt (Kosher)
Parsley and capers for garnish
DIRECTIONS
Using a KitchenAid® Food Processor, toss all of the ingredients in and combine until ingredients are completely smooth.  Taste hummus and add additional seasoning as needed  – e.g. you can add in a touch of cumin to add earthiness to the dish.  If your consistency seems to thick, add in vegetable stock at 1/2 teaspoon at a time.
Put in a serving dish you love and finish off with parsley, tearing off a few sprigs and scatter across the top of the hummus or add in capers.
Print
Gluten-Free Tea Sandwiches
(Egg, Tuna, Salmon/Cream Cheese & Cucumber):
INGREDIENTS
For the sandwiches
1 loaf gluten-free bread (white)
For the egg salad filling
4 hard boiled eggs
1 tablespoon pickle relish
2 tablespoons of mayonnaise
1/4 teaspoon HuY Fong Sriracha Hot Chili Sauce
Salt/Pepper
For the tuna salad filling
1 can tuna (low sodium/in water)
1/2 clove of garlic (I like to roast the garlic as it creates a smooth sweet taste)
1/2 white onion (chopped)
1 tablespoon of mayonnaise
For the salmon, cream cheese and cucumber filling
1- 8oz container of cream cheese (if you can get farm fresh cheese its best)
1 cucumber
1-package of smoked salmon
Salt/Pepper
DIRECTIONS
For the sandwiches
Taking the entire loaf of gluten-free bread, cut off all the crust.  Toast until both sides are lightly browned.
Taking the toasted gluten-free bread stack two (2) slices high and cut on the diagonal both ways, creating an "X" basically that results in four (4) tea sandwiches.  Continue this until entire loaf is done.  Evenly distribute the toast into three piles. Set aside and prepare tea sandwich fillings.
For the egg salad filling
Chop up the hard boiled eggs and place into a mixing bowl, adding in pickle relish, mayo, and sriracha.  Salt and pepper to taste.  Place bowl in refrigerator until ready to prepare.
For the tuna salad filling
After draining the tuna, place into the KitchenAid® Food Processor, pulsing one or two times to mix up the tuna.  Add in the garlic (you can pre-roast for a deeper/sweeter flavor), mayo and chopped white onions, pulsing 2-3 times until ingredients are incorporated.  Place bowl in refrigerator until ready to prepare.
For the salmon, cream cheese and cucumber filling
Take the cucumber and run a fork down the sides creating a pattern – repeat two more times.  Next slice the cucumber in thin slices either by hand or on a mandolin – lightly salt/pepper and hand toss to incorporate.  Lightly coat the toast with cream cheese, adding on the cucumber and finishing off with the smoked salmon.  Fasten with a fancy toothpick.
Print
Pecans are in season here in Austin, but there are so many other great nuts out there I like to use when making candied nuts.  Whole Foods used to have this "Hot Nut Bar" in the flagship store here in Austin – I seriously miss it every day I walk into the store!
Candied Nuts
INGREDIENTS
1/4 pound of 3-4 nuts of your choice
1 tablespoon of brown sugar (can substitute palm sugar)
1/4 teaspoon of smoked Hungarian paprika
2-3 slices of Serrano chilies
DIRECTIONS
Add 1/4 pound of 3-4 nuts you like into a hot non-stick pan or into a cast iron skillet.
Add in 1 tablespoon of brown sugar (can substitute palm sugar), 1/4 teaspoon of smoked Hungarian paprika and 2-3 slices of Serrano chilies.
Allow to slightly smoke in pan bringing flavors to full release.
Place in a beautiful dish alongside stuffed olives and cheeses.

Print
*The Contributor of this post has been compensated by KitchenAid for this post, but this post represents the Contributor's own opinion.*