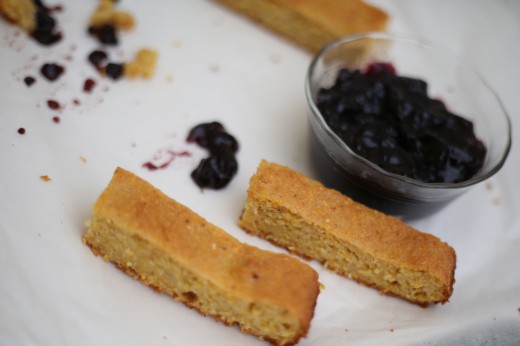 Hello, my name is Tess, and I'm a cornbread addict. It was one of my favorite things when I moved to the U.S. as a college student. Since cornbread was not part of our culture in Australia (where I grew up) I compensated for years of corny deprivation by grabbing a cheeky slice at the cafeteria every night for dinner. My heart was singing, but my stomach was blowing (or should I say bloating) out a different tune. Yep! I had a gluten and dairy allergy.
Being unwilling to imagine or tolerate a life without my favorite obsession, I was on a mission to create a gluten and dairy free version that my stomach could handle. I enjoyed this more forgiving variety for years until my niece was born, and developed severe food allergies to gluten, dairy, eggs, and nuts. I was inspired to developed this allergy-free cornbread recipe so that she (and others suffering with multiple food allergies) could share in the cornbread love.
Alexandra (my niece) loves to cook with her mom and dad and I thought this recipe would be wonderful for them to make together for Mother's Day (even though it's still about a month and a half away. Never too soon to start planning!) Dad would always help Kara and I make breakfast in bed and then dinner for mom, and my brother-in-law Leigh is continuing that tradition with Alexandra. Perhaps you do something similar with your family.
Cornbread is a perfect accompaniment to whatever you're making for mom. But, it's a very personal thing. Everybody likes it a different way. There are a lot of different varieties – sweet and savory, and you add all kinds of flavors limited only by your imagination. I love spicy cornbread, and my niece loves the sweet kind. I decided to share a really neutral recipe that is slightly sweet, but can still be enjoyed as a savory accompaniment.
Gluten-free vegan cornbread and allergy-free cornbread can be tricky. It's can be heavy, tasteless, crumbly, and dry. I really love this recipe because it's dense and filling, but not too heavy. I like my cornbread with a bit of texture. So, I use the course cornmeal. But, you could also use corn flour if you prefer. I also like using almond milk because it is so creamy. But, if you are cooking for nut allergies rice milk works really well too.
I love using my KitchenAid® stand mixer for this recipe because it makes it all so quick and easy.
Pour the milk, oil, applesauce, maple syrup and vanilla extract into your KitchenAid® stand mixer and process on a medium speed for about a minute until well combined.
Next, mix together your dry ingredients. I like to sift the gluten-free flour mix (I used Bob's Red Mill which is a good blend) and baking powder, and then stir in the cornmeal, xanthan, and salt. Add the dry mixture to the wet ingredients and mix on a medium speed for about a minute until a nice dough forms.
Transfer this dough to a greased and floured pan, and bake for about 30 minutes. Rotate your tin to get a nice even browning and bake for a further 20 minutes. If you insert a skewer in the center it should come out clean.
Allow the cornbread to sit in the pan on your counter top for a further 20 minutes to make sure the bread is cooked all the way through. Then gently release it from the pan. I like to give it a hand by placing a knife around the edges and placing a chopping board over the top and then turning it upside down to catch the bread.
The bread should have a nice golden brown finish.
Serve warm for dinner or eat it as a snack with some jelly like I did. YUM!
Gluten-Free Vegan Magic Maple Cornbread
Makes 6-8 servings
INGREDIENTS
1 cup almond milk or rice milk
1/4 cup grape seed oil
1/4 cup unsweetened applesauce
1/4 cup + 2 tablespoons pure maple syrup
2 teaspoons natural vanilla extract
3/4 cup gluten-free all-purpose flour
2 teaspoons gluten-free baking powder
1 cup course cornmeal
1 teaspoon xanthan gum
1 teaspoon natural salt
DIRECTIONS
Preheat your oven to 350 F.
Grease a 8.5 by 8.5-inch square baking tray with a bit of grape seed oil and sprinkle some flour over the top to prevent the bread from sticking.
Pour all of your wet ingredients in your KitchenAid® stand mixer and process on a medium speed for about a minute until well combined.
Next, sift the flour and baking powder together, and stir in the cornmeal, xanthan, and salt until well combined.
Add the dry ingredients to the wet ingredients and process in your KitchenAid® stand mixer on a medium speed for 1 to 2 minutes until a nice batter forms.
Pour the batter into your greased baking tray and bake for 30 minutes.
Rotate the tin and bake for another 20 minutes or until a skewer placed in the center comes out clean.
Remove from the oven, and allow the bread to stand in the tin for about 20 minutes.
Gently run a knife around the edges of the pan to help release the bread. Carefully release the bread onto a board.
Cut and serve warm or cool completely and store the uncut bread wrapped in the fridge.
The bread will keep for about 3 days.
Print
*The Contributor of this post has been compensated by KitchenAid for this post, but this post represents the Contributor's own opinion.*