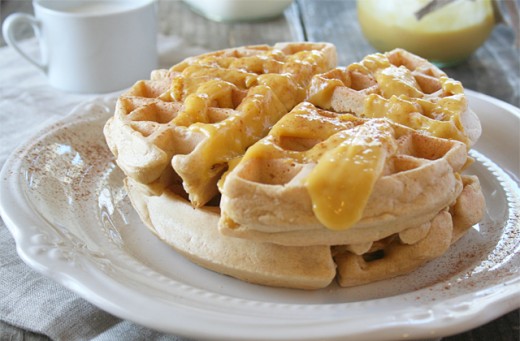 For the longest time I was confused why some people are so enamored with waffles. I mean, really, aren't they just a pancake taken form in a different shape? Oh man was I ever wrong. After I married my waffle-crazed husband, I found out pretty quickly that a waffle is so much more than just a funky shaped pancake but a threshold of texture. When made correctly, waffles have a crispy outer edge with a soft and chewy center that melds together as one. Its flavors are elevated when paired with a warm maple syrup or, how my family has been enjoying them lately, with a citrus orange curd.
During the colder months when citrus fruits are in the height of their season, I enjoy to make a variety of curds sweetened with the floral tones of local honey. It's very simple to make and only requires a few ingredients including the yolks of farm fresh eggs, butter, honey, and the zest and juice of your favorite citrus fruit.
Over the stovetop, the butter and eggs are whisked into one. The honey is then added along with a 1/2 cup of citrus juice and continually whisked until thickened enough to coat the back of a spoon. This only takes 3-5 minutes. Once thickened, the curd is taken off the stovetop and the zest is mixed in and allowed to infuse the curd with its fragrant essential oils. I then like to slowly pour it into my favorite mason jar and allow it to cool and thicken even more in the refrigerator.
It's a delightful treat and taste impeccable a top homemade waffles.
Over the past few months my family has been experimenting with gluten-free flours to use in some of our baking.  I've found the most success in grinding my own rolled oats to fine flour. This can be done with the KitchenAid® All Metal Grain Mill Attachment.
It makes gluten-free baking a breeze as it can be substituted for all-purpose flour 1:1. The best thing is that it tastes great.
The thing to note when baking with oat flour is that it absorbs much more liquid than regular all-purpose flour. So when mixing your batter, make sure to add 1/4 – 1/2 cup more milk than you'd think since as it sits, it will thicken.
The best part about making waffles is having the KitchenAid® Waffle Baker. Holy TOLEDO… oh man, this thing is amazing. I'm talking better than hotel waffles. It's so simple to use as well. It heats up quickly and allows you to bake 2 waffles at a time. Yeah, 2!
All you need to do is fill one side with 1 cup batter, flip it, fill the other side with another cup of batter, flip it again, and then allow it to bake for 2 1/2 – 3 1/2 minutes. It's so simple and the results are amazing!
What I especially like is that they pop out so easily. No spray or butter needed.
All that's left to do is top the warmed waffle with dollops of zesty, gently sweetened, creamy, orange curd.
Oh yeah!
Gluten-Free Vanilla Waffles with Orange Curd
Makes x servings
INGREDIENTS
For the orange curd
6 tablespoons butter
6 egg yolks
1/3 cup honey
1/2 cup orange juice
1 tablespoon lemon juice
zest of one orange
For the gluten-free vanilla waffles
3 cups oat flour
2 teaspoons baking powder
1/2 teaspoon salt
2 eggs
1 tablespoon honey
2 teaspoons pure vanilla extract
2 1/2+ cups milk
DIRECTIONS
For the orange curd
In a heavy bottomed saucepan, whisk together the butter and egg yolks. Once mixed through, whisk in the honey, orange juice, and lemon juice and cook over medium heat, continually whisking through, until it thickens and can coat the back of a spoon.
Once thickened, remove from the heat and mix in the orange zest.
Pour the orange curd into a glass container, and cover the top with a dampened cloth or paper towel to avoid a crust from forming.
Place in the refrigerator for several hours or overnight to chill and thicken.
For the gluten-free vanilla waffles
In a large bowl whisk together the oat flour, baking powder, and salt. Add in the eggs, honey, vanilla extract, and milk; whisk together into a batter. *the batter may seem runny, allow it to sit for 5 minutes or so to thicken.
Cook the waffles in your KitchenAid® Waffle Baker according to the manufacturer's directions.
Serve the waffles topped with orange curd. To make it extra special, warm the curd and sprinkle with ground cinnamon.
Print
*The Contributor of this post has been compensated by KitchenAid for this post, but this post represents the Contributor's own opinion.*