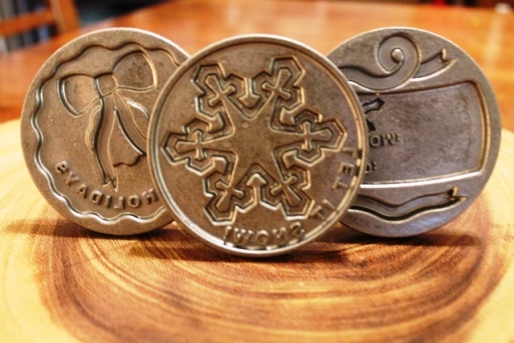 Whenever the holidays rolled around in my house, I delighted in the time I got to spend baking cookies and pies with my mom and my grandmother. This is the second holiday season my grandmother is not with us, so I thought it would be fun to make my mom and my grandmother's favorite holiday cookies this year. Each year we had a standard list of cookies, some recipes traditional, some not so much. My family heritage is a mix bag of German, Italian, Jewish, Greek and Scottish; what my mom likes to refer to as "Heinz 57." It's been interesting to watch how those cultures influenced the recipes I grew up making with my mom and grandma, and how now, I'm putting my own spin on them having lived and traveled all around the world.
Let's get started! I'm so excited to recreate these family recipes into gluten-free holiday gems and share them with you.
Biscotti di Palméri
Biscotti are popular Italian cookies traditionally flavored with almonds and served in coffee houses from Rome to Tuscany and beyond. Now having Celiac Disease, I was faced with remaking this classic recipe that was my mom's favorite, making it better than before! I've made this recipe every year since I was seven years old. Now I've recreated this classic into a gluten-free recipe and used the Italian version of my mom's last name, Palmer, as inspiration for the recipe name.
Cardamom Sugar Cookies
Who doesn't make sugar cookies during the holidays? They are a standard in most households and can be found delightfully decorated for the holiday seasons! A few years ago I traveled to the Middle East and spent a fair amount of time in Istanbul, Turkey. The Grand Market there is awash with colors, spices, and different sounds. Cardamom became a favorite of mine after this trip and adding it into sugar cookies seemed a natural fit. I tend to like sugar cookies that are similar in taste to short bread, perfect to take to a holiday office party or if you're throwing an afternoon tea to exchange gifts with your girlfriends! Tip for this recipe – use cold cubed butter! This tip comes straight from Chef Johnny Iuzzini whom I met a few weeks ago and is a world-class pastry chef!
Missouri Muds
My grandmother loved chocolate. It didn't matter what form it was in; she just absolutely loved chocolate! Ultimately, she would eat your entire dessert if it was chocolate. So being that we made cookies every holiday season I was determined to find a chocolate cookie recipe that she loved. I managed a small family-owned restaurant a few years back that focused on scratch made desserts. That is where I helped to develop the Missouri Muds recipe and I've changed it over the years, adding in more peanut butter and now using gluten-free oats, making it 100% gluten-free. More importantly, my grandmother loved these cookies and I hope you will too!
Mexican Wedding Cookies
I've moved to Austin, Texas seven years ago and to say I've been exposed to the Mexican food culture is an understatement. Growing up in Southern and Northern California, I grew up on Mexican food! Moving to Austin was comforting, as I knew I would have access to Interior Mexican, Tex-Mex and Mexican-fusion eats. And while I love tacos, desserts are my favorite! Torta de tres leches, fried ice cream – who could resist? But my very favorite are Mexican Wedding Cookies. I learned to make these while spending time with my friend Carmen and her family while making tamales a few months ago. The trick to these powdery gems is not over-baking them. Also using a bourbon vanilla bean paste kicks up the flavor and is perfect for the holiday season!
*The Contributor of this post has been compensated by KitchenAid for this post, but this post represents the Contributor's own opinion.*