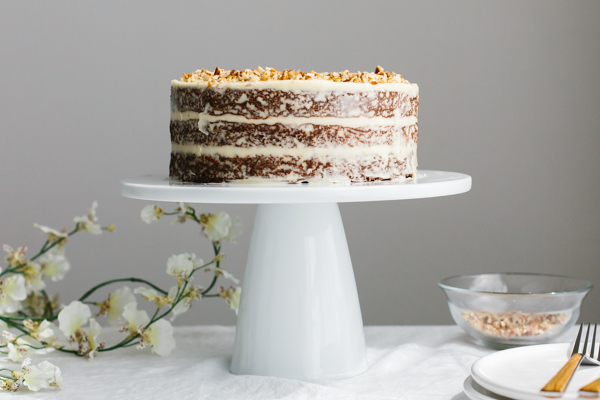 Carrot cake has always been one of my favorite cakes. It's sweet with a hint of spice and loaded with veggies (which makes me feel less guilty when going after that big slice). But I hadn't had it in years, since going gluten-free, until now. Keep reading and I'll tell you how you can make it both gluten-free and delicious!
I dusted off my old carrot cake recipe and converted it to a moist and delicious gluten-free version, topped with a decadent cream cheese frosting. It's perfect for spring and trust me, your guests (whether gluten-free or not) will be lining up for this one!
The manual labor portion of the carrot cake, like shredding all those carrots, is made super easy with the KitchenAid® Fresh Prep Slicer/Shredder Attachment. Attach the Fresh Prep Slicer/Shredder Attachment to the power hub of the KitchenAid® Stand Mixer. Add your carrots through the Feed Tube and literally in seconds you'll have three cups of shredded carrots. Use the Food Pusher, instead of your fingers, to push any remaining pieces of food through the blade.
One of the things I love about the Fresh Prep Slicer/Shredder Attachment is that you can place smaller carrots in the small Feed Tube and they'll stay upright, which is brilliant. If your carrots are larger, you can use the full width of the Feed Tube.
The Fresh Prep Slicer/Shredder Attachment comes with two different shredding blades – a medium and coarse shredding blade. For carrot cake, I always opt for the medium shredding blade for a finer texture. It also comes with a slicing blade too! Carrot cake is really a spice cake, so there's no need to bite into big chunks of carrot while eating it.
Once your carrots are grated (which should only take a minute or so), set them aside. Mix all of your dry ingredients together in a bowl and whisk together.
Separately, in the bowl of the Stand Mixer, add all of the wet ingredients and mix together for 30 seconds. Then add the dry ingredients into the wet and mix for another minute. Remove the bowl from the Stand Mixer and stir in the pecans and grated carrots. Pour the carrot cake mix into your pre-greased pans and pop them in the oven.
I've made this cake into three layers by using three 8-inch pans. With three layers the pans may seem a bit empty when filling with batter, but not to worry. They'll cook perfectly – and much faster. But if you only have two 9-inch pans that will definitely work as well.
The cake itself is not only gluten-free, but it's also dairy-free and paleo-friendly. The cream cheese frosting does contain dairy, but you can make it dairy-free by substituting a vegan cream cheese for the cream cheese and butter.
The carrot cake presents beautifully because if its three layers, done in "naked cake" fashion (which just means that excess frosting is scraped from the sides). I like doing naked cakes this way, rather than fully bare on the sides as the scraped frosting prevents the cake from drying out on the sides. Your guests will also be amazed at how stunning it looks. 
After the cake is baked, cooled, assembled, and frosted, all that's left is to add a handful of chopped pecans to the top.
Share your take on this Gluten-Free Carrot Cake on Instagram using #MadeWithKitchenAid for a chance to be featured.
Gluten-Free Carrot Cake
Makes 4-6 servings
INGREDIENTS
For the cake
2 1/2 cups almond flour
1/2 cup tapioca flour
1 cup coconut sugar
1 tablespoon cinnamon
1/2 teaspoon nutmeg
1/2 teaspoon ground ginger
2 teaspoons baking soda
3 teaspoons cream of tartar
1/2 teaspoon salt
5 large eggs
1/2 cup palm shortening, ghee or butter; melted and at room temperature
1/2 cup applesauce
2 teaspoons vanilla extract
6-8 carrots (3 cups shredded carrots)
1/2 cup chopped pecans, more for garnish
For the frosting
16 ounces cream cheese, room temperature
4 tablespoons butter, room temperature
3 cups powdered sugar, more as needed
2 teaspoons vanilla extract
DIRECTIONS
Preheat oven to 325° F. Grease three 8-inch pans and line the bottom of each with a circle of parchment paper.
Add the almond flour, tapioca flour, coconut sugar, cinnamon, nutmeg, ground ginger, baking soda, cream of tartar, and salt to a medium bowl and whisk together.
Separately, in the bowl of the KitchenAid® Stand Mixer, add the eggs, palm shortening or butter, applesauce and vanilla extract. Mix together on medium speed for 30 seconds.
Peel the carrots. Attach the medium shredding blade of the KitchenAid® Fresh Prep Slicer/Shredder Attachment to the power hub of the Stand Mixer. On a low setting, place the carrots through the Feed Tube of the Fresh Prep Slicer/Shredder Attachment. Use the Food Pusher to push the carrots into the medium shredding blade, until you have three cups of shredded carrots. Set aside.
Add the dry ingredients to the wet and mix for another minute, or until well combined. Fold in the shredded carrots and chopped pecans.
Evenly divide the cake batter between the three 8-inch pans. They'll only be about 1/4 full, but that's okay. Use a spatula to flatten them on top.
Bake the cakes for 30-35 minutes or until a toothpick comes out clean. Rotate the cakes halfway through.
Let the cakes cool for 15 minutes in the pan. Then remove them from the pan and continue cooling on a cooling rack.
While the cakes are cooling, make the cream cheese frosting. Combine the cream cheese, butter, powdered sugar, and vanilla extract together and mix in the Stand Mixer on medium speed.
Divide the frosting between the layers and add a thin layer of frosting, which is then scraped off, from the outside edge. Top with chopped pecans. Serve and enjoy!
Print
*The Contributor of this post has been compensated by KitchenAid for this post, but this post represents the Contributor's own opinion.*