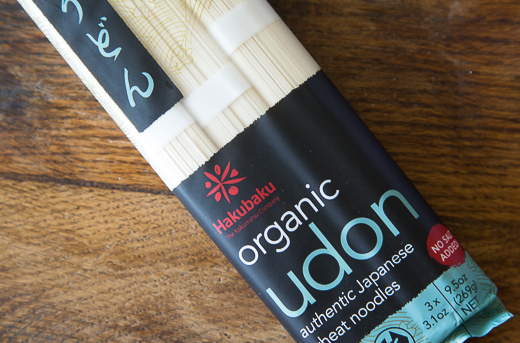 It's round three of this new feature here on The Kitchenthusiast. I'm excited to be diving head first into one of my favorite global ingredients – udon noodles. I'm a sucker for anything in noodle form, and udon is no exception.
Udon noodles, a Japanese cuisine staple, are pretty amazing and can be used for so many different recipes. I keep them stocked at all times in case I need to whip up a quick recipe for sesame noodles. It takes under 15 minutes and it's a guaranteed win at the dinner table.
Udon noodles are a wheat flour noodle that in its simplest form can be served as a noodle soup with a splash of soy sauce and mirin. I like to jazz them up and add any number of toppings like sliced green onions, grilled eggplant, bok choy or one of my personal favorites, a little herb salad.
And while I've never been to Japan (yet!) I can tell you that these noodles are used all year round. You'll find them in hot soups and dishes in the winter, and they'll be served chilled or at room temperature in the summer.
I'm rounding up some of my favorite recipes featuring udon noodles and I can promise that they will all become favorites in your household.
Udon Miso Noodle Soup from Steamy Kitchen – Here's an example of an easy application for udon. It's excellent no matter what time of year – and it's also one of my favorite dishes to indulge in if I'm a bit under the weather.
Yaki Udon from Rasa Malaysia – Another fairly simple recipe that mixes these versatile noodles with shrimp, cabbage, carrots and scallions. It's packed with flavor without being too time consuming.
Avocado Green Curry Noodles with Toasted Coconut and Cashews from Pairs Well With Food – One of my favorite recipes of all time! Don't let the title fool you, it's still on the simple side and it's seriously a game changer.
Sesame Udon Noodles from Weelicious – Remember that super easy sesame udon noodle recipe I was telling you about above? Well, here it is. It's perfect for kids and adults and it's epic as leftovers the following day.
Peanut Udon Noodles with Snow Peas from Oh My Veggies – Another great option – especially for a delicious weeknight meal.
Udon Noodles with Edamame, Peppers & Mushrooms in Ginger-Garlic Broth from Poor Girl Eats Well – Anyone a fan of meatless Monday? This udon noodle dish with a variety of vegetables and tofu is like a fake out take out recipe that you and your family will love.
Handmade Udon Noodles from La Fuji Mama – Feeling extra ambitious? You could try your hand at making your own udon noodles. Get the kids involved and go to town.
And that's a wrap. A handful of amazing udon inspired recipes that will bring a little bit more global fusion into your kitchen.
Have another favorite recipe using udon? Let us know in the comments below!
*The Contributor of this post has been compensated by KitchenAid for this post, but this post represents the Contributor's own opinion.*