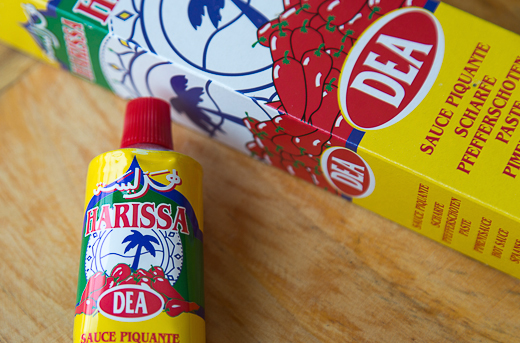 It's round 2 of this new feature here on The Kitchenthusiast. Today we're talking all about Harissa. It's another global ingredient that I'm excited to be sharing with you today and rounding up some of my favorite recipes that feature this delicious and spicy spread.
Harissa has quickly become one of my favorite kitchen condiments. You can easily make it on your own in your KitchenAid® Food Processor, or take a little help from the store and buy some pre-made harissa! My favorite is when it comes in the handy dandy squeeze bottle as pictured here. It makes life so easy and adds such a depth of flavor to everything you make with it.
Harissa is a hot Chili pepper paste that's a combination of roasted peppers, spicy chili peppers and some herbs like garlic, coriander, caraway along with some oil. It's used in many different countries but it's most prominent in Tunisia, Libya and Algeria. While it may have originated in those cuisines, I was first introduced to Harissa at a Moroccan restaurant here in LA. And ever since then, I've been pumped to work it into other cuisines as I see fit.
It's great for spicing up a variety of meats, you can use it in salads or as a salad dressing, it works perfectly alongside some grains, or you can use it as a condiment (like you would ketchup or mustard).
Harissa is usually red in color, unless you use green chili peppers and herbs and then in that case…it's green! I'm an equal opportunity Harissa consumer and here are some of my favorite recipes incorporating this ingredient.
Tunisian Harissa Shakshuka – I'm majorly loving Aida's spin on one of my favorite breakfast items! Harissa spices this up a notch and makes a seriously memorable brunch item.
Green Harissa Turkey Burgers – here's a perfect example of using Harissa as a condiment. Spread it on top of a burger bun and serve your favorite kind of burger on top. Simple, delicious and zippy!
Homemade Naan served alongside a Harissa Yogurt Sauce – this one will transport you to a far away country and you'll never want to leave. The harissa spiced yogurt dip is equal parts spicy and cool (from the yogurt) and the naan is so addictive you'll probably need a double batch.
Harissa Lentils and Cauliflower is the perfect Meatless Monday meal. It's also 100% exceptional for leftovers the next day.
Harissa Roasted Veggie Bowl is not only gorgeous, but it's another great option for Meatless Monday. Harissa really lends itself to adding insane flavor to any dish, so you'll really never even miss the meat.
Broiled Polenta with Green Harissa – I can tell you from first hand experience that these appetizers are to die for. And the green harissa recipe is one of my favorites in the whole wide world! You'll want to slather it on just about everything you make.
This Avocado Sandwich with Green Harissa is totally out of this world. Avocado and Green Harissa is a match made in culinary heaven.
There you have it! A handful of insanely delicious recipes that will solidify your obsession with Harissa.
Be sure to leave a comment below and let me know your favorite way to use Harissa in case I've missed it!
*The Contributor of this post has been compensated by KitchenAid for this post, but this post represents the Contributor's own opinion.*