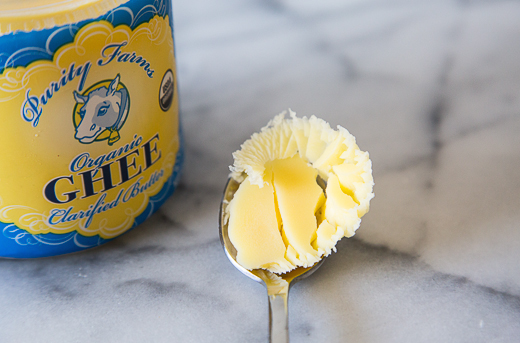 California, where I live, is a melting pot of cuisines. We've got a little bit of everything here which makes for some epic culinary exploration. One of my favorite things to do is head over to a specialty market and grab different ingredients that I can then turn around and experiment with in my own kitchen.
I'm excited to be kicking off a new series here on The Kitchenthusiast; we're going to be featuring different global ingredients and sharing some amazing recipes that feature that product.
First up is Ghee. Ghee is a form of clarified butter that's originally from India. While I haven't personally been to India yet, I have been to some pretty amazing Indian restaurants around the country and I can safely say that Ghee is essential when making some of these global dishes.
So you might be wondering, what the heck is Ghee? When you melt butter and let it boil, the water content gradually evaporates, and the milk proteins and solids will separate and be strained away leaving only the butter fat.  This means that you can use Ghee at really high cooking temperatures since the milk products aren't there to burn. You can use it for searing meat, cooking vegetables and frying rice.
Ghee is also used in plenty of other cultures as well. It's commonly used in cooking in places like Nepal, Bangladeshi and Sri Lanka.
Lebanese Meat Pies are one of my favorite kinds of street food. You can find them in most big cities, and the ghee gives them that beautiful golden brown color plus a wonderful depth of flavor: http://thelemonbowl.com/2013/09/lebanese-meat-pies-sfeehas.html
Can we talk about my love for all things Gyros!? I've never met one I didn't like and this is a prime example of the spectacular treat: http://www.foodiewithfamily.com/2014/03/26/homemade-gyro-meat-and-gyros/
Roasted Eggplant Curry is a mix of eggplant, curry and ghee. How could you possibly go wrong?:  http://tasty-yummies.com/2012/03/29/baingan-bharta-roasted-eggplant-curry-gluten-free-vegan/
I never even thought of using Ghee to roast a chicken, but it's brilliant. Perfectly Roasted Chicken: http://deliciouslyorganic.net/roast-chicken-recipe/
Lentil Mahkani with Potatoes and Spinach is loaded with flavor and perfect to make a double batch and then take for lunches throughout the week: http://tasty-yummies.com/2014/01/10/lentil-mahkani-with-potatoes-and-spinach-dal-aloo-palak-makhani-gluten-free-and-vegan/
Not only do these recipes make me want to pack up and head out on an adventure, but they inspire me to get into the kitchen and try out some new flavor combinations and recipes.
And if you can't find Ghee in your specialty market, here's a great tutorial on how to make it at home: http://www.foodiewithfamily.com/2014/03/25/homemade-ghee-how-and-why-you-should-make-it-and-what-it-is/
Happy cooking!
*The Contributor of this post has been compensated by KitchenAid for this post, but this post represents the Contributor's own opinion.*