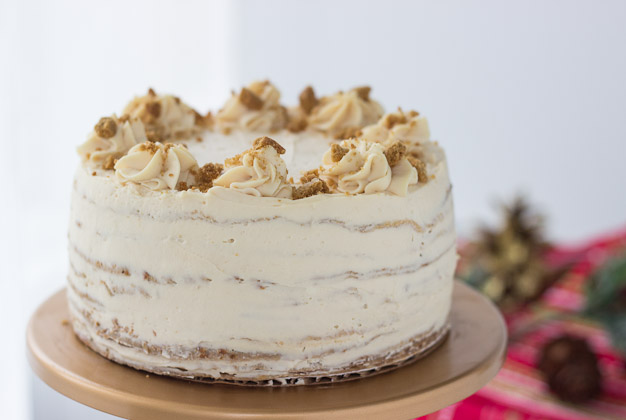 This Gingerbread Crepe Cake will be a great addition to your entertaining menu. Stacks of sweet gingerbread crepes are filled with a caramel cream cheese mousse filling and topped with crushed gingerbread cookies for a wonderful holiday cake. With the help of the KitchenAid® Torrent™ Blender and Tri-Ply Stainless Steel 12″ Nonstick Skillet this crepe cake comes together in a breeze.
I've always loved making crepes for breakfast or brunch but recently found that a crepe cake makes a wonderful and easy dessert. A good crepe needs to be thin, soft and perfectly textured, and to get this the batter needs to be well mixed. I love using my KitchenAid® Torrent™ Blender to make crepe batter. To make the batter, just combine all your ingredients in the Torrent™ Blender and give it a quick blend using the 'Soup' setting. It ensures everything is well combined and you get a perfect crepe every time.
Equally as important for crepe making is a great non-stick skillet to ensure that your crepes flip over easily. I used the KitchenAid® Tri-Ply Stainless Steel 12″ Nonstick Skillet and each crepe came out perfectly. This skillet is great because nothing sticks to it so there's no need to spray the pan. I cooked the crepes on my KitchenAid® 30-Inch 5-Element Electric Convection Slide-In Range. I love that this range features 5 independent cooking surfaces of different sizes, including a 12-inch zone that fits this skillet perfectly!
The rest of the cake is assembling. I used a light cream cheese mousse with caramel to fill the middle layers.
Start with 2-3 crepes on a cake plate or stand and top with some of the filing.
Spread evenly and continue with another 2-3 crepes.
Continue stacking until you used up all the crepes (about 30-40 from the recipe).
With the remaining mousse filling, coat the entire cake. Make a rough crumb coat with gingerbread cookies and sprinkle on top. Decorate as desired.
There you have it; an easy holiday stunner. This gingerbread crepe cake will become a favorite with your guests. The recipe below without the spices is my basic crepe recipe. Feel free to adapt it to whatever flavors you are feeling. I used cinnamon, ginger and cloves for a gingerbread flavor but you could experiment with other seasonal flavors like peppermint and eggnog.
Be sure to share your take on this Gingerbread Crepe Cake recipe with us on Instagram using #MadeWithKitchenAid for a chance to be featured.
Gingerbread Crepe Cake
INGREDIENTS
For crepes
4 large eggs
1 1/2 cups milk
1 cup water
2 cups all-purpose flour
3/4 teaspoon ground cinnamon
3/4 teaspoon ground ginger
1/2 teaspoon ground cloves
6 tablespoons melted butter
For filling
8 ounce cream cheese, softened to room temperature
1/3 cup caramel sauce + more for stacking
1 1/2 cup heavy cream, cold
1/2 cup powdered sugar
For topping
Crushed gingerbread cookies
DIRECTIONS
In the pitcher of your KitchenAid® Torrent™ Blender, combine all the ingredients for the crepe. Blend on the "Soup" setting until very smooth. Pour the batter into a large bowl and chill for at least an hour or overnight.
Heat your KitchenAid® Tri-Ply Stainless Steel 12″ Nonstick Skillet over medium heat on your KitchenAid® 30-Inch 5-Element Electric Convection Slide-In Range. Pour a little less than 1/4 cup of batter into the center of the pan and spread evenly by swirling. Let cook for 30 seconds and then flip. Let cook for another 10 seconds. Place crepe flat on a cutting board to cool. Continue making crepes until all the batter is gone (~40 crepes). Let them cool completely. Using a 6-inch or 8-inch biscuit cutter, cut each crepe before stacking.
To make the filling: In a medium bowl, beat the cream cheese and caramel sauce until smooth. In another medium bowl, whip the heavy cream and powdered sugar until soft peaks form. Gently fold the whipped cream into the cream cheese mixture.
To assemble: Place two or three crepes down on a plate. Add a dollop of the filling on top and spread out evenly to cover the whole crepe. Add another few crepes on top and repeat. Every few stacks, top the filling with a tablespoon of caramel sauce. Finish the cake with a rough coating of mousse filling around and on top of the cake. Top with crushed gingerbread cookies.

Print
*The Contributor of this post has been compensated by KitchenAid for this post, but this post represents the Contributor's own opinion.*