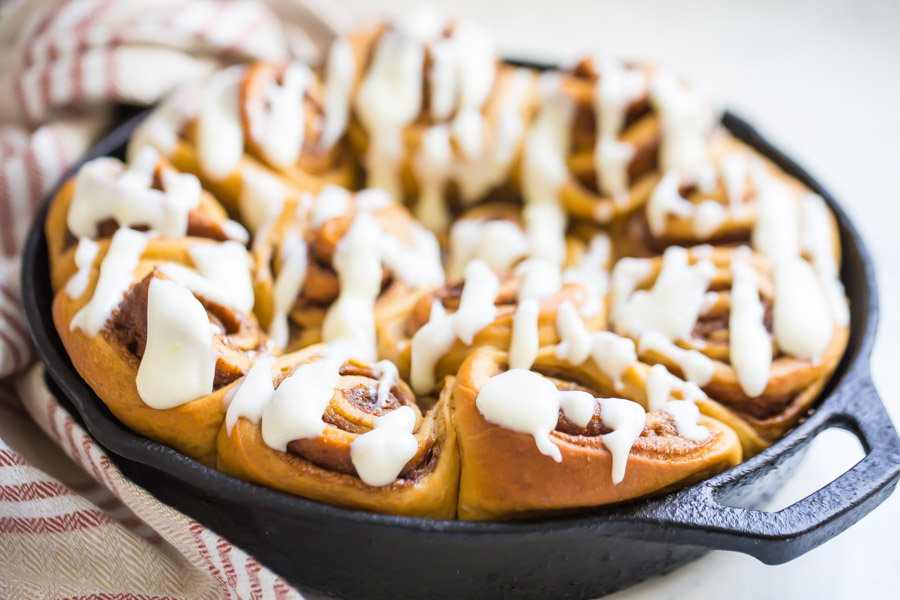 Every year, when the holidays roll around, I love to plan a special family breakfast for my kids and husband. Something indulgent and sweet.  Something to help create happy memories of the holidays, and to give a sense of tradition.
I've settled on cinnamon rolls, for a few different reasons.
1) Is there anything more comforting on a cold morning than a freshly baked cinnamon roll? So warm and gooey, and full of winter spice…
2)  They're definitely special. It takes a little more effort to create them. They're a labor of love.
3) But they can be made ahead of time!! All that effort can happen a day or two before the big event. Then, the morning of, all you have to do is take them out of the fridge, give them a final proof, and bake them off.
This year, I've decided to mix up the tradition by putting a unique spin on our beloved cinnamon rolls. Gingerbread!
My kids just love the taste of gingerbread. And these gingerbread cinnamon rolls have all the yeasty, cinnamon-y goodness of a regular cinnamon roll, with the added bonus of deep molasses and spicy ginger flavor.
It all begins with the dough. Start with warm (not hot) water, mixed with some brown sugar and molasses (to feed the yeast and add that signature gingerbread flavor). Add the yeast and stir to dissolve.
To that, add oil, buttermilk, egg, salt, and flour. You'll need anywhere from 4 ½ cups to 5 ½ cups of all-purpose flour. You'll know you've added enough when the dough gathers itself into a ball and pulls cleanly away from the sides of your mixing bowl.
Oil the bowl, place the dough back in, and cover it loosely.
I love to use the "proof" setting on my 30-Inch 5 Burner Gas Convection Slide-In Range with Baking Drawer. It sets to the perfect temperature for yeast doughs, allowing them enough warmth to rise, but not so much to cook the dough or kill off the yeast.
After about an hour proofing, the dough will have doubled in size.
At this point, you can punch it down and roll it out to a big rectangle.
After a generous coating in soft butter, the sugar and spice go on. A combination of brown sugar, cinnamon, ginger, and clove will give that unmistakable gingerbread flavor. Along with the molasses in the dough, these flavors are perfect for the holidays!
Roll the dough into a long log, jelly roll-style.
Then divide it into 12 equal portions, and cut.
Place the unbaked rolls into your baking dish. It's at this point you can cover them loosely and refrigerate them overnight.
On the morning you want to serve them, remove them from the fridge and let them come up to room temp. This usually takes about an hour.
Then, proof them again until doubled in size.
They bake for about 20 to 25 minutes, or until puffy and golden. Let them cool down a little, then top them with the most gorgeous lemon-y cream cheese drizzle.
It's pure heaven, and your loved ones will totally agree!
Make these gingerbread cinnamon rolls a holiday tradition for your family too!
Gingerbread Cinnamon Rolls
Yield: 12 servings
INGREDIENTS
For the Dough:
¾ cup warm water
¼ cup dark brown sugar
¼ cup molasses
1 (.25 ounce) packet dry active yeast
1/3 cup oil
¼ cup buttermilk
1 large egg
½ teaspoon kosher salt
4 ½ to 5 ½ cups all-purpose flour
For the Filling:
4 tablespoons unsalted butter, softened
½ cup dark brown sugar
2 teaspoons ground cinnamon
1 ½ teaspoons ground ginger
¼ teaspoon ground clove
For the Icing:
4 ounces cream cheese
1 cup powdered sugar
3 tablespoons milk
Zest of half a lemon
Juice of half a lemon
DIRECTIONS
To Make the Dough:
Stir the warm water, dark brown sugar, and molasses together in a large bowl.
Sprinkle the yeast on top, and allow it to dissolve for 5 minutes.
Whisk the oil, buttermilk, egg, and salt together in a small bowl or liquid measuring cup. Add to the larger bowl, along with 4 1/2 cups of the flour. Stir together until incorporated.
If the dough seems sticky, continue to work in more flour (1/4 cup at a time), until it gathers itself into a ball and pulls away cleanly from the sides of the bowl (you may not need all of the flour).
Knead the dough for 8 to 10 minutes, then place it in an oiled bowl (lightly covered).
Set the oven to the "Proof," and place the covered bowl on the middle rack. Allow it to proof for 1 hour.
Punch the dough down, and on a lightly floured surface, roll it out to a rectangle about 1/4-inch thick.
For The Filling:
Spread the soft butter on the surface of the dough, leaving about ½ inch margin on one long edge of the rectangle.
Stir the brown sugar, cinnamon, ginger, and cloves together in a small bowl.
Sprinkle the spiced sugar all over the buttered dough, in an even layer.
Starting at one long side of the rectangle, roll the dough into a long log. Seal the log along the unbuttered edge. Cut the log into 12 equal portions, and lay them cut side up in an 8-inch round skillet or baking dish.
Refrigerate overnight.
Allow the rolls to come to room temperature, then set the oven to "Proof," and allow the rolls to rise a second time, for 1 hour.
Remove the proofed rolls from the oven, and preheat it to 350 degrees F.
Bake for 20 to 25 minutes, or until puffed and golden.
To Make the Icing:
Beat the cream cheese and powdered sugar together until smooth. Stir in the milk.
Add the lemon zest and juice and stir until smooth.
Drizzle the warm rolls with icing and serve.
Print
*The Contributor of this post has been compensated by KitchenAid for this post, but this post represents the Contributor's own opinion.*