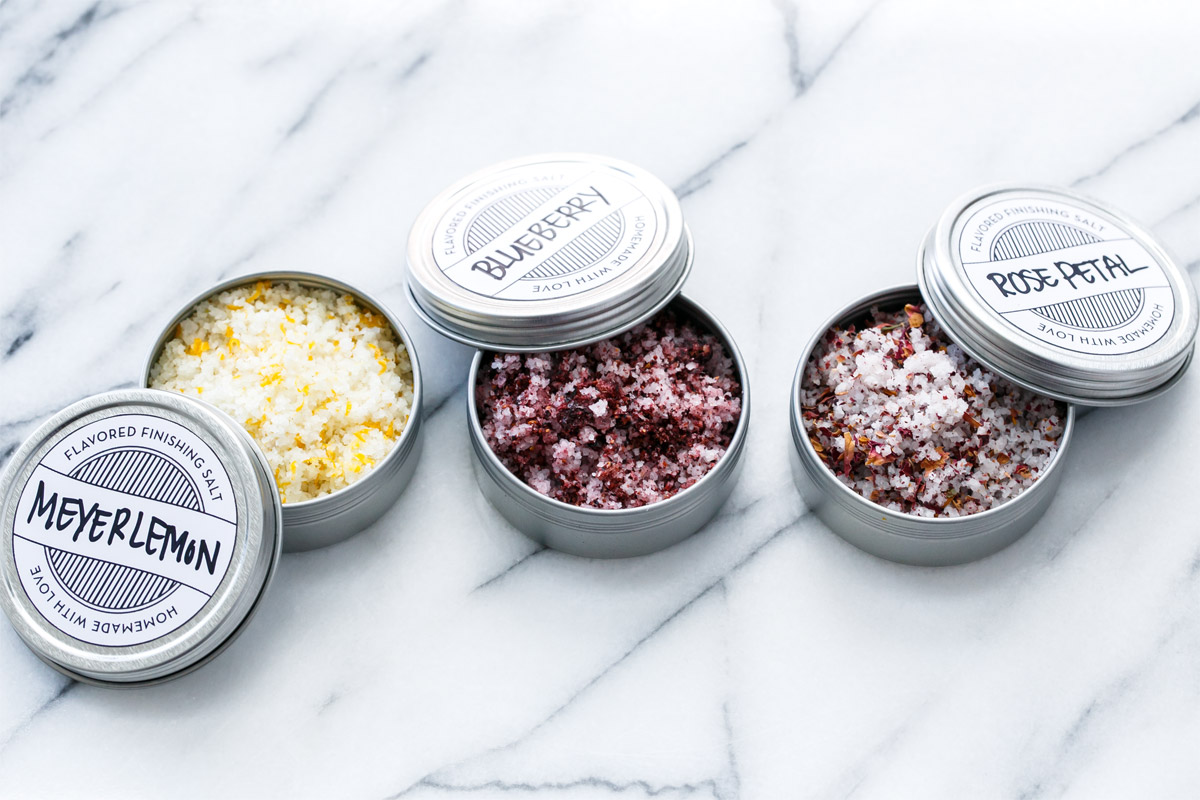 I love edible homemade gifts. They are thoughtful, delicious, and don't contribute to the clutter that seems to endlessly plague our lives. If you know me, chances are you've gotten at least one jar of jam. If you're related to me, you've probably gotten a few more than that. But lately, in an effort to expand my consumable gift repertoire, I've been exploring other gift-ready recipes that are equally delicious.
Which brings me to these flavored finishing salts.
The beauty of these larger grained, specialty salts is that a pinch will go a long way. Since this salt is added right before serving, the salt crystals aren't absorbed into the dish, meaning you get much more taste and flavor without having to use a lot of salt. Using a finishing salt can reduce the total salt needed in a dish dramatically. So if you are watching your salt intake, a pinch of finishing salt on your home cooked meal is going to add far less sodium to your dish than any processed or restaurant meal salt, and it will taste so much better.
I experimented with a few different bases including coarse sea salt, unrefined sea salt, and flake sea salt. Ultimately, the unrefined sea salt produced the best results. Its moisture-rich nature allowed the salt to keep it's coarse flakes even after grinding together with the dried flavoring.
These homemade finishing salts combine gorgeous flake sea salt with unique additions like blueberry, rose petal, and dried lemon peel. Combining the flavor enhancing superpowers of salt with these unique flavorings will truly take any recipe to the next level.
I made three flavors of finishing salt using dried Meyer lemon peel, freeze dried blueberries, and dried rose petals (be sure to buy organic/culinary grade dried flowers). But really, the flavor possibilities are endless. Pretty much any dried flavoring that can be ground into smaller pieces will work here. You could try making a dried herbs salt with rosemary or thyme, or perhaps a dried chile peppers salt.
It takes literally minutes to mix up a batch of your own homemade flavoring salts, thanks to the KitchenAid® Blade Coffee Grinder. With the press of button, these finishing salts are easily ground into a deliciously aromatic mixture.
Simply pulse your dried flavoring a few times in your Coffee Grinder to break up the larger pieces. Then add your salt, and pulse a few more times to evenly blend. And that's it.
The recipe is written to fill a single 2-ounce tin, but you can make up to 4 times the recipe in a single batch.
Pro tip: if your Coffee Grinder is also used for coffee, and you are not making coffee-flavored salt (which would be divine, by the way), first wipe or rinse out as much of the grinds as you can. Once dry, add a few spoonfuls of raw dried rice to the bowl and grind until fine. Dump out and discard. The rice does a wonderful job at absorbing any residual coffee oils that may be lingering in the bowl. You may also want to do this again after you finish your flavored salts, otherwise you may end up with rose-scented coffee tomorrow morning.
These finishing salts make lovely homemade gifts for any cook or foodie friend. Adding some adorable packaging will make that gift extra special. I've designed some mod labels for you to use on your own creations. Simply print this downloadable PDF onto sticker paper. You can use standard 2" round labels, or print on a full sheet and then cut out the rounds. Then, fill in the blank with your own creative flavor. The labels are designed to perfectly fit a 2-ounce tin but can also be used on jar lids or printed on card stock and tied around the neck of a decorative glass jar.
What flavor finishing salt will you make first? Be sure to share your take on this Flavored Finishing Salt recipe with us on Instagram using #MadeWithKitchenAid for a chance to be featured.
Flavored Finishing Salt
Yields 2 ounces
INGREDIENTS
1 tablespoon dried rose petals or freeze-dried blueberries or 1 teaspoon dried Meyer lemon peel
2 1/2 tablespoons unrefined sea salt or flake salt
DIRECTIONS
To make the lemon finishing salt, you need to dry your lemon peel. To do this, finely zest lemons and spread zest onto a paper towel-lined plate. Place in the oven with the oven light on overnight or until dried. Alternatively, you can microwave the zest on a paper towel-lined plate for 1 to 2 minutes or until dry.
Place dried flavoring in the bowl of your KitchenAid® Blade Coffee Grinder. Give it 2-3 quick pulses to break up the flavoring.
Add 1 tablespoon of sea salt and pulse another 2-3 times to incorporate, then add remaining 1 1/2 tablespoons salt and pulse once more to combine.
Transfer to a decorative tin or jar. The salt will keep best in an airtight container.
Print
*The Contributor of this post has been compensated by KitchenAid for this post, but this post represents the Contributor's own opinion.*