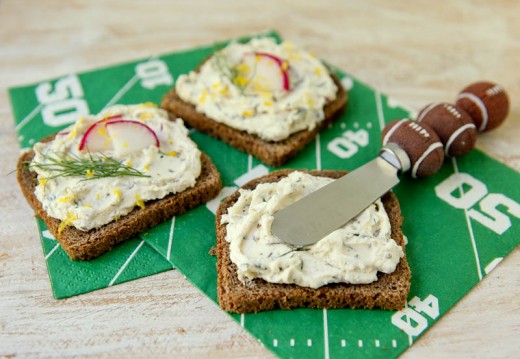 Are you ready to take your tailgate menu to the next level? With a few easy recipes, ideas and tips you can become a "Game Day Gourmet" by kickoff!
The key to successful tailgate entertaining is preparation. I suggest preparing as much in advance as possible, so everything is easy to serve on game day. There's no need to just grab a bag of chips and a jar of dip when you can elevate your football snacks with a little thought and creative flair!
This easy cheese spread is a snap to prepare in a KitchenAid® Stand Mixer. Cream cheese is whipped together with butter and a little bit of Greek yogurt for zing. Herbs, spices and grated lemon zest add interest, while a dash of brandy gives this gourmet spread a little "kick!"
I like to prepare this "Touchdown Herb and Lemon Cream Cheese Spread" the day before the big game and refrigerate overnight. The ExtendFresh Plus temperature management system in my KitchenAid® Refrigerator ensures the spread maintains its optimum taste and texture the next day.
The spread is ready to enjoy by tailgate time. I love to serve it on slices of cocktail bread. They are so adorable and somehow just feel more chic than a box of crackers! You can even have a little fun by garnishing with additional slices of radish, a sprig of dill, or a little lemon zest.
Touchdown Herb and Lemon Cream Cheese Spread
Makes 2 cups
INGREDIENTS
8 ounces original block cream cheese, softened
1/2 stick (1/4 cup) unsalted butter, softened
1/4 cup Greek yogurt
1 large garlic clove
1/2 teaspoon salt
1/2 teaspoon ground white pepper
1/2 teaspoon grated lemon zest
1/8 teaspoon cayenne pepper
1/4 cup finely chopped radishes
3 tablespoons chopped fresh dill
1 teaspoon dried oregano
1 teaspoon dried basil
1 teaspoon dried marjoram
1 tablespoon brandy (optional)
To serve
Cocktail party rye slices
Fresh dill sprigs, for garnish
DIRECTIONS
In a KitchenAid® Stand Mixer bowl using the flat beater attachment, beat together the cream cheese, butter, and yogurt until light.
On a small plate, mash together the garlic clove, salt, white pepper, lemon zest, and cayenne pepper with a fork.
Stir into the cream cheese mixture along with radishes, herbs and brandy; mix well.
Spoon the cheese mixture into small crocks and cover with plastic wrap.
Chill at least 8 hours or overnight.
Let the cheese soften at room temperature about 30 minutes before serving.
Serve with slices of cocktail rye.

Print
With cool fall weather, it is essential to serve something warm to sip while tailgating. This spiked apple cider makes a large batch to share. It's easy to simmer on the center burner on my KitchenAid® 5-Burner Double Oven Range. This large, oval burner provides better heat coverage for a big cast-iron pot.
Serve with paper straws adorned with homemade pennants to show your team spirit!
Spiked Hot Apple Cider
Makes 15 servings
INGREDIENTS
1 gallon apple cider
1 cup brewed tea
4 cinnamon sticks
2 clementines studded with cloves*
1 cup apple brandy
To serve
Cinnamon sticks, for garnish
Fresh apple slices, for garnish
DIRECTIONS
In a Dutch oven combine cider, tea, 4 cinnamon sticks, and clementines.
Bring just to a simmer (do not boil).
Simmer, uncovered, for 15 minutes.
Stir in brandy.
To serve, ladle into mugs and garnish each with an additional cinnamon stick and slice of apple.
Tip: If desired, several lady apples studded with cloves can be substituted for the clementines
Print
*The Contributor of this post has been compensated by KitchenAid for this post, but this post represents the Contributor's own opinion.*