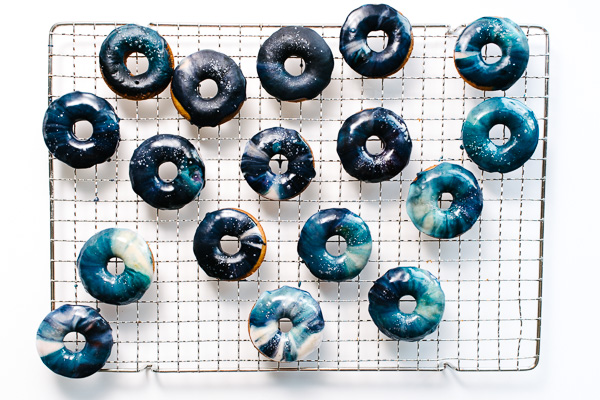 Have you ever seen galaxy glazed baked goods? Galaxy glaze is taking over the internet and I'm not mad about it. I first saw galaxy doughnuts on Instagram, where I went on a hunt for all things galaxy. Ever since I first laid eyes on that deep dark blue streaked with purples and pinks, I was obsessed. Who wouldn't want to eat the universe?
It took me a while to figure out how to make the perfect swirls, which surprised me because it looks like a fairly straightforward process. I searched far and wide for a good tutorial, but all of my glazes ended up looking muddy. At best, my doughnuts kind of looked like a starless night, and at worst, they looked like a black hole – definitely not something you want to be eating.
After multiple attempts, my husband saw me messing around with glaze and asked me what I was trying to achieve. Mike, my husband, is a designer and is naturally color-oriented. After a good ten or so tries, we figured it out! You need to keep your colors as separate as possible, and keep a lot of extra white icing on hand. It took a while, but in the end, it was worth it. There's something deeply satisfying about making baked goods that sparkle like the universe!
Of course, you can't talk about galaxy glaze without having something to glaze. Here, I made a simple vanilla doughnut: soft, squishy, and oven-baked for health. I love making baked doughnuts because most baked doughnuts are cake doughnuts — you don't have to do the whole "knead and rise" show that deep-fried yeast doughnuts need. Instead, your batter comes together almost instantly in the KitchenAid® Artisan® Mini Stand Mixer.
I find it handles smaller recipes like this one even better than the larger models, which is perfect for me because sometimes – ok, most of the time – I don't really need to bake a giant batch. I love that it has a smaller footprint but the same power and tilt-head design as the full size tilt-head Stand Mixers, and how it comes in both bold and understated colors.
All you need to do is mix the dry ingredients, add the wet ingredients, and pipe or spoon the batter into lightly greased mini doughnut pans. After a quick bake in the oven, you're ready to glaze!
While your doughnuts are cooling, make the glaze using the Mini Stand Mixer fitted with the flat beater to mix the icing sugar and milk. When the glaze is smooth, it's time to color it. Use gel food coloring: it's vibrant and intense and doesn't water down the glaze. You want a fairly thick glaze for both shine and coverage.
Spoon out a fair amount of white glaze and set it aside. Very lightly tint the remaining glaze with a base color. I used blue. You want the base to be pale as you're going to be adding more coloring. Drop one to two drops of blue and red coloring randomly on the surface of the icing. Use a chopstick or skewer to drag the icing back and forth (don't mix!) to create streaks of color. Drizzle a bit of the remaining white icing on top of the colored icing. Now it's time to dip!
The key to a successful galaxy glaze is having smooth baked goods. Typically, I glaze the bottom half of the baked doughnuts (the part that touches the pan). But in this case, I glazed the top half — the smoothness of the top is much better suited to galaxy glazing. Use a smooth, swooshing motion to dip your doughnut in the glaze, pulling along the surface to achieve galaxy streaks. Let the excess drip off and place on a wire rack. Dust them with edible glitter if you want that extra bit of galaxy goodness!
You'll need to add more white to your base glaze every time you dip in order to get the galaxy effect every time. Don't be afraid to experiment – I went with blue and red coloring, but you can use anything you like!
Share your take on these Galaxy Doughnuts on Instagram using #MadeWithKitchenAid for a chance to be featured.
Galaxy Doughnuts
Makes 24 mini doughnuts
INGREDIENTS
For the doughnuts
1 3/4 cups flour
1 cup sugar
1 teaspoon baking powder
1/2 teaspoon baking soda
1/2 teaspoon salt
1/2 cup milk
1/4 cup vegetable oil
1/4 cup water
1 large egg
1/2 teaspoon vanilla
For the galaxy glaze
2 cups icing sugar
3 tablespoons to 1/4 cup icing sugar
Gel food coloring*
Edible glitter, if desired
*I used Americolor gel colors in navy blue, red, and maroon.
DIRECTIONS
For the doughnuts
Preheat the oven to 357° F. Lightly grease the molds of your doughnut pan.
Use your KitchenAid® Artisan® Mini Stand Mixer fitted with the flat beater to mix the flour, sugar, baking power, baking soda, and salt until combined.
Add the milk, vegetable oil, water, egg, and vanilla to the dry ingredients above and mix until just combined, scraping down the sides of the bowl, if needed.
Spoon, or use a piping bag to pipe the batter into the mini doughnut molds. Bake for 10-12 minutes, or until the edges start to turn golden.
Remove from the oven and let cool before removing from the pan. Let the doughnuts cool completely before glazing.
For the galaxy glaze
Add the icing sugar to the bowl of your Mini Stand Mixer. With the flat beater, mix in the milk until smooth. Spoon a quarter cup of icing out into a separate bowl and keep it white. Tint the base with just a drop of food coloring – you want it to be very pale. Mix well.
Drop 2 drops of blue and 1 drop of red into the mix. Use a chopstick or skewer to drag the color back and forth in one direction, not quite mixing it together, but creating streaks of color.
Dribble some of the white icing back on top. With a smooth swooshing motion, dip a doughnut into the surface of the glaze, pulling it along the surface to achieve streaks.
Let the excess drip off and place on a plate to let dry. Dust with glitter, if desired. From time to time, add more white icing to the bowl to ensure the galaxy effect.
Print
*The Contributor of this post has been compensated by KitchenAid for this post, but this post represents the Contributor's own opinion.*