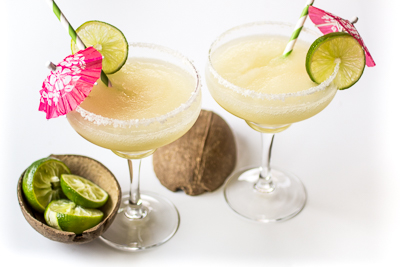 Leave that bottle of neon-green mixer on the shelf, and whip up a batch of these homemade margaritas instead! If a traditional margarita and a piña colada merged, you'd have this amazing Frozen Coconut Margarita.
While tossing a bunch of ingredients in a blender is hardly difficult, the challenge with making a perfect margarita is finding the right proportions for the ingredients. With only four components making up a drink, too much or too little of any one ingredient can ruin an otherwise delicious treat. We've all had margaritas that were too strong, too weak, too sour, or too sweet. Okay, enough margarita poetry; let's make a drink!
These gorgeous drinks are made with (from left to right in the shot glasses): coconut flavored tequila, Cointreau (or any high-quality triple sec), fresh lime juice, and agave nectar. So simple! I love knowing that there aren't any mystery ingredients in the blender.
As delicious as the drinks are, my favorite part is the coconut-salt rim you see on the glasses above! It's made by pulverizing flaked coconut in your KitchenAid® Torrent™ Blender, and then mixing it with Kosher salt. The best things in life are sweet and salty, am I right? Just put about a cup of flaked coconut in the blender and pulse it until it turns into a snow-like powder. You'll only need about a tablespoon of it, but if you put less than half a cup of flakes into the blender there isn't enough substance to catch on the blades. Don't worry; I'm sure you'll find another use for the coconut powder. You know, like more margaritas.
Take that tablespoon of coconut powder and plop it onto a flat plate. Use a fork to work in a tablespoon of Kosher salt, then wet the rim of two margarita glasses with lime juice and dip them into the coconut salt. Make sure you give the glasses a good twist and wiggle to make sure they are evenly coated.
Now it's time to make the margaritas. Pour the coconut tequila, triple-sec, lime juice, and agave nectar into the blender and top with 3 cups of cubed ice. Turn the knob to the Icy drinks/Smoothies setting and let the blender take it from there.
Pour the margaritas into the prepared glasses and garnish with lime wheels. Bonus points if you have some pretty straws and umbrellas to really up the "vacation" feel of the drinks.
Serve immediately, and make more as needed! Be sure to share your take on this Frozen Coconut Margarita recipe with us on Instagram using #MadeWithKitchenAid for a chance to be featured.
Frozen Coconut Margaritas
Makes 2 servings
INGREDIENTS
1 cup flaked coconut
1 tablespoon Kosher salt
1 lime, cut into wheels
3 ounces coconut tequila
2 ounces Cointreau
3 ounces freshly squeezed lime juice
1 1/2 ounces agave nectar
3 cups cubed ice
DIRECTIONS
Place the coconut flakes into the pitcher of your KitchenAid® Torrent™ Blender. Use the Pulse setting to grind the coconut flakes into a fine powder. Transfer a tablespoon of the coconut powder to a small flat plate. Add a tablespoon of flaked salt to the plate and mix it into the coconut powder.
Rub the rim of two margarita glasses with one of the lime wheels. Invert the glass and dip the wet rim into the coconut-salt mixture. Set aside.
Rinse out the blender pitcher. Place the tequila, Cointreau, lime juice, agave nectar, and ice into the pitcher and process on the Icy drinks/Smoothies setting.
Pour the margaritas into the prepared glasses. Garnish with lime wheels. Serve immediately.

Print
*The Contributor of this post has been compensated by KitchenAid for this post, but this post represents the Contributor's own opinion.*