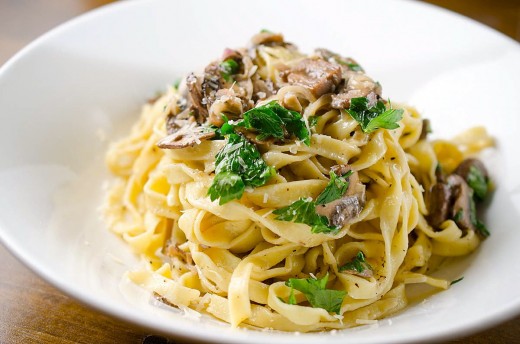 Pasta is pretty much a blank canvas. You can add anything you want to it. It can be a light dish. A heavy dish. One that vegetarians will love. Or one that carnivores will devour. Pasta can be a dish that comes together in minutes. Or one that takes some time. Whatever it is, there are few dishes in the world that are as comforting as a plate of pasta. Especially, a plate of handmade pasta.
When I got my first KitchenAid® Stand Mixer for my birthday a few years back, I was excited because not only did I have one gorgeous new mixer for my kitchen, but I was also able to get one of those handy dandy KitchenAid® Pasta Attachments to go along with it. YAY! Now, whenever I get the chance, I make my very own pasta. Sure, it takes a little bit longer, but fresh pasta is leagues beyond the dried stuff and very much worth the effort.
When making pasta, I like to use a combination of semolina and all purpose flour. A pasta made with just all purpose flour would be great for a lighter pasta. On the other hand, using a blend of all purpose flour and semolina flour gives you a final product with a much heartier texture. One that works exceptionally well with rustic, earthy sauces.
One of my favorite sauces to serve with homemade pasta, especially in the fall, is a hearty mushroom sauce with plenty of cremini mushrooms, garlic, shallots, cream and a touch of butter. It's simple and filling. The pasta is cooked to a perfect al dente. And the mushroom sauce is creamy and savory. In other words, this homemade pasta with creamy mushroom sauce is comfort on a plate.
Fresh Pasta with Mushroom Cream Sauce
Makes 4 servings
INGREDIENTS
For the pasta
1 1/2 cups semolina flour
1 1/2 cups all purpose flour
4 whole eggs
2 tablespoons water
For the creamy mushroom sauce
2 tablespoons olive oil
1 pound cremini mushrooms, sliced
4 cloves garlic, minced
1 shallot, thinly sliced
2 tablespoons butter
1/2 cup heavy cream
1/4 cup freshly shredded Parmesan cheese
salt and pepper to taste
1/4 cup freshly chopped parsley
DIRECTIONS
Combine the semolina and all purpose flour together in the bowl of a KitchenAid® 5-Quart Stand Mixer. Make a well in the center.
Lightly beat the 4 eggs together. Pour into the well. Beat on speed "2" for 1 – 2 minutes or until the dough starts to come together.
Transfer to a lightly floured surface and then kneed for 3 – 4 minutes or until the dough becomes slightly elastic. Form into a ball, wrap in plastic wrap and allow to rest for 20 – 30 minutes.
After the dough has rested, cut dough into 4 equal pieces.
Fit the pasta roller attachment on to your KitchenAid® stand mixer. Working with one piece of dough at a time, roll the dough through the pasta roller attachment on the "1" setting 4 times, folding the dough in half after each pass through. Turn the pasta roller attachment to the "2" setting and roll pasta 2 times, folding the dough in half after each pass through. Turn the pasta roller attachment to "3" and pass the dough through 2 more times. Do not fold the dough in half after the last pass through. Lay pasta sheet on a lightly floured surface while you repeat with remaining pieces of dough.
Fit the pasta cutter attachment on to your KitchenAid® stand mixer. Pass the pasta sheets, one at a time, through the pasta cutter attachment and cut into fettucini. If the noodles are too long you can cut them with kitchen shears halfway through. Toss pasta with all purpose flour to keep from sticking.
Bring a large pot of water to boil. Cook pasta 2 – 3 minutes or until al dente. Reserve 1/4 cup of pasta water. Drain.
While you are waiting for the pasta water to boil, heat olive oil in a skillet over medium heat. Add mushrooms and cook just until the mushrooms start to brown, about 3 minutes. Add in garlic and shallots. Continue cooking until mushrooms have browned and garlic and shallots have softened. Add in butter. Cook until butter melts.
Whisk together heavy cream and Parmesan cheese. Slowly stir cream and cheese mixture into the mushroom mixture. Cook just until thickened slightly, about 3 minutes. Season to taste with salt and pepper. Stir in cooked noodles. Toss to coat in the sauce. If the sauce appears too thick, pour in some of the reserved pasta water. Toss with fresh parsley. Serve.
Print
*The Contributor of this post has been compensated by KitchenAid for this post, but this post represents the Contributor's own opinion.*