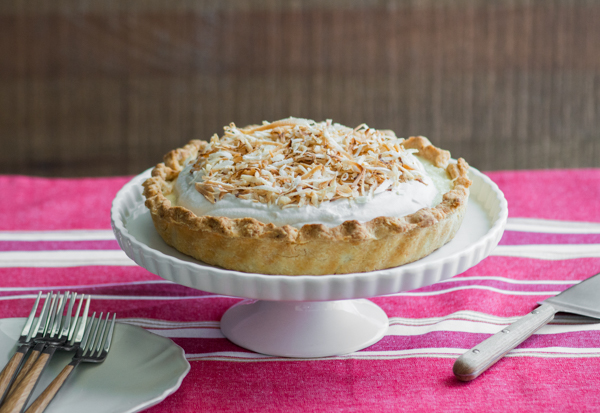 When it comes to sweets I've always been more of a pie person. There's just something magical about a pie. It can be sweet or savory, it comes in many variations like a quiche, a tart,  a gallette and so many more.  It can also be filled with just about anything you can dream of. You can even get creative with the crust by adding ground nuts, seeds or even chocolate.
My love for pies started in my grandmother's kitchen. She made so many different pies, but my absolute favorite had to be a sweet coconut pie. Nothing to me says a Florida summer more than a cool coconut pie.
Of course, I've reinvented her recipe more than a few times, and I think I've finally got it just perfect. This recipe uses lots of fresh coconut cream, coconut milk and tons of fresh grated coconut. It's a coconut lover's dream come true.
For this recipe, I start out with a homemade piecrust made with finely ground almonds. The addition of almonds makes this piecrust the perfect addition to this coconut pie.
The next ingredient that makes this pie so special is the fresh coconut. I break open my own coconut and grate the flesh in my food processor. Then I toast that coconut to make the most incredible freshly toasted coconut to top my pie.
Next, I use coconut milk, more freshly shredded coconut and eggs to make an incredible filling that's filled with flavor. 
For the topping, I decided to ditch regular old whipped cream and instead, use fresh coconut cream. This makes this  pie absolutely to die for.
After the pie is all together, I just sprinkle it with that amazing toasted coconut and there you have it, the best coconut cream pie ever!
And when I'm all done with my pie, you can imagine I've got some dishes to do. All the steps required for this recipe equals a whole lot of dishes. But that's not a problem with my KitchenAid® 6-Cycle/7-Option Dishwasher.  It powers through all this mess, leaving my dishes clean and sparkling!
Fresh Coconut Pie
Makes 1 pie
INGREDIENTS
For the crust
1 cup AP flour
1/4 cup finely ground blanched almonds or almond flour
1/2 cup cold butter
1/2 teaspoon salt
1 teaspoon sugar
2 – 4 teaspoons ice water
For the topping
The coconut cream from two cans of regular full fat coconut milk, chilled overnight (398 mL or 13.5 oz)
2 – 3 tablespoons confectioner's sugar
1 teaspoon vanilla extract
For the filling
The leftover milk from two cans of coconut milk (398 mL or 13.5 oz)
1 additional can full fat coconut milk (398 mL or 13.5 oz)
1 cup freshly grated coconut, toasted*
2 eggs
2/3 cups sugar
1/4 cup cornstarch
1 teaspoon vanilla extract
1 teaspoon coconut extract
1 tablespoon butter
For the toasted coconut garnish
2 cups freshly grated coconut*
DIRECTIONS
For the crust
Heat oven to 400°. In a large bowl, combine flour, almonds, sugar, salt and butter. Using a pastry knife, cut butter into flour until the mixture is pebbly. Add water, as needed and mix until dough is like a dry clay. Form dough into a disk and wrap in plastic wrap. Refrigerate for a minimum of 20 minutes.
Flour work surface and top of pie dough. Roll out pie dough into a 12 inch circle, about 1/8 inch thick. Flour top of pie crust again and loosely roll it onto rolling pin. Unroll crust into a 9 inch pie plate. Crimp edges of pie crust with your fingers or a fork. Prick the bottom of the crust with a fork. Refrigerate 20 minutes.
Place a large circle of parchment paper in the center of the chilled crust, and fill with a pound of dried beans or pie weights.  Bake for 15 minutes. Remove from the oven and remove beans and parchment. Bake for an additional 10 minutes, or until pie crust is golden brown.
For the filling
Take chilled cans of coconut milk and turn upside down. Remove can lid and pour out coconut milk in a medium saucepan. In another bowl, spoon out the cream and reserve for latter. Refrigerate coconut cream until ready to use.
Add an additional can of coconut milk to the saucepan. Add fresh grated coconut and bring to a simmer. Simmer for 15 – 20 minutes, or until coconut has softened.
In a large bowl, add sugar, eggs and cornstarch. Mix well. Add coconut milk mixture a little at a time to this bowl, mixing well in between each addition as to temper the  eggs.  After all coconut milk has been added, pour mixture back into saucepan and bring to a boil over medium heat.
After mixture is bubbly and thick, remove from heat and add vanilla extract, coconut extract and butter. Mix well and pour into baked pie crust. Refrigerate for for 2  – 3 hours, or until set.
For the topping
Remove chilled coconut cream from refrigerator. Using a hand mixer, whip coconut cream on high speed until light and fluffy.
Add confectioner's sugar and vanilla extract to coconut cream. Whip cream again until incorporated well.
Spoon or pipe cream onto chilled coconut pie.
For the toasted coconut garnish
Heat oven to 350°.
Spread the shredded coconut on an unlined baking sheet.
Bake for 12 – 18 minutes, stirring a few times while it's cooking, so it toasts evenly.
Sprinkle toasted coconut onto pie. Refrigerate until ready to serve.
*how to make freshly grated coconut
You will need:
1 fresh coconut
meat clever
vegetable peeler
box grater
Hold the coconut so that you can see the three little indentations. Using the blunt side of your meat clever, firmly strike the coconut until it cracks. Keep breaking it apart in pieces, I like to have four quarters, and then use a flathead screwdriver to pry out the flesh.
Use a vegetable peeler or small knife to peel the dark brown off the coconut flesh. Then wash coconut of all debris.
Use a box grater or grater in your food processor to grate coconut.

Print
*The Contributor of this post has been compensated by KitchenAid for this post, but this post represents the Contributor's own opinion.*