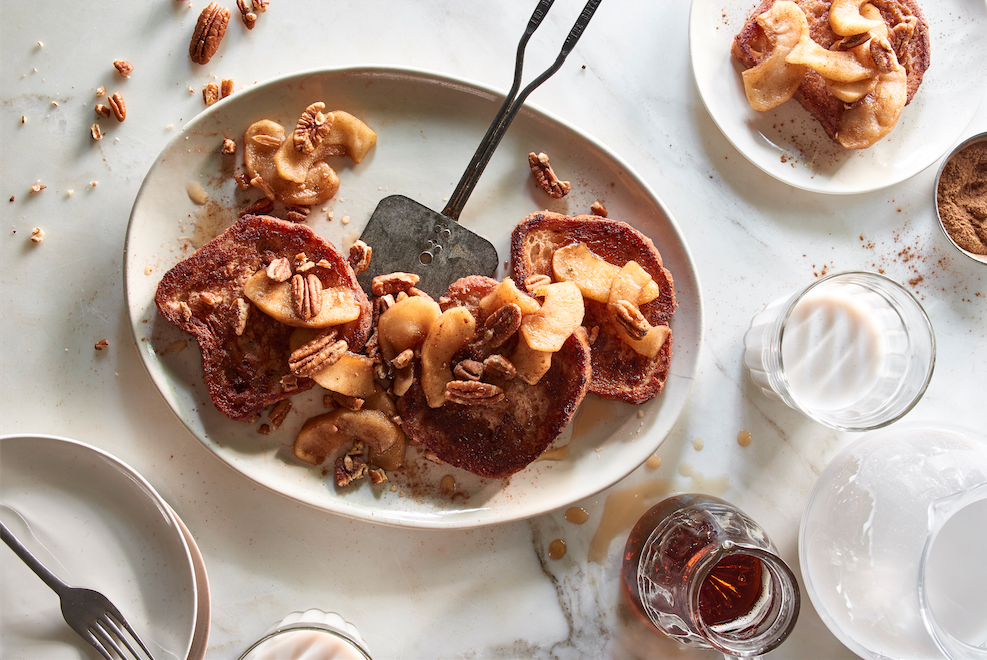 French Toast with Apples and Pecans
Makes 4 servings
INGREDIENTS
For the apples
2 tablespoons filtered water
2 tablespoons pure maple syrup
2 green apples, peeled, cored, and sliced
3/4 teaspoon ground cinnamon, plus more to taste
Pinch of sea salt
For the french toast
3/4 cup filtered water
1/4 cup raw pecans, plus more to serve
1 medium banana
2 tablespoons pure maple syrup, plus more for serving
1 teaspoon natural vanilla extract
1 teaspoon ground cinnamon
1/4 teaspoon sea salt
8 thick slices bread (regular wheat or gluten-free)
1/4 cup melted coconut oil, plus more as needed
1/4 cup raw pecans, plus more to taste
DIRECTIONS
For the apples
Pour the water and maple syrup into a small saucepan. Over high heat, bring the mixture to a boil (this should take less than a minute). Reduce to medium heat and stir in the apples, cinnamon, and salt. Cook the apples for about 10 minutes, stirring periodically until the liquid is absorbed and the apples have softened, but remain firm and intact.
For the french toast
Set your oven on the lowest heat or the "warm" setting.
Place the water, pecans, banana, maple syrup, vanilla, cinnamon, and salt into the blender jar of the KitchenAid® Pro Line® Series Blender. Secure the lid and blend on speed 10 on high for about 30 seconds, until smooth and creamy.
Pour 1 tablespoon of coconut oil into a small skillet and bring to medium heat. Meanwhile, pour the batter from your Blender into a large shallow baking dish. In batches, place 2 slices of bread face down into the baking dish, and soak for 10 seconds until coated evenly. Turn over and soak the second side for 10 seconds until coated evenly.
Once the skillet has heated, place your two slices of soaked bread onto the skillet and cook for 4 to 6 minutes on each side until golden brown and crispy on the edges. You may need to add more coconut oil once you flip the bread in order for it to get crispy. Transfer the cooked slices to the oven to keep warm, and repeat the entire batter-coating and cooking process with the remaining slices of bread.
Serve topped with cooked apples, pecans, and a drizzle of maple syrup.