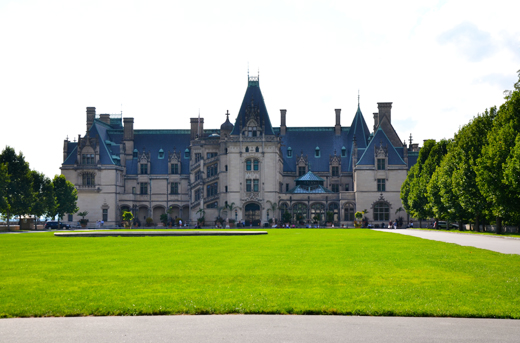 The latest Food Blog Forum kicked off on August 17 at the Biltmore Estate in picturesque Asheville, North Carolina, where more than 100 food bloggers, chefs and culinary enthusiasts gathered to talk food, tech and everything in between. It was a weekend of spectacular sights, culinary delights, and engaging panels and round tables covering every topic from social media strategy and food photography tricks to blog monetization tips and community building.
Before the conference activities began, bloggers gathered on Sunday night for the Moonshine Madness welcome party. We sipped on flavored moonshine from local distilleries and snacked on appetizers, including bite-sized crispy grit cakes with orange chili aioli, as well as watermelon sushi with fresh herb pesto.
Monday morning started off with a lively welcome from our forum hosts and organizers, Todd Porter and Diane Cu, Jaden and Scott Hair, Lindsay Landis and Julie Deily. We then launched right into a session about "creating your tribe," which inspired and encouraged bloggers to get their families involved in their food blog businesses, be it to stir up creative juices or to provide guidance via a board of elected directors.
Additional sessions covered how to pitch and work with major publications, as well as how to style and photograph food. With a half-day of inspiration under our belts, it was time for our first feast!
Lunch consisted of an array of southern classics, including pulled pork with mustard-based barbecue sauce and sweet tea-brined fried chicken with pickled okra. From the savory we moved on to the sweet with a dessert bar starring white chocolate brownies, dark chocolate pudding with malt cream, and my personal favorite, banana bread with caramel mousse and salted peanuts.
The forum continued with an afternoon of expert round table discussions during which speakers met with small groups of bloggers to provide insights on blogger collaborations, blogger-brand relations, cookbook photography, negotiation strategies and more.
In between sessions, bloggers had the chance to catch the new KitchenAid® Juicer and Sauce Attachment in action. The attachment, which can be used on any size KitchenAid® Stand Mixer, features three pulp screens to allow you to adjust the level of pulp in juices, sauces, jams and more.
I was delighted to demo the attachment for forum attendees and whipped up two new juice recipes, including my Tropical Green Juice and my Orange Energizer Juice.
The attachment first slices and then processes the ingredients, extracting the liquid juice and separating the pulp. And there's no need to discard all that nutrient-rich pulp! I love to whip it into cream cheese to make your own flavored spreads, or fold it into quickbreads for added flavor.
After a day's full of informative and inspiring panels and discussions, we made our way to one of the highest points at the Biltmore Estate, where we took in panoramic views of the 8,000-acre Blue Ridge Mountain landscape and dined on an assortment of dishes from local chefs.
Are you ready to join the feasting and fun? Don't miss the next Food Blog Forum, which will be held at Walt Disney World from February 27 to March 1.
Tropical Green Juice
Makes 1 serving
INGREDIENTS
3 cups packed kale leaves
1 cup diced pineapple
1 green apple, cored and quartered
1 medium cucumber, quartered
1/4 of a lemon, peeled and quartered
2 teaspoons agave nectar
DIRECTIONS
Attach the KitchenAid® Juicer and Sauce Attachment to the KitchenAid® Stand Mixer and turn it on to speed 10. Add the kale, pineapple, apple, cucumber and lemon into the hopper. Stir the agave nectar into the juice and serve immediately or chill, covered, until ready to serve.

Print
Orange Energizer Juice
Makes 1 serving
INGREDIENTS
2 large carrots, ends removed
1 1/2 cups cubed mango
1 large orange, peeled and quartered
1/4 teaspoon turmeric
DIRECTIONS
Attach the KitchenAid® Juicer and Sauce Attachment to the KitchenAid® Stand Mixer and turn it on to speed 10. Add the carrots, mango and orange into the hopper. Stir the turmeric into the juice and serve immediately or chill, covered, until ready to serve.

Print
*The Contributor of this post has been compensated by KitchenAid for this post, but this post represents the Contributor's own opinion.*