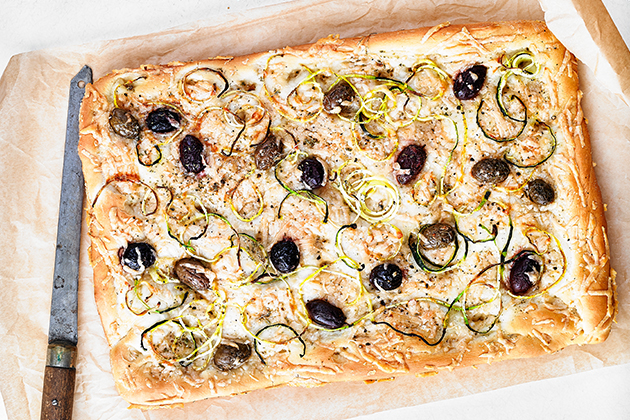 Focaccia with Squash and Olives
Makes 1 loaf, 12 servings
INGREDIENTS
1 envelope (1/4-ounce) active dry yeast
1 cup warm water – 105° to 110°F
1 tablespoon sugar
3 cups all-purpose flour
1/4 cup extra virgin olive oil
1 1/2 teaspoons kosher salt
1/2 cup mixed olives
1/2 cup zucchini, spiraled
1/2 cup summer squash, spiraled
2⁄3 cup shredded Parmesan cheese
1 teaspoon dried oregano
1 tablespoon cornmeal
1/2 teaspoon freshly ground black pepper
DIRECTIONS
Preheat oven to 425°F.
Attach dough hook to KitchenAid® Stand Mixer. Combine water, sugar and yeast in mixer bowl; stir to dissolve yeast. Let stand 5 minutes. Add flour, olive oil and salt; knead on speed 3 for 3 to 4 minutes or until dough is smooth and elastic. Shape dough into a ball. Place in large, lightly greased bowl; turn once to grease surface. Cover and let rise in warm place about 1 hour or until doubled.
Grease 9 x13-inch baking pan; dust with cornmeal. Punch down dough; shape into 9 x13-inch rectangle on lightly floured surface. Press lightly into prepared pan. Cover and let rise 30 minutes.
Remove dough hook from stand mixer. Attach Spiralizer Attachment to your KitchenAid® Stand Mixer. Center one zucchini section on fruit and vegetable skewer; attach to Spiralizer. Attach fine spiralizing blade and position at end of zucchini. Place medium bowl below blade to catch zucchini. Turn stand mixer to speed 4 and process until blade reaches end of zucchini. Repeat with remaining zucchini and summer squash. Set aside.
Dimple dough all over with fingers. Sprinkle cheese evenly over dough; top with zucchini, summer squash and olives. Sprinkle with oregano and pepper.
Bake about 25 minutes or until edges are golden. Let cool slightly before serving.

Print
*The Contributor of this post has been compensated by KitchenAid for this post, but this post represents the Contributor's own opinion.*