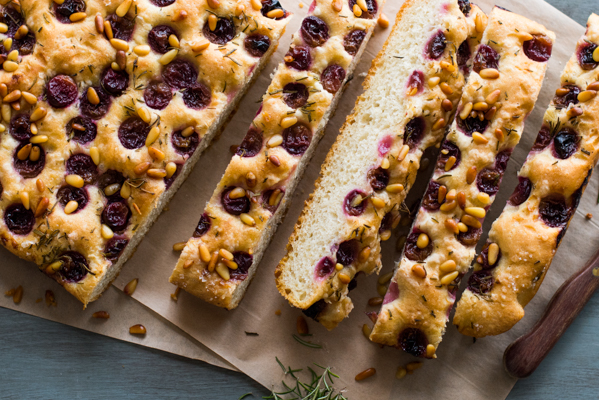 I spent the better part of the winter of 1992 making hundreds of loaves of bread for an article I wrote for the charter issue of Cook's Illustrated magazine. Day after day I'd get up and mix flour, salt, yeast and water, testing the different variables. But all that work paid off. I developed a very simple recipe for making bread that I've used for over twenty years now (eeks!). Whether it's baguettes or boules, pizza or focaccia, the ratios are in my head and the technique is in my bones—2 teaspoons yeast, 2 teaspoons salt, 4 cups bread flour, 1 3/4 cup water. If it's pizza or focaccia, there's EVOO too.
Start by sprinkling yeast over a little warm water in a 2-cup Pyrex measuring cup. When it swells and bubbles, you know it's active. Add the rest of the water and some olive oil (it's almost a full measuring cup now) and mix with flour and salt. Slowly but steadily the yeast will inflate those simple ingredients into an airy dough ball. Some people like to make bread in a Stand Mixer fitted with the dough hook. Others prefer to need by hand. Me? I like the speed of a KitchenAid® Pro Line® Series Food Processor.
Once you add the wet ingredients into the dry ones and turn on your Food Processor, you've got perfectly kneaded dough in just 30 seconds. Gather the dough into a ball, and turn it onto a floured surface. Before the dough goes into the bowl, give it a little TLC—good for you (a little kneading is always calming) and good for the dough.
Once the dough is satiny smooth, place it in a large bowl sprayed with a little vegetable cooking spray and cover it with plastic wrap. Now it's ready to rise. I like to let mine spend a couple of hours in my KitchenAid® 30″ Slow Cook Warming Drawer set on the proofing setting. The consistent, gentle heat of the KitchenAid® Warming Drawer means I never have to guess how long it will take for my dough to rise.
While the dough proofs, roast the grapes. This step intensifies flavor and dehydrates some of the moisture. Topping the focaccia dough with raw grapes would cause the bread to bake up overly moist and gummy.
Once the bread dough has doubled in size, it's time to punch down and turn into an oiled parchment-lined 13- by 9-inch pan and then back to the Warming Drawer for proofing.
After 30 minutes or so, pull the dough from the Warming Drawer and drizzle it with a couple of tablespoons of extra-virgin olive oil. Now here's where the fun begins.
Squish your fingertips into the oily dough to dimple it. Not that you have to count, but I like to create as many dimples as I have grapes.
I like this next step too. Scatter the grapes, dropping as many as possible into the indentations, followed by pine nuts and rosemary—a little coarse salt too. Today I'm lucky enough to have a little smoked sea salt to sprinkle on. Return the pan to the Warming Drawer and let the dough rise until it doubles in size and starts to nestle the grapes—about another 30 minutes.
Bake the focaccia until it's crisp and golden, about 30 minutes. Using the parchment handles, transfer the bread to a wire rack to cool. The irresistible smell of baking bread may tempt you to cut off a hunk of focaccia as soon as it comes out of the pan. Do it. Then let the rest of the loaf cool to a warm state. Enjoy with a glass of wine or serve with soup or salad.
Focaccia with Roasted Grapes and Pine Nuts
Makes one 9×13 loaf pan
INGREDIENTS
2 teaspoons dry-active yeast
1/2 cup warm water
4 cups bread flour
2 teaspoons table salt
1/2 cup extra-virgin olive oil, divided
1 1/2 pounds seedless red grapes, washed and dried
3 tablespoons pine nuts
2 tablespoons rosemary leaves, coarsely chopped
1 teaspoon coarse sea salt
DIRECTIONS
Sprinkle yeast over warm water; let stand until yeast dissolves and starts to swell, about 5 minutes.
Meanwhile, mix flour and salt in the work bowl of a KitchenAid® Pro Line® Series Food Processor fitted with the steel blade. Add 1 1/4 cups room temperature water and 1/4 cup of the olive oil to the yeast mixture, then dump this liquid into dry ingredients, holding back a tablespoon or 2 of the mixture. Process until it forms a rough ball. (Although I usually find this amount of liquid right, add a tablespoon or so of flour to the mixture if it's excessively wet and sticky. Add the remaining yeast water if dough feels hard and dry.) Continue to process until dough is smooth and elastic, about 30 seconds longer.
Turn dough onto a lightly floured work surface; knead by hand for a few seconds to insure that dough is satiny and smooth. Form dough into a round and place into a large bowl that's been coated with vegetable oil spray or a very light film of oil. Place in a KitchenAid® 30″ Slow Cook Warming Drawer (or a warm place) until dough doubles, 1 1/2 to 2 hours, depending on room temperature.
Meanwhile, adjust oven rack to lower-middle position and heat oven to 400 degrees. Line a 9×13-inch pan with a 12×20-inch piece of parchment to ensure easy removal of bread, drizzle 2 tablespoons of oil over pan bottom and up the sides. Line a second small, rimmed baking sheet with parchment. Toss grapes with a teaspoon of oil and roast until impressively gold brown and flavors have intensified, about 30 minutes. Leave oven at 400 degrees.
Punch dough down and turn into prepared 9×13-inch pan, pressing dough with fingertips and stretching it to fill the pan.
Cover dough with oiled plastic wrap and return to warm place; let rise for 30 minutes. Remove plastic wrap; drizzle dough with remaining oil and use fingertips to dimple the dough. Scatter grapes over dough, rolling some of them in the indentations. Cover dough with the plastic wrap and return dough to warm place until it's almost doubled in size, about 30 minutes longer. Scatter pine nuts and rosemary over dough and sprinkle with coarse sea salt.
Bake until golden brown, about 30 minutes. Remove from oven. Using parchment paper as handles, remove bread from pan and set on a wire rack. Let cool until warm. Halve bread lengthwise, slicing each half into 1-inch thick slices. Serve.

Print
*The Contributor of this post has been compensated by KitchenAid for this post, but this post represents the Contributor's own opinion.*