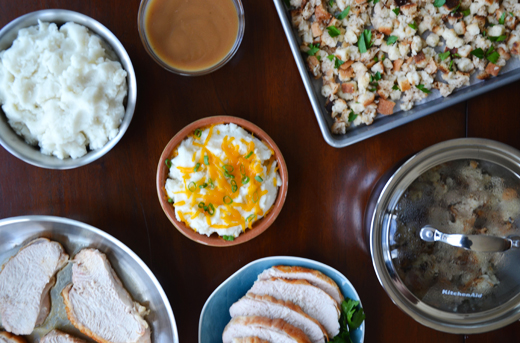 Thanksgiving is the food holiday to end all food holidays. It's the Super Bowl of cooking. The World Series of entertaining. The Game 7 of holiday parties. And there's no denying the daylong feast comes served with a hearty side of hype and anticipation.
The pressure is on to orchestrate the perfect gameplan. Coordination, preparation and timing are everything, whether you're feeding a group of two or a crowd of 20. And mistakes are bound to happen. The turkey is frozen solid. The pie crust is overbaked. The stuffing is soggy. But there's no need to panic. Solve even the biggest culinary catastrophes with these tips and tricks for how to fix five of the most common Thanksgiving dinner disasters.
Problem: The Gravy Is Lumpy
Fix: Homemade gravy can become lumpy if the stock or other liquid isn't properly whisked into the turkey drippings and roux. The quickest fix to go from lumps and bumps to a silky smooth sauce is to transfer the gravy to your KitchenAid® Diamond Blender and let the machine work its magic. In less than a minute you'll have seriously smooth gravy perfect for serving with your big feast.
Problem: The Mashed Potatoes Are Too Starchy
Fix: If your mashed potatoes begin to rival glue in its adhesive abilities, it's time to turn those taters into an easy, cheesy baked potato casserole. To go from starchy to star-studded, simply mix the mashed potatoes with heavy cream, sliced scallions and cheddar cheese, then transfer the potatoes to a buttered baking dish. Top the potatoes with more cheese and bake them until they're golden brown and bubbling. No one will miss the mashed potatoes when they're staring down a dish of hot and creamy cheese-topped spuds.
Problem: The Stuffing Is Too Wet
Fix: Stuffing can be a finicky player in the Thanksgiving game, as it requires the perfect ratio of wet to dry ingredients. Excessive liquid leads to wet, sticky stuffing that's likely to clump together. To reverse the sogginess, spread the stuffing onto a parchment paper-lined baking sheet and bake it until it's golden brown and has dried out slightly, then simply scoop it into a dish, garnish with some chopped fresh herbs and serve.
Problem: The Turkey Is Undercooked
Fix: The table is set, the side dishes are all lined up, the wine has been poured … and everybody is still waiting on the bird. To solve the dilemma of an undercooked turkey (or to simply speed up the cooking time), carve off any fully cooked pieces then cut the remaining turkey into parts and roast them on a baking sheet until they're fully cooked. If the turkey breasts are undercooked, simply carve them into 1/2-inch-thick slices, place them in a pan with turkey stock and cook the slices until they're no longer pink. It's important to add the stock to ensure the turkey stays moist.
Problem: The Pie Crust Is Burned
Fix: There may be no need to cry over spilled milk, but show me a burned pie crust and I guarantee you the tears will be flowing. All that mixing, rolling, filling and shaping, and a few extra unwanted minutes in the oven destroys a day's worth of work. But just because the pie crust is burned doesn't mean you need to forgo the whole pie. Simply scoop out the filling (assuming it's withstood the extended baking time) and serve it atop ice cream for seasonal fruit-topped sundaes. This technique works well with nearly every variety of pie, from pumpkin to pecan and apple to coconut cream. And don't forget to top off your pie-inspired sundaes with a drizzle of caramel or chocolate sauce.
*The Contributor of this post has been compensated by KitchenAid for this post, but this post represents the Contributor's own opinion.*