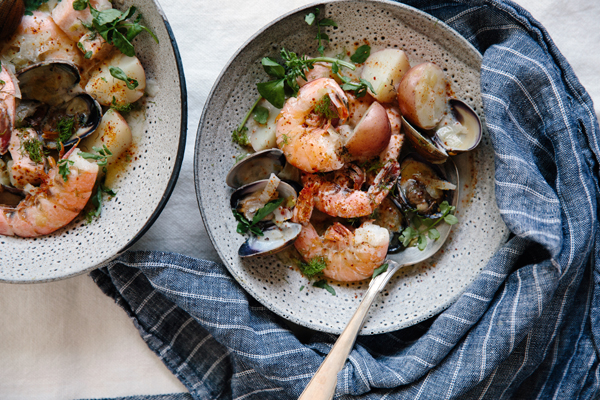 I grew up in the Basque Country in Northern Spain, nestled between the Atlantic coast and the Pyrenees Mountains. Fish soup was a recipe my mom cooked in both the winter and summer. Hers was usually tomato and onion based, as this is the traditional way of creating this dish. However, when I moved to the United States and started eating foods from other countries, I really took to using coconut milk in my soups. It is a great ingredient to cook with for people with dairy allergies.
This recipe takes the flavors of my European roots with fish, fennel and leeks, but adds coconut milk which gives the soup creaminess and a little bit of sweetness. I finish it with a pinch of Piment d'Espelette, which is ground pepper from the French Basque Country – it's a little spicy and smoky. If you cannot find it, use a few red pepper flakes in the base of the soup when cooking the fennel and leeks, or add a little pinch of chili powder.
I use a combination of salmon, shrimp and clams, but you could use any fish you would like. Halibut, cod, tuna, mussels, scallops, prawns, lobster… all of these would work.
Let's get started!
Skin the salmon, remove any pin bones and cut it into bite-size pieces. You can ask the fishmonger to do this for you. Pro tip: I use tweezers that I save for fish to remove pin bones – they make it very easy to do this step!
Rinse the clams in cold water and remove the shells from the shrimp if you prefer the shrimp peeled. I actually like to leave the shrimp whole because the shells add a lot of flavor to the stew as it is being cooked.
Cook the fennel, leeks and garlic in olive oil until tender in the KitchenAid® 3.0-Quart Low Casserole on your Gas Cooktop, about 5 minutes. Then, add the diced potato, coconut milk and fish stock, giving it a good stir. If you don't have any fish stock, you can use water or vegetable broth. Lower the heat to a simmer, cover the pot and cook until tender, about 10 minutes.
What's really great about this Gas Cooktop is its Even-Heat™ 10,000 BTU Torch Burner that is designed to provide a small flame for delicate simmering. This is essential for stewing this fish soup recipe.
Once all the vegetables are tender, add the salmon, shrimp and clams. Give it a good stir, cover the Casserole and let it cook until the clams open up, about 2-3 minutes. Keep it covered because the steam will help the clams open quicker, but be careful not to overcook the fish or it will become dry.
At this point, take a spoonful of the broth and taste it. I don't usually add any more salt until the end because the fish adds saltiness to the final dish. As I said before, I also finish it with a little bit of Piment d'Espelette, which is ground spicy pepper from the French Basque Country. You can find it in Spanish or French specialty shops but you could easily substitute with chili powder or leave it out all together.
Top the soup with tender greens like watercress or even finely chopped chives or parsley. And there you have it: a delicious twist on a traditional Basque dish. I cannot wait for you to take a bite and a sip of this fresh soup for yourself!
Share your take on this Fish Soup with Fennel, Leek and Potato recipe on Instagram using #MadeWithKitchenAid for a chance to be featured.
Fish Soup with Fennel, Leek and Potato
Makes 4 servings
INGREDIENTS
3 tablespoons olive oil
1 medium leek, sliced
1 medium fennel, sliced (save tops)
1 shallot, sliced
Pinch of salt
Pinch of freshly ground black pepper
6 small red potatoes, cut into bite size pieces
1 1/2 cups canned light coconut milk
1/2 cup fish stock (you can also use water)
1 pound salmon, skinned and cut into bite size pieces
8 ounces shrimp (I leave the skin on for extra flavor but you can remove shells)
12 manila clams
Juice of 1 lemon
Pinch of Piment d'Espelette or red pepper flakes
Watercress for topping, optional
DIRECTIONS
Heat your KitchenAid® 3.0-Quart Low Casserole on your Gas Cooktop over medium heat. Add the olive oil, leek, fennel, shallot, salt and pepper. Cook until tender, about 5 minutes, making sure to stir the mixture occasionally.
Add the potatoes, coconut milk and stock. Reduce heat to low, cover the 3.0-Quart Low Casserole and simmer until the potatoes are tender, about 10 minutes.
Add the salmon, shrimp and clams. Cover and simmer for 2 or 3 minutes or until the clams open all the way. Taste the broth and adjust seasoning if necessary. Remove the pot from heat and add chopped fennel fronds, Piment d'Espelette and watercress. Serve immediately.
Print
*The Contributor of this post has been compensated by KitchenAid for this post, but this post represents the Contributor's own opinion.*