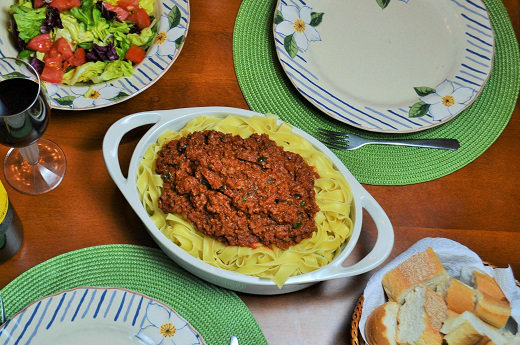 One of my favorite traditions is having a big Sunday dinner. Ever since I was a child, I have always looked forward to these dinners. I am from an Italian family so pasta was usually on the menu. Sunday dinner is about the food but also about family connections and laughter. With a little preparation, it can be easy and fun to host. So let's get the party started.
I love to continue the Sunday dinner tradition with my own family even though our lives are so busy. We live in a fast paced world and Sunday is no different than many weekdays. It is not uncommon for my children to go to their Sunday school classes, participate in a few different sporting events and finish up their weekend homework. I would love to serve a three course feast but given our timeframe that is usually not possible. So I make the pasta sauce in advance, serve it with bread and a salad and everyone sits down to a nice meal. Depending on our schedule, dinner can be served in the late afternoon while other times it takes place in the evening. Sometimes it is just our immediate family and other times it is relatives, neighbors or friends. We usually pick up a kid or two at a soccer or baseball game and my motto is always, "the more the merrier."
Pasta has always been my first choice for a Sunday dinner because it is easy to cook and can be made in so many different ways. It is pure comfort food that brings back fond memories of my family.
Fettuccine with Bolognese sauce is one of our favorites. I like to make a big batch of the sauce as it is a good meal to keep in the freezer. After coming home from one of my kids games, pasta gets boiled and the sauce gets heated up. Bread is sliced, a salad is tossed and dinner is ready. This Sunday dinner favorite also works as a great week night meal too.

Here are some Sunday dinner tips to keep stress at a minimum:
Pasta is always a great choice as sauces can be made in advance and heated up when ready to eat. It is also a great choice to feed a big family or crowd.
Stews, chili and pot roasts are other great meals that can be made ahead of time.
Toss a quick salad as a side dish. Use bagged salads to make things even easier. A quick drizzle of oil and vinegar on your salad is great for a dressing.
If having guests, don't be afraid to have them bring a side dish or dessert. Guests are usually willing and feel good about doing this.
Crackers, cheese and jarred tapenades are easy to set out if you need to nibble on something before dinner.
Have everyone help out. Even small hands can help set the table or toss a salad.
Sliced fruit is always a healthy dessert choice. It can be drizzled with honey and set in a bowl for a delicious fruit salad.
Now it's time to get dinner started and make this simple Bolognese sauce. The first thing I do is brown some lean ground beef. I love using my KitchenAid® Professional Cast Iron 6-Quart Casserole to make this Sunday dinner.

Next the other ingredients are added to make a thick flavorful sauce. Instead of chopping up a bunch of vegetables, I use vegetable paste to make things easy but still give the dish lots of flavor. The pot gets covered and simmers on low while the pasta is cooking. Fresh herbs are added at the end of cooking.

After the pasta is cooked, the sauce is served on top of the fettuccine. It can also be tossed together before serving if desired. Don't forget to serve some cheese on the side.

This comforting meal only needs a salad and bread to complete it. While it is an easy dinner to make, sauce can be a little messy on the dishes. Thanks to my KitchenAid® Architect® Series II Dishwasher, the sauce is not the boss. I just load the KitchenAid® Architect® Series II Dishwasher, put it on the heavy duty cycle and relax with a glass of wine. Clean up is as easy as making this simple meal.

Sunday dinners are a great way for a family to relax and bond together. I make mine as easy as possible and know that any extra work is worth it. The memories of my Sunday afternoon meals will last forever.
Fettuccine Bolognese
Makes 6 servings
INGREDIENTS
1 tablespoon olive oil
1 1/4 pound ground beef
3 cloves minced garlic
1 teaspoon onion powder
28 ounce can crushed tomatoes
2 tablespoons vegetable paste (can be found in tubes right next to the tomato paste)
3/4 cup red wine
2 tablespoons fresh chopped parsley
2 tablespoons fresh chopped basil
Salt and pepper to taste
16 ounces fettuccine pasta
Grated parmesan cheese for serving
DIRECTIONS
In the KitchenAid® Professional Cast Iron 6-Quart Casserole, heat olive oil to medium heat and brown the ground beef. Cook until no longer pink. Drain any extra grease.
Add garlic, onion powder, crushed tomatoes, vegetable paste and wine to the pot. Stir well. Cover the casserole and simmer on low for 30 minutes while stirring occasionally. Add parsley and basil in the last five minutes of cooking. Season with salt and pepper to taste.
While the Bolognese sauce is simmering, cook the fettuccine in a large pot of salted boiling water according to package directions. Drain when done and keep warm.
Serve the sauce over the pasta or toss together if desired. Serve with grated cheese.
Print
*The Contributor of this post has been compensated by KitchenAid for this post, but this post represents the Contributor's own opinion.*