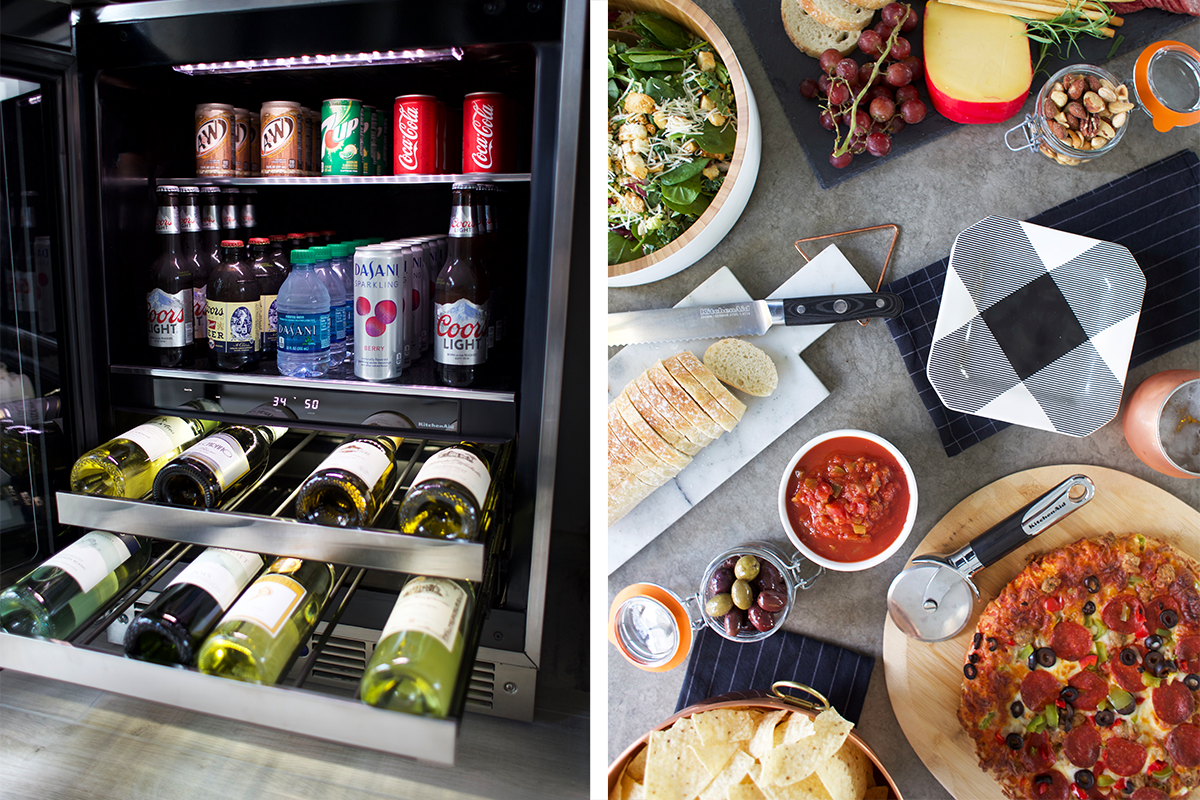 The Big Game is almost here, folks. Who will you be rooting for? Or should I ask, which commercials are you most excited to see? Even though our team isn't in the Big Game this year, we will still be watching. Football is big in our household. My husband and I both love the game. It's still a bit early to tell if our kiddos will love it too, but I'm guessing they will at least watch it since it will be on most Saturdays and Sundays.
If you're throwing a Game Day party this year, I've got a few entertaining tips for you.
1. A beverage center is a fan's best Game Day companion.
To start, a KitchenAid® Beverage Center is a fan's best Game Day companion. Guests can grab whatever drinks they want whenever they want, just like they do at home. Having a stocked Beverage Center will make your entertaining life much easier for the Big Game. One of the best features of our Beverage Center is the two temperature zones, which allow us to perfectly store our soft drinks, beer, and both red and white wine. You won't have to worry about big ice buckets making a mess either!
2. Arrange beverages neatly for the extra point.
Our Beverage Center has shelves for smaller drinks or hors d'oeuvres and can hold up to 14 bottles of wine, which brings me to my second tip. Even though guests will be getting their hands in there in no time, it pays to stock the Beverage Center neatly. Guests will be impressed when drinks are arranged symmetrically and labels are all facing outward, allowing them to spot what they want right away.
3. Set up a bar right above your Beverage Center for timeouts.
To make things really convenient for you and your guests during timeouts, set up a bar right above the Beverage Center. Guests will be able to pour alcohol in their glasses and grab their mixers in one stop.
Don't forget to break out your cool bottle openers. Pro tip: make use of the cabinet space above and store serving glasses there.
4. Finger foods are an automatic first down.
It almost goes without saying, but finger foods are always a good idea. Fans don't want to be fumbling with silverware and plates during the Big Game.
Snacks like chips and salsa are easy to eat while sitting on the couch screaming at the TV.
5. An antipasto board is a guaranteed win.
I highly recommend serving an antipasto board. It's so easy to put together, and guests will love it. Pick your favorite cheeses, meats, breads, nuts, and fruits and arrange them on a board. Garnish the board with fresh rosemary or leaves. It's beautiful and so tasty. If you serve honey or jams with your antipasto board, I recommend serving them in dishes.
Nuts can be served right on the board or in jars.
Bread slices can get stale easily, so I suggest keeping the loaf handy for you or your guests to slice periodically.
6. You won't get a penalty for including some healthier fare.
Since Game Day is usually all about finger foods and bar-type food, it can be easy to forget some healthier fare. However, since many fans might still be trying to stick to their New Years resolutions, it's important to serve something like a salad or fruits and vegetables to accommodate all diets.
7. Have fun!
My final tip is to have fun! Entertaining, especially on Game Day Sunday is super casual. So don't stress about the small stuff, and have a good time!
What other entertaining tips do you have for a Game Day party?
Share your take on a Game Day spread on Instagram using #MadeWithKitchenAid for a chance to be featured.
*The Contributor of this post has been compensated by KitchenAid for this post, but this post represents the Contributor's own opinion.*