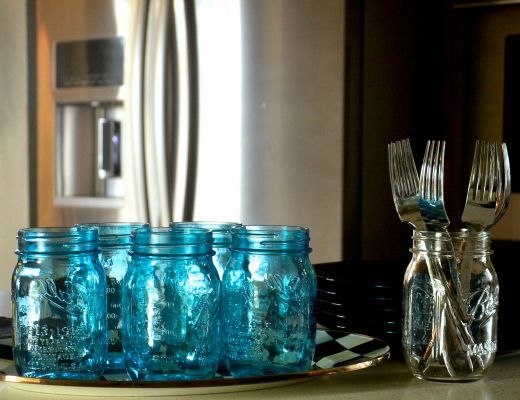 In our home, the kitchen is a place to welcome guests, to offer refreshment, pull up a stool, and to start intentional entertaining moments with drinks and small bites.
The kitchen is where we let our guards down, join together with friends and family—mingle, catch up, and get the party started!
My grandmother, and then mother, used to invite family and friends over years ago, so I grew up in a warm and generous atmosphere, where people and food mattered.
Recently we installed a KitchenAid® Platinum Interior French Door Refrigerator, and today I'm going to share with you how spectacular it is.
First of all, welcome to my kitchen.
The kitchen really is the heart of the home, where we usually sit and enjoy appetizers and drinks around the center island.
Our new KitchenAid® Platinum Interior French Door Refrigerator, designed to keep food fresh longer, has a bottom freezer (3 drawers) with an ethylene absorption cartridge that keeps food fresh up to twenty five percent longer than average!
I love the new feature of fresh water filtered and served right from the fridge. It's so nice to have, not only for entertaining, but for day-to-day cooking with cooling blanched vegetables, boiled eggs, or just a cold drink of water!
The exterior is gorgeous, and the LED lights glow and are so helpful, with a screen above the water dispenser. It tells you the amount of water you are dispensing (1/2 cup, 1 cup, etc:). It also is stainless steel and very sleek looking (exceeding minimum Federal Energy Standards by 25%).
Inside – take a peek. Some of my favorite foods are lined up in this beautiful space, for easy entertaining.
We've been so impressed with the Preserva® Food Care System, which keeps food fresher than fresh!
Also, two deep crisper drawers have an ethylene-absorption cartridge, and we've noticed an amazing difference in keeping the produce fresh longer. I've loved how this keeps lettuce and veggies crisp longer.
The platinum interior has LED lighting and metallic accents throughout the refrigerator and freezer, and are found on the shelves, crispers, bins, and freezer baskets.
By the way, the lighting is so much better than we've ever experienced in a fridge. I can actually see what's wayyyyy in the back!
The bottom drawer, otherwise known as the Electronic Temperature-Controlled Pantry, also optimizes freshness for specialized items by providing precise settings for meats, deli items, party platters, and wine. Since we serve lots of appetizers, I couldn't be happier!
The three drawers in the freezer are very good, as you can actually find things in this unit. It allows you to organize frozen items on three levels, making them easier to access, and includes a storage divider in the lower basket to help keep smaller items organized. I have my baking items in one place, one drawer with garden produce (vacuumed and sealed), one with meats, one with larger items. The 3-tier drawers make it so easy to slide in and out and actually see what's in the freezer! It's the best freezer I've ever had, as far as keeping it organized and ready for company!
I'm fortunate to have a beautiful platform to showcase my fridge, that I recently stocked. Now, I do want to say, it's not always this organized. I am not a perfect entertainer, but I am much more inspired to keep this refrigerator pretty and tidy, just like you would a new car.
If you're in the process of buying a new fridge, the KitchenAid® Platinum Interior French Door Refrigerator model has so much going for it. I suggest you check it out, first making a list of your needs, then comparing. My guess is that this beautiful appliance will have everything you are looking for! For our family, this new fridge has made cooking more efficient and enjoyable, so entertaining is a breeze.
When guests jump up to help, and feel at home in my kitchen, that is all I need to know, that they are relaxed and having a good time, and feel quite welcome and at home.
*The Contributor of this post has been compensated by KitchenAid for this post and was provided with the appliance mentioned above free of charge, but this post represents the Contributor's own opinion.*