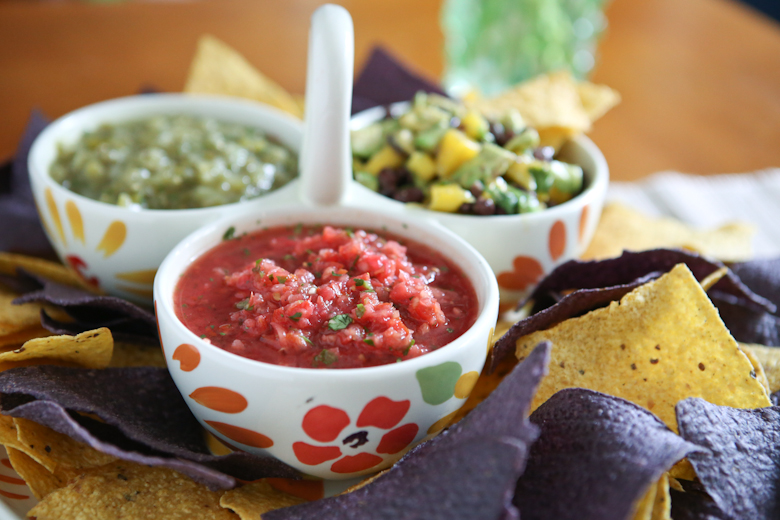 It's probably because I live in the Sunshine State, but I am always ready for warm weather entertaining. Spring and summer make the best seasons for entertaining, in my opinion, because there are so many amazing seasonal fruits and vegetables available for cooking and eating. Going to the produce store or farmers' market this time of year makes me feel like a kid in a candy store. I have always been inspired by what I find when I'm out and about in the markets and it's even better when you can share it with others.
Whenever I'm hosting a get together, or asked to bring something as a guest to a potluck, I tend to lean towards something simple, yet flavorful, like a fresh salsa bar. Fresh salsa is incredibly easy to make at home, and when using seasonal ingredients like tomatoes and jalapeños, the flavor is out of this world. With a little prep work, a fresh salsa bar takes a short time to put together and makes a popular centerpiece on your table to greet your guests. It really is the perfect no-fuss appetizer. People always seem to gravitate towards and linger around the chips and salsa, so treat them to something a little extra special this way.
Set up a margarita making beverage station close by and you are set.
To make fresh, homemade salsa for your next gathering all you need are a few key ingredients: tomatoes, onions, jalapeños, cilantro, and limes (as well as cumin, salt and pepper).
Place your ingredients into the large bowl of your food processor. I use the KitchenAid® 14-Cup Food Processor and it holds plenty as you can see.
Give your salsa a whirl by hitting the Pulse button 15-20 times until you reach the desired consistency you are looking for. I pulsed my salsa 17 or 18 times and it turned out exactly how I wanted it – not too chunky but not too thin.
Find a festive set of bowls to serve your salsa paired up with other homemade salsas or guacamole. One of my very favorite entertaining dishes is a colorful 3 bowl caddy with matching platter. I like to offer a sampling of three very different fresh salsas or guacamole. It makes for an eye-catching presentation that is centered around the food. Since this recipe makes 4 cups, it goes a long way so you don't have to worry about running out, just replenish your bowl as you go. Make sure to pick up quality tortilla chips (I love to use a variety like blue and yellow corn) that are sturdy enough for dipping.
Of course, don't forget the margaritas! Round out your salsa spread by serving up a pitcher of margaritas set out with extra sliced lime and a salt plate for rimming the glasses. Don't be surprised if your chips and salsa spread becomes a popular place to hang out!
Fresh Tomato Salsa
Makes 4 cups
INGREDIENTS
1 1/2 pounds fresh, ripe tomatoes, cut into large pieces
1 small onion, cut into large pieces
1 or 2 jalapeños, seeded and cut in large pieces (1 or 2 jalapeños depends on your desired heat level)
2 limes
1 tablespoon olive oil
1 handful (1 cup) fresh cilantro
1/2 teaspoon ground cumin
Coarse salt and fresh ground pepper, to taste
DIRECTIONS
Before adding the tomatoes to the food processor, gently squeeze out juices (this will avoid salsa becoming to watery). Cut the onions into large pieces.
Add the tomatoes to the KitchenAid® 14-Cup Food Processor along with onion, jalapeño, juice of two limes, olive oil and fresh cilantro. Season the batch of tomatoes, onions and jalapeños with cumin, a big pinch of salt and pepper.
Process salsa by hitting the Pulse button of the KitchenAid® Food Processor 15-20 times, until it is at the consistency you are looking for. Taste for salt and pepper and adjust if necessary.
Serve immediately or store in an airtight container for up to 3 days for best flavor.

Print
For more Food Processor recipes, click here for our eRecipe book.
*The Contributor of this post has been compensated by KitchenAid for this post, but this post represents the Contributor's own opinion.*