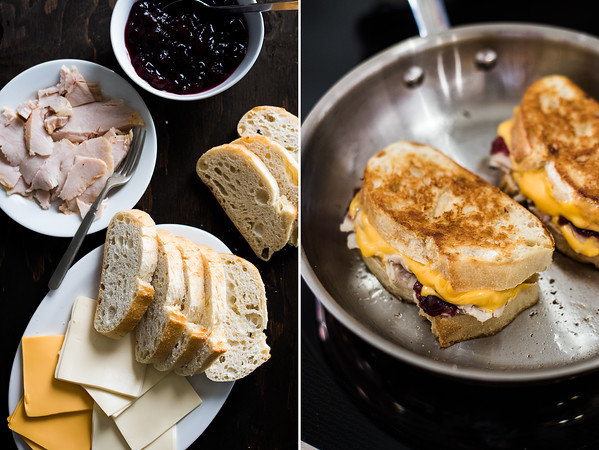 The time of year has arrived that's busy and delicious for everyone. With the big Thanksgiving feast out of the way, we all have to start thinking about what to do with all these leftovers. For us, it's super easy to devour these leftovers because we get to enjoy them again and again!
We absolutely love Thanksgiving leftovers and actually cook an extra big Thanksgiving dinner just so we have can have a ton of them. So before and at the end of the Black Friday frenzy, we dive into the fridge for delicious comfort and love coming up with different and creative ways to devour our favorite dishes and fixings.
Best of all, we want an easy clean up, especially after a big cooking day, and our KitchenAid® Induction Cooktop is super easy to clean and cooks up multiple dishes at once. One of the best parts about cooking on the Induction Cooktop is that not only does it heat up our gorgeous KitchenAid® Tri-Ply Copper Cookware extremely quickly, it takes minutes to wipe down and clean. Hooray for a quick and easy clean up!
The Induction Cooktop always helps us achieve our favorite way of eating a fried egg: with crisp edges and a runny yolk. This mashed potato bowl has everything everyone loves about Thanksgiving.
With the perfect fried egg on top, it becomes a great starter breakfast or a stellar brunch for when you've been out shopping the day away on Black Friday. A fried egg always makes everything better!
After your hectic Black Friday, come home to an awesome and satisfying turkey and cranberry grilled cheese sandwich. It's one of our go-to leftover meals that never fails to please. Everyone loves a good grilled cheese, but when it's stuffed with turkey and sweet and tangy cranberry sauce, it's like a dream leftover meal. Each bite reminds us of why we love this season so much, and it's super quick to assemble.
There's magic that happens on the crust of the grilled cheese when cooked on the Induction Cooktop. The heat is evenly distributed and helps the sandwich cook slowly and perfectly to get that gorgeous, consistent and caramelized crust.
So treat yourself to fantastic yet easy meals in a snap, and let's keep eating Thanksgiving food for as long as we can. Happy Holidays!
Share your take on these Thanksgiving leftover dishes on Instagram using #MadeWithKitchenAid for a chance to be featured.
Leftover Thanksgiving Breakfast Bowl
Makes 2-4 servings
INGREDIENTS
2-4 large eggs
Butter
Leftover mashed potatoes
Leftover Brussels sprouts or other Thanksgiving trimmings
Leftover gravy
Salt and pepper, to taste
DIRECTIONS
Heat butter on medium high heat in a skillet from the KitchenAid® Tri-Ply Copper Cookware on the Induction Cooktop. Crack the eggs in a skillet and fry until the edges are crispy and the egg whites are cooked.
Assemble the breakfast bowl: Add mashed potatoes, Brussels sprouts or your choice of Thanksgiving trimmings. Lay fried egg over top and then drizzle with gravy. Season with salt and pepper to taste.

Print
Leftover Turkey & Cranberry Grilled Cheese
Makes 2-4 servings
INGREDIENTS
Slices of French bread
Butter
Leftover turkey slices
Leftover cranberry sauce
Slices of American, Swiss, Cheddar or another good melting cheese
DIRECTIONS
Assemble the sandwich: lay slices of cheese, slices of turkey and about 1 tablespoon of cranberry sauce in between the slices of bread. Butter the outside layers of the bread.
Heata skillet from the KitchenAid® Tri-Ply Copper Cookware on the Induction Cooktop on medium-low and lay sandwiches on skillet. Cover the pan with a lid and slowly cook the sandwiches until the cheese is beginning to melt and the bottom bread is a crispy, golden brown. Carefully flip the sandwich.
Cover the pan again and cook until the bread is golden and the cheese is melted. Serve warm.
Print
*The Contributor of this post has been compensated by KitchenAid for this post, but this post represents the Contributor's own opinion.*