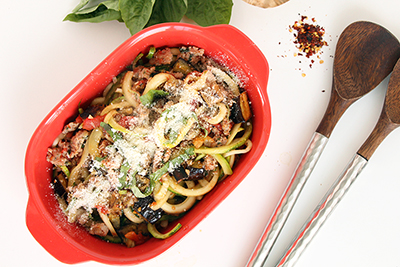 When you're cooking vegetable noodles for a pasta dish, the KitchenAid® Aluminum Nonstick Skillets are the best option. Using a nonstick skillet is crucial when handling delicate spiralized vegetables, such as zucchini noodles. Since we're not trying to sear the vegetable, only lightly cook it, a nonstick skillet keeps the noodles from sticking to the bottom of the pan and breaking.
Nonstick skillets also enable you to cook zucchini noodles with just cooking spray or a small amount of olive oil. The noodles, if tossed frequently, will not stick to the bottom, thanks to the matte aluminum coating. Thus, this method lowers the fat and calorie count of your final dish. Less than a tablespoon of olive oil is all you need to sauté your favorite spiralized vegetable, when using a KitchenAid® Aluminum Nonstick Skillet.
With the KitchenAid® Aluminum Nonstick Skillet Twin Pack (including a 10" and a 12" skillet), you'll have enough room to toss around those zucchini noodles, achieving a perfect al dente texture. Typically, a 10" skillet can accommodate one sizeable zucchini and a 12" skillet can fit two medium-sized spiralized zucchinis, as the vegetable wilts as it cooks. With just cooking spray, pasta tongs and the KitchenAid® Nonstick 10" Skillet, you can have a big bowl of low-calorie, low-carb pasta in under five minutes.
This recipe uses the KitchenAid® 12" Skillet to make a spicy eggplant and sausage zucchini pasta, perfect for 2 or 3 people. The spiciness comes from the hot variety of sausage and the crushed red pepper flakes. If you can't handle the heat, swap sweet Italian sausage in for the spicy kind and lower the red pepper flakes to just a pinch, a bit less than a quarter teaspoon.
While the eggplant roasts to perfection in the oven, tossed simply with olive oil, salt and pepper, the sausage, garlic, tomatoes and basil simmer to create an aromatic, warm sauce that pairs wonderfully with zucchini noodles.
The zucchini noodles are added into the sauce along with the eggplant and simply tossed around for a few minutes to heat up and cook through. While the zucchini cooks, it also absorbs the flavors of the eggplant and sauce.
The "cherry on top" to this recipe is the Pecorino Romano cheese, which has a sharp, salty taste that adds another dimension of delectability. Remember, since we're eating zucchini instead of regular pasta, it's okay to splurge with a couple tablespoons of cheese!
This dish comes together effortlessly, on account of the ease of a KitchenAid® Nonstick Skillet. Don't cook spiralized zucchini without one!
Spicy Eggplant and Sausage Zucchini Pasta
Makes 2-3 servings
INGREDIENTS
1 tablespoon extra virgin olive oil
1/2 teaspoon crushed red pepper flakes
2 large cloves of garlic, minced
1/2 pound spicy Italian sausage, casings removed
1 14-ounce can whole peeled tomatoes, drained
1 large basil chiffonades
2 medium zucchinis
2 tablespoons Pecorino Romano cheese, to garnish
For the eggplant
1.5 cups diced eggplant (3/4" pieces)
1 tablespoon extra virgin olive oil
Salt and pepper, to taste
DIRECTIONS
Heat oven to 475 degrees. Place the eggplant in a bowl and drizzle in the olive oil. Toss the cubes to combine and season with salt and pepper. Transfer the eggplant to a baking sheet and bake, turning occasionally, until soft and browned, about 25 minutes. When done, set aside.
While the eggplant is roasting, slice your zucchinis halfway lengthwise, careful not to pierce farther than the center. Spiralize the zucchinis, using Blade B. Spread out the zucchini noodles in a large serving bowl. Set aside.
In a KitchenAid® Aluminum Nonstick Skillet 12" Skillet, heat the oil over medium heat. Once oil heats, add the red pepper flakes and garlic, cooking for 30 seconds or until garlic is fragrant.
Then, add in the sausage and cook, breaking up the sausage into small pieces with a spatula or wooden spoon, until browned, about 10 minutes.
Then, add in the tomatoes (crushing with your hands) and half of the basil. Season with salt and cook until mainly reduced, about 10 minutes.
Once reduced, add the zucchini noodles to the skillet and toss to combine. Cook for 2-3 minutes, tossing occasionally, or until zucchini is cooked to al dente.
Then, add in the cooked eggplant, remaining basil and toss to combine.
Transfer to the large serving bowl and garnish with Pecorino Romano cheese. Serve immediately.
Print
*The Contributor of this post has been compensated by KitchenAid for this post, but this post represents the Contributor's own opinion.*