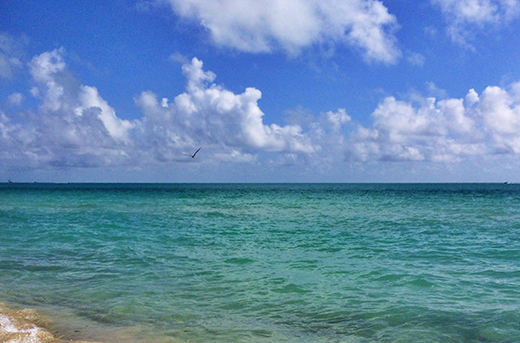 Where do I even begin? A few weeks ago I headed across the country and found myself smack dab in the middle of Miami. Having never been to Miami before, I was excited to explore the city and attend the South Beach Wine and Food Festival with KitchenAid!
The SOBE Wine and Food Festival is epic to say the least… but let's talk about where you can eat when you're not at the festival. In my opinion it's really all about brunch/lunch, dinner and cocktails!
Best places to brunch in Miami
Yardbird – their Bloody Mary has bacon. Is there really anything else that needs to be said! Load up some southern hospitality before you hit the beach at Yardbird!
Cecconi's – It's a personal favorite here in Los Angeles, so it's obvious that I'd make an appearance in Miami as well! This place is too good to be true and has epic people watching and décor. I'd recommend anything here with avocado! Because it's my obsession and it should be yours too!
Pub Belly Sushi – who says sushi for lunch isn't acceptable? It's one of my latest obsessions and Pub Belly does a brilliant job! Whatever you do, make sure to order the Rock Shrimp Tempura! So good.
Dinner time!
The Dutch – situated on the bottom floor of the super posh W hotel, the Dutch is a fun twist on traditional classics that will make your heart melt. Make sure to request a table outside too – such a gorgeous view! And whatever you do, make sure to order the Panzanella salad. It's delish!
Joe's Stone Crab – It's a Miami institution and you absolutely have to go! The quality of food and service is seriously amazing and the Stone Crab will have you in a tizzy! When we went, we didn't even look at a menu – the server guided us through everything and it was spectacular!
Pub Belly – this Asian inspired Gastro Pub is the brother to Pub Belly Sushi and it's equally as epic. I'd recommend going to one for lunch and then another for dinner. Then you're really getting the full experience in 1 day!  Their menu changes all the time, but fingers crossed you can order the Udon Carbonara!!!!
Lure Fish Bar – it's one of the best fish restaurants in town and the vibe is pretty awesome! Josh Capon really hits the mark on this one! Two words…. Lobster Roll!!
A round of cocktails before you hit the town.
Delano – one of my favorite spots of the weekend. Make your way to the back patio and grab a caiprahina or two! And don't be shocked when some dancers come out and put on a little show in the pool!
The Broken Shaker – hands down one of my favorite outside venues ever! I want to build my backyard to look like the Broken Shaker and complete it with a little outdoor kitchen. It's a great scene and the cocktails are even better. Plus, who doesn't love a little ping pong action during cocktail hour! Let your bartender guide you through their cocktail offerings and design something that fits your cocktail personality to a T!
Social Club at the Surfcomber – having stayed at the Surfcomber for my weekend in SOBE, I visited the Social Club multiple times!! The cocktails are great, the vibe is fun and the décor is seriously not to be missed. I'm partial to the Romina's Revenge. It's like a jazzy version of a Pisco Sour!
*The Contributor of this post was provided with an all-expenses-paid trip to the South Beach Wine and Food Festival by KitchenAid, but this post represents the Contributor's own opinion.*