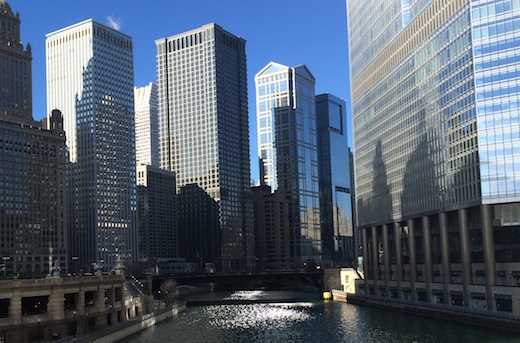 I feel like Chicago is often overlooked when it comes to food meccas. But here's the deal; they have some epic restaurants with food and cocktails that will make you want to buy a few dozen winter coats and move into a high-rise along Michigan Ave. (Well, at least that's how I felt after leaving IACP a few weeks ago!)
I never really wake up in time for a legitimate breakfast, so let's start with brunch! Brunch is the new thing, and I'm determined to find a way to become a professional bruncher. I'll let you know how that turns out.
Best places to brunch in Chicago
• Little Goat. Not to be missed! It's the first meal I had upon getting into the city and it won't be one I easily forget. The pancakes, waffles, quesadillas and chopped salads are all delicious. Go with a group and share a boatload of items, because I promise you'll want to try everything.
• Eataly. What's not to love about Eataly? Go early and grab a coffee and a Nutella crepe at the Nutella bar and then hang out for a gorgeous pizza upstairs in the pizzeria! I'm a fan of grazing throughout the entire building for a progressive brunch – but you could really go any time of the day and have a wonderful time.
Dinner time!
• Union Sushi. Sushi rolls coated in black rice? I think so! Grab a reservation and get prepared to have a killer sushi menu. I went with a group of 14 and we ordered basically the entire menu. The octopus is NOT to be missed!
• Publican. Another great dinner option for a group. Publican feels like an old fashion dining hall with truly wonderful appetizers and entrée options. The oysters and octopus were out of this world. I'm not quite sure why, but everyone in Chicago is into Octopus! Just another reason why I need to move there STAT.
• Hub51. One word. Nachos. The nachos are Hub51 are not to be missed. They are LOADED with everything you could possibly want plus they have the perfect cheese to chip ratio (which is really important when it comes to Nachos!) It's also a great place to go with friends and meet new people because the bar area is packed from happy hour until closing!
A round of cocktails before you hit the town.
• Aviary. Imagine a restaurant that is pretty much dictated by cocktails. After you walk into this gorgeous property, tell your server what you're preference is when it comes to cocktails and let them lead you in the right direction. I had something special made with Pisco and it came out in a giant tiki cup with a straw the size of my left arm. I was pumped!
• CH Distillery + Cocktail Bar. Vodka, Gin, Rum and Whiskey – all bases for epic cocktails that are going to come from the cocktail bar at CH Distillery + Cocktail Bar. I'd vote to go for your bartenders choice and let them help you pick your poison!
*The Contributor of this post has been compensated by KitchenAid for this post, but this post represents the Contributor's own opinion.*