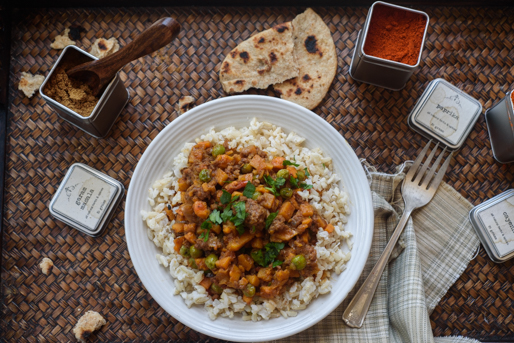 Spices are one of our favorite ways to inexpensively make an average dinner really turn into something great. Of course if you love spices inevitably you may find that you have so many spices that you end up with a nightmare of a spice cupboard. After months of being extremely frustrated with not being able to find the exact spice I needed and spices falling out of the cabinet I knew it had to be fixed.
After looking through hundreds of spice racks I knew I was going to have to DIY what I wanted. But after looking at lots of building plans I determined that building a little grid pattern like what I wanted was going to be more woodworking than I was ready to tackle in my post-holiday slump.
Instead while I was browsing our local antique shops I stumbled upon a beautiful old Pepsi crate! I knew it would work perfectly and after rummaging around a bit I was able to find two in the same shop!
Let's get started. For this project I used:
2 vintage soda bottle crates with 24 spaces each (find these at antique shops or on Etsy)
48 small metal tins (I got mine here)
1 container of Mod Podge
Paintbrush
Printer paper
Labels (make your own or download mine here)
Strong coffee
4 (75-pound rating) drywall hangers
All in all this spice rack cost me about $110 total for a perfect custom 48 spice rack. Totally worth not being frustrated on a multiple times a day basis.
I knew that I wanted an apothecary feel to the whole rack and that I wanted tin containers so that my spices wouldn't be damaged by sunlight. It took quite literally days of searching the web to find just the right tins but I finally bit the bullet and ordered these and they were perfect! I was a little concerned that they would feel too small but I love them.
After considering using peel and stick labels I ultimately decided to use mod podge to adhere the labels to the tins. This makes them water and stain proof but they are still removable so that if you decide you hate a spice you can print a new label for the tin.
I designed these adorable labels on my computer and settled on a coffee stained look for the paper. I used regular printer paper and to stain the paper I simply poured warm coffee over the paper and let it soak for about 20 seconds.
I let the coffee drip off and moved the papers to a bath towel. Once I got all the sheets dipped I used a hair dryer to quickly dry the paper.
I wanted some coffee stains to show and not just the even tan color so after it was dry I used a paint brush to flick and drip coffee randomly over each label to give it a very rustic feel. I dried the papers with the hair dryer again. Then I very carefully cut out each label.
Next it was time to adhere them. I had never used Mod Podge but it turns out it's super easy! I had read that making your own Mod Podge was a bad idea since the real stuff is actually thicker than glue and the DIY versions have you watering down regular glue which doesn't make much sense at all. My local fabric store was able to get me a container without a problem.
I brushed it on thinly with an old paint brush I had around and then stuck the label on. Once it is in place, I used a cardboard coaster to push all the air bubbles out and squeeze out the excess glue. I used a damp paper towel to wipe up the excess.
After you get the labels on they need to dry for at least 30 minutes (I left them to dry overnight for extra safety). Then you just put an additional 1-2 coats of Mod Podge right over the top of the label and let them dry.
To secure the racks to the wall I started out by marking my measurements on the wall and using some finish nails to test out the placement. Once I was happy with that I drilled into the wall and used 75 pound drywall anchors. Easy!
I am so in love with how this project turned out! My spices were in perfect order so I could whip up this awesome Sweet Potato & Ground Beef Curry for dinner. I love that this dish stretches ground beef so well and that it is mild enough for the kids too.
It does take a fair bit of chopping of ingredients though so I love to turn to my KitchenAid® Pro Line® Series 16-Cup Food Processor for speeding up my prep work.
It has this amazing dicing kit that comes with it and it's truly (and I'm not exaggerating) life changing.
It takes literally less than 5 seconds to chop multiple pieces of produce into picture perfect little dices. And I am beyond impressed that it can do this to a super soft item like a tomato.
Let's get started:
Dice up 3-4 tomatoes and add in 2 onions (peeled and quartered).
And 2 sweet potatoes (peeled and cut in half).
After extensive testing I have determined that it works really well to microwave your sweet potatoes for 2-3 minutes before you dice them so that they are softened just a smidge. You can do them raw but they occasionally would clog the slicer.
But even with the microwaving the time savings is crazy! Chopping a sweet potato this tiny is so time consuming (this is also perfect for making amazing sweet potato hash for breakfast!).
You conquered the hard work! From this point this dish is practically brainless cooking! Which is super important in this household.
Cook this mixture down for about 10 minutes with a bit of olive oil and then brown 1/4 pound of ground beef in the center of the pan. Add a can or two of coconut milk, minced garlic and spices and let simmer for as few as five minutes if you are rushed. But if everyone stalls I love that this dish can sit on the stovetop on super low for an hour easily without breaking down. Five minutes before serving add 1/2 a package of frozen peas and serve it over rice.
I hope this inspires you to get your spices organized so whipping up well-seasoned dishes can happen easier and more often in your home
Ground Beef Sweet Potato Curry
INGREDIENTS
2 sweet potatoes, peeled and cut in half
2 onions, peeled and quartered
4 tomatoes
1/4 pound ground beef
1-2 (13.5 ounce) cans full fat unsweetened coconut milk**
3 tablespoons minced garlic
4 teaspoons garam masala
1 1/2 teaspoons coriander
2 teaspoons paprika
1/2 teaspoon cayenne (to taste)
1 1/4 teaspoons salt
Pepper to taste
1 cup frozen peas
DIRECTIONS
Dice sweet potatoes, onion and tomatoes by hand or using the KitchenAid® Pro Line® Series 16-Cup Food Processor with Commercial-Style Dicing.
Add several tablespoons of olive oil to large saute pan and add diced vegetables. Cook on high stirring several times to prevent burning for 10 minutes until vegetables are starting to soften.
Add ground beef and garlic to center of pan and cook until browned, about 5 minutes.
Add coconut milk and spices and cook on medium heat for 5 minutes. Taste and season further if desired. Can be held on lowest setting on stove until serving time (up to 1 hour).
Five minutes before serving add frozen peas. Serve with rice and naan (or roti).
**Coconut milk comes in varying qualities. A good can should have solidified coconut cream at the top of the can and liquid at bottom of can. If it is fully combined when you open it, the dish will generally turn out less creamy than intended. Thai Kitchen is my favorite brand of coconut milk with great coconut cream content.
Print
For more Food Processor recipes, click here for our eRecipe book.
*The Contributor of this post has been compensated by KitchenAid for this post, but this post represents the Contributor's own opinion.*