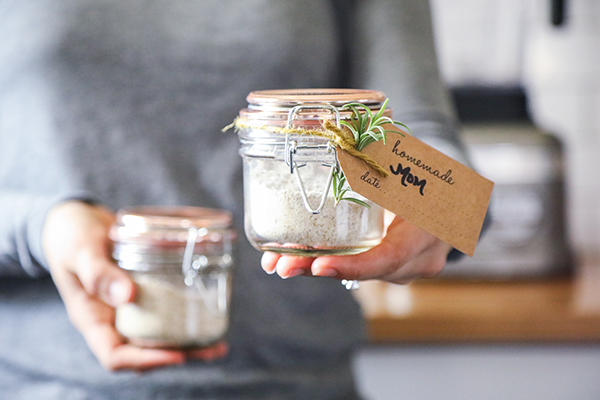 A few years ago, we started making holiday gifts together as a family. The kids loved being able to work on special presents for their teachers, family, and friends. And the recipients loved the handmade gifts.
Over the years, we've made homemade cookies, hot chocolate kits, vanilla extract, lip balms and body butters, and face masks and scrubs. Our family and friends started dropping hints in the early fall about the special gifts they would like to receive, "I loved that body scrub you gave me last year. I'm almost out, too."
With the holiday season in full swing, it's time for us to start thinking about making homemade gifts again. Now, I know the idea of making a few gifts "from scratch" may sound a bit daunting and time-consuming. But making incredible gifts at home can be simple and enjoyable, especially when you have kitchen tools and helpers to make the entire process easier.
One of our favorite gifts to make, which is always a huge hit with recipients because it's such a unique gift, is a dual-purpose body-care product: a face mask/scrub.
The scrub is made with simple kitchen ingredients: oats, almonds, and chamomile flowers (just use the contents from a chamomile tea bag). These ingredients provide a soothing and exfoliating touch to a homemade face mask/scrub.
To create the face mask/scrub, pulse the oats, almonds, and chamomile flowers in the KitchenAid® Pro Line® Series Blender. The high-speed Blender takes the oats from simply food ingredients to the perfect powder for a soothing mask/scrub. After pulsing the ingredients into a fine powder, add clay to the mixture for detoxifying and cleansing benefits. We package the dry powder mixture in special tins, add a usage note, and then wait for the perfect moment to share our homemade gift.
The entire face mask/scrub-making process takes less than five minutes. I think you'll love making this simple and unique gift as much as we do!
Share your take on this DIY Face Mask & Scrub on Instagram using #MadeWithKitchenAid for a chance to be featured.
DIY Face Mask & Scrub
Makes 1 cup
INGREDIENTS
1/2 cup old-fashioned rolled oats
1/4 cup raw unsalted almonds
2 tablespoons dried chamomile flowers*
1/4 cup kaolin clay or bentonite clay**
*Chamomile flowers may be purchased in bulk from online shops or some grocery stores. Alternatively, cut open two 100% pure chamomile tea bags, and use the contents (chamomile flowers). Lavender flowers may be used instead of the chamomile flowers.
**Kaolin clay is a very common clay used in cosmetic and body-care products. It's considered a versatile cosmetic clay that is suitable for all skin types. Bentonite clay (very detoxifying) may be used too. Clays may be purchased from online shops or natural food stores.
DIRECTIONS
Place the almonds in the KtichenAid® Pro Line® Series Blender. Blend the almonds on speed 3 for 10 seconds, until they are finely chopped.
Add the oats and chamomile flowers, and blend for another 10-15 seconds, increasing the speed if needed, until the ingredients resemble a coarse flour-like texture.
Empty the powder into a clean jar, and stir in the clay.
If you're packaging the powder into individual jars for gifts (I use 4-ounce jars), write the following instructions on the gift tags:
To make a face mask, combine 2 teaspoons of the powder with 2 teaspoons of coconut milk, water, yogurt or aloe vera gel. Apply the mask to the face, and leave it on for 5-10 minutes before rinsing it off with warm water.
To make a scrub, combine 1 teaspoon of the powder with 1 teaspoon of canned coconut milk, water, yogurt or aloe vera gel. Massage your face with the scrub in circular motions, and then rinse the scrub off with warm water and a washcloth.
Print
*The Contributor of this post has been compensated by KitchenAid for this post, but this post represents the Contributor's own opinion.*