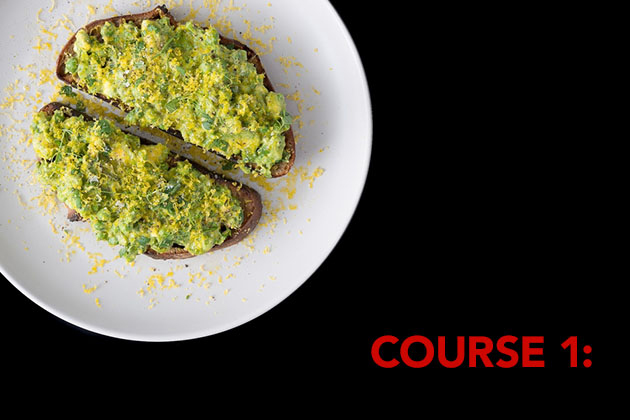 See how Chef Chris Cosentino uses aromatics, blanching and other professional techniques to create layers of depth and flavor in his bruschetta. Then check out the recipe below.
Crushed Avocado and Pea Bruschetta with Mint and Cured Egg Yolk by Chef Chris
Makes 6 servings
INGREDIENTS
For the bruschetta
Six 1" thick slices bâtard or other crusty French bread
1 Meyer lemon
1 1/2 cups shelled English peas
2 large ripe avocados
1/4 cup mint leaves, plus more for garnish, chopped
Extra virgin olive oil
Coarse sea salt and freshly ground black pepper
For the cured egg yolks
2 egg yolks
1 cup kosher salt
2 tablespoons sugar
2 tablespoons lemon zest
2 tablespoons thyme leaves
1 fresh bay leaf, chopped
DIRECTIONS
For the bruschetta
Heat the KitchenAid® Grill and Panini Press. Slather bread with olive oil and season with salt and pepper. Grill the bread until golden, about 2 minutes on each side. Rub the grilled bread on both sides with the outside of the Meyer lemon.
Bring a medium pot of salted water to boil. Add the peas and cook for 1 minute. Drain the peas and quickly transfer to an ice bath.
Cut the avocados in half, remove the pits and scoop the flesh into a bowl. Add the drained peas to the avocado. Using a fork, mash the peas and avocado. Stir in the mint, add a squeeze of Meyer lemon juice, and salt and pepper to taste.
Top the grilled bread slices with the avocado-pea mixture. Drizzle with extra virgin olive oil and sprinkle with chopped mint. Shave cured egg yolks (recipe below) over the top before serving.
For the cured egg yolks
Combine salt and sugar in a small bowl. Stir in lemon zest, thyme and bay leaf.
Spread a layer of the salt mixture in a small bowl and create two small indents. Gently place yolks in the indents and scoop some salt mixture over the top of the yolks to cover them. Wrap the bowl in plastic and set in the KitchenAid® Multi-Door Refrigerator to cure for 24 hours. Remove the yolks from the salt and dry at room temperature for 2 days before using.
Print