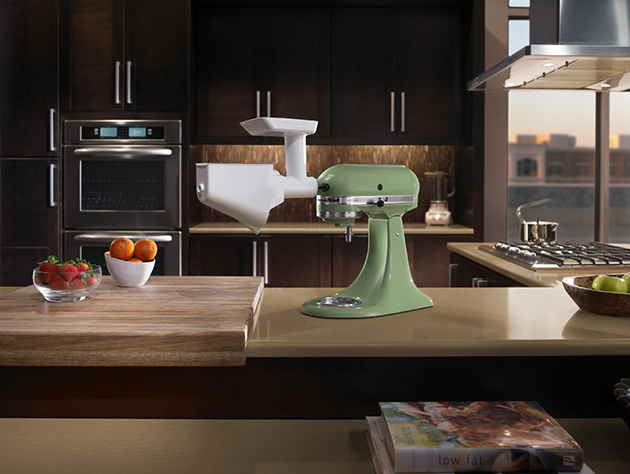 If there was one thing that I was most excited about when I got married – well, besides marrying the man of my dreams of course – it was the possibility of receiving a KitchenAid® Stand Mixer as a gift. Oh the dreams I had of how I'd put that mixer to use! Lucky me, I received it from my husband's grandmother as a wedding shower gift and then not so patiently waited the few months until after the wedding to be able to use it.
There were so many KitchenAid® Stand Mixer colors to choose from. Some bright, some practical. Decisions, decisions. Knowing that we'd likely be moving four years after getting married for my husband's residency, I went with the classic color choice of black. Goes with almost every kind of décor. Three kitchens in three states later, I'm glad to say it was the perfect choice for me.
Currently, in our almost 100 year old home that went through a recent renovation prior to us moving in, it couldn't have been a more perfect choice. A neutral color scheme dark cabinets, granite surfaces and currently beige wall let my KitchenAid® Stand Mixer take up valuable real estate but also allows it to blend in with it's surroundings as well.
Have a different color scheme design in mind for your kitchen? Your KitchenAid® Stand Mixer works for you in any situation.
How about making your KitchenAid® Stand Mixer the star of your kitchen design? A white design palate paired with a colorful mixer is a winning combination. Here, Robin of Me and My Pink Mixer does just that in her own kitchen. A clean and crisp white kitchen showcases her pale pink mixer as the only colored object in the room.
The jewel in her kitchen's crown!  Just think of the possibilities with the endless range of KitchenAid® Stand Mixer colors available.
How about applying color theme when it comes to your kitchen design? Using a complimentary color scheme between the colors of your KitchenAid® Stand Mixer and your space can be so pleasing to the eye. Complimentary  colors are those that stand opposite of one another on the color wheel. For example, if your kitchen is colored in shades of blue, an orange mixer would be the complimentary color choice and one that would not only be an extra pop of color in the space but look great as well. The same can be said for red and green or purple and yellow combinations.
What color of mixer did you choose and how does it work with your kitchen design? We'd love to hear the thoughts behind your decision!
*The Contributor of this post has been compensated by KitchenAid for this post, but this post represents the Contributor's own opinion.*