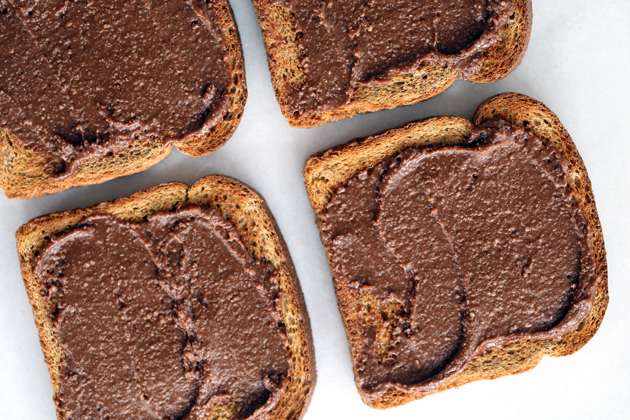 In my kitchen, I'm always looking for ways to make healthy, homemade versions of some our favorite products that we purchase at the grocery store. Not only is it usually more cost effective, but then I can customize the ingredients to my family's taste and health preferences. One food product that we all love is chocolate hazelnut spread. You know the one – it's likely one of your favorites, too!
Although it's so easy to simply grab the jar off the pantry shelf and slather a spoonful or two – or three! – onto a piece of toast, the store bought version has a lot of added sugar. I've always wanted to try making it on my own and finally got around to it. My version only contains three ingredients and it doesn't have any added sugar or sweeteners!
Making my Dark Chocolate Hazelnut Spread is as easy as grabbing your KitchenAid® 14-Cup Food Processor as it does all the work for you. This Food Processor is a definite game changer in our house and gets put through its paces on an almost daily basis. I love that it has both a a 14-cup and 4-cup work bowl that I can swap out depending on what I'm making. Also, the dicing kit will quickly become your new friend as it cuts prep time in half! (I used the dicing kit in my Halloween Candy Apple Crisp if you want to learn more about it.)
For this recipe, start by simply adding 1 1/2 cups of skinned hazelnuts to the 4-cup work bowl of the Food Processor with the mini multipurpose blade attached.
Process the hazelnuts on high speed for approximately one minute or until they reach an almost paste-like consistency. This is where you get creative control of the recipe! If you like your spread ultra-smooth, process for additional time. If you like to see small pieces of hazelnut in your spread, similar to a crunchy peanut butter, don't process quite so long.
You'll then add a can of sweetened condensed milk and a cup of melted dark chocolate to the Food Processor and process until well combined. The mixture will be quite thick, so quick pulses are the key to combine the spread easily.
I chose to use dark chocolate chips because I didn't want the spread to be quite so sweet. Dark chocolate is considered the healthier alternative to milk and white chocolates, and it's also my favorite! If you'd like your spread to be a bit sweeter, you could always add a bit of honey, agave or sugar.
Of course, after I made my Dark Chocolate Hazelnut Spread, it was time to enjoy it! It's delicious when used as a dip for fruit, such as apples, but at our house, it's most often enjoyed on toast. For the longest time, I've had a toaster oven on our counter but when I discovered the KitchenAid® Pro Line® Series 4-Slice Automatic Toaster, it quickly became the toaster of choice and the toaster oven was relegated to storage. This 4-Slice Automatic Toaster is not only perfect for our family of six because of its ability to toast four pieces of bread at once, but I'm also head over heels for its Keep Warm function!
I don't know how many times I've been making breakfast for everyone and the toast would be ready but then quickly get cold because I was in the middle of pouring someone milk or passing out vitamins. Not any more! Now, once our toast is ready, if I don't snag it from the toaster within 30 seconds, it's pulled back into the warm recesses of the toaster for up to three minutes to keep warm.  That means my Dark Chocolate Hazelnut Spread always goes on easily. I love it!
Not only is this Dark Chocolate Hazelnut Spread absolutely delicious, but it also makes a fantastic gift when presented in a pretty, airtight glass jar.
Be sure to share your take on this Dark Chocolate Hazelnut Spread recipe with us on Instagram using #MadeWithKitchenAid for a chance to be featured.
Dark Chocolate Hazelnut Spread
INGREDIENTS
1 cup dark chocolate chips
1 1/2 cups hazelnuts, skinned
1 (14-ounce) can sweetened condensed milk
DIRECTIONS
In a microwave safe bowl, add dark chocolate chips. Heat in microwave on HIGH for 20 seconds and then stir. Continue heating and stirring until fully melted, approximately 1 minute. Let cool 10 minutes.
In the 4-cup work bowl of a KitchenAid® 14-Cup Food Processor fitted with the mini multipurpose blade, add skinned hazelnuts and process on high for 1 minute or until a thick paste forms.
Add cooled, melted chocolate and sweetened condensed milk to Food Processor and pulse until just combined.
Use spread immediately or store in an airtight container.

Print
*The Contributor of this post has been compensated by KitchenAid for this post, but this post represents the Contributor's own opinion.*