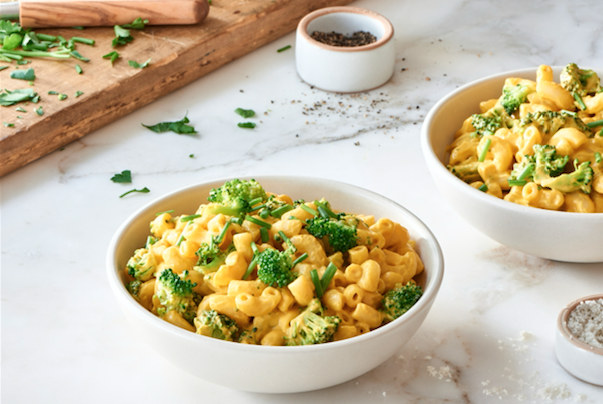 Dairy-Free Mac N Cheeze
Makes 4 servings
INGREDIENTS
16 ounces gluten-free or wheat elbow macaroni
2 tablespoons extra-virgin olive oil, plus a splash for boiling water
1 cup diced yellow onion
2 cloves garlic, minced
3/4 cup vegetable broth
2 tablespoons fresh lemon juice
1 cup raw unsalted cashews
1 cup steamed carrots
1/2 cup nutritional yeast
1 1/2 teaspoons sea salt, plus more to taste
1 teaspoon dijon mustard
1/8 teaspoon freshly ground black pepper, plus more to taste
Pinch of smoked paprika, plus more to taste
2 cups steamed broccoli, chopped into small pieces
DIRECTIONS
Bring a large pot of water to a boil with a splash of olive oil and pinch of salt. Cook the pasta according to the instructions on the package until al dente and drain thoroughly.
Transfer the pasta back to the pot, and stir in 1 tablespoon of olive oil. Set aside.
Heat 1 tablespoon olive oil in a small skillet over medium heat and sauté the onions and garlic for about 5 minutes, until soft and translucent. Allow to cool slightly.
Place the broth, onion mixture, lemon juice, cashews, carrots, nutritional yeast, salt, mustard, pepper, and smoked paprika into the blender jar of the KitchenAid® Pro Line® Series Blender. Secure lid and blend on speed 8 for 40-60 seconds until smooth and creamy. Add more salt, pepper, and paprika to taste.
Pour the sauce onto the pasta, add the steamed broccoli, and gently stir to combine. On low heat, warm gently. Transfer to a shallow baking dish and serve family style, or portion out into bowls. Season to taste.