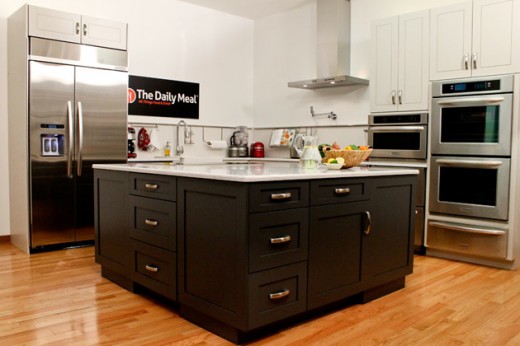 The Daily's Meal's brand new fully-equipped, state-of-the-art Test Kitchen in Manhattan
One of the world's largest food websites just stepped up their culinary game, thanks in part to KitchenAid.
A few weeks ago, The Daily Meal—Spanfeller Media Group's innovative food and drink site covering all things epicurean—unveiled its sleek, new state-of-the-art Test Kitchen, located within the company's midtown Manhattan offices. Providing a cutting-edge studio space for The Daily Meal's rapidly growing video network, the contemporary cooking annex will host continual demonstrations with The Daily Meal's editorial team, as well as cookbook authors, award-winning chefs, sommeliers and other renowned culinarians.
"The Test Kitchen really represents the next chapter for The Daily Meal," says editorial director, Colman Andrews. "The new space not only fosters in-house recipe development, but literally sets the stage for interviews with culinary stars, demonstrations with renowned chefs, and spotlights for new product launches. It opens countless doors for educating our community, and that is what we are most excited for."
Meticulously designed by James Beard Award winner and leading kitchen designer, Deborah Krasner, and built by Alante Construction Corp., the modernized space is outfitted with a full suite of KitchenAid® major and small appliances, including a stainless steel Built-In Side-by-Side Refrigerator, Double Wall Oven, 36-Inch Induction Cooktop, Artisan® Stand Mixer, and more. Additional enhancements to the Test Kitchen were provided by Silestone Countertops, Hafele American Co. hardware, and Plain & Fancy cabinetry.
"Our consumers love to cook, and they're always hungry for more inspiration, new challenges and useful content," notes Beth Robinson, senior manager of brand experience for KitchenAid. "Partnering with The Daily Meal is a great way for KitchenAid to help feed and nurture that passion."
To kick off the Test Kitchen in style, The Daily Meal hosted an exclusive event featuring celebrity chef David Burke, who utilized the fully-equipped kitchen to prepare a succession of tasty passed hors d'oeuvres and delicious dishes. Guests enjoyed delectable bites including tuna sashimi with uni on Himalayan salt, angry lobster, PB&J bacon-wrapped dates, scallop- and quail egg-topped potato cakes, and citrus lobster skewers. The feast did not stop at savory, as David Burke Kitchen's pastry chef Zac Young and team created whimsical confections of sweet glazed strawberry and pineapple tarts, silky chocolate mousse push pops, and pillowy sugared donuts with warm salted caramel sauce.
Celebrity chef David Burke cooked up quite a feast during the Test Kitchen launch party
Recreate one of the night's standout dishes in your own kitchen with this signature recipe from chef Burke:
Whole Grilled Angry Lobster
by chef David Burke
INGREDIENTS
1 – 2 lb lobster
2 cups Wondra flour
1/4 cup chili powder
2 tablespoons cayenne sea salt
1/4 cup canola oil
1 1/2 tablespoons fresh garlic, minced
1 tablespoon red pepper flakes
1/2 cup fresh basil leaves
1/4 cup chili oil (see note below)
2 tablespoons sun-dried tomatoes, julienned
1 tablespoon lemon zest, julienned, simmer in simple syrup, and drained
2 tablespoons unsalted butter
Fresh basil leaves, deep fried (for garnish)
4 (approx 1 lemon per person) lemons, cut into eighths
DIRECTIONS
Split lobster in half, remove brain sac from bodies.
Heat grill to medium-high heat. Place lobster on grill and close the lid. Grill for five minutes, flip and then grill for another five minutes.
Mix Wondra flour, chili powder, cayenne, and salt on a plate; dredge lobster in flour mixture, shaking off excess; reserve.
Heat oil in large skillet set over medium-high heat; add lobster, cut side down; cook until it begins to color; flip; place in oven; cook 7-8 minutes; remove both from oven; place lobster on a platter; reserve (keep warm).
Set skillet used to cook lobsters over medium heat; add garlic, red pepper flakes, basil, and chili oil; cook 2 minutes; add sun-dried tomatoes and lemon zest; cook 1 minute; add stock; bring to a boil; reduce heat to low; simmer 5 minutes.
Add butter; swirl skillet until butter is incorporated; remove from heat; stir in lemon juice; reserve (keep warm). Serve.
Scale-up: Can be scaled up in direct proportion.
Chef's Note: For the seaweed, use the rockweed (Ascophyllum nodosum) that surrounds shipped lobsters. To make chili oil, gently heat 2 cups canola oil, 2 tablespoons. red pepper flakes, and 2 tablespoons, paprika; remove from heat; let infuse at least 4 hours; strain. Find more delicious recipes from chef Burke at DavidBurke.com.
Print
Happily stuffed attendees left the launch party with a taste of how the Test Kitchen will enhance The Daily Meal moving forward. And if the caliber of food (and fun!) produced during the event was any indication of what's to come, then fans of the website are in for a real treat.
Guests enjoyed chunk lobster skewers presented in a grilled pineapple, and potato cakes topped with scallops, chorizo and quail egg
Hungry for dynamic content and video demos from the Test Kitchen? Stay up-to-date by following The Daily Meal on Twitter and Facebook.
And to create your very own "test kitchen" at home, get inspired by the full line of KitchenAid® appliances here.
*The Contributor of this post has been compensated by KitchenAid for this post, but this post represents the Contributor's own opinion.*