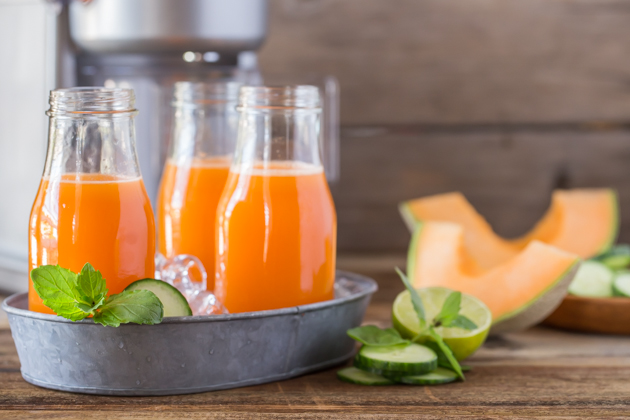 These are the days! Summer is definitely upon us, calling us to play outside, soak up the sunshine, and enjoy the bounty of summer produce. One way to take advantage of all the fruits and vegetables that are so readily available in the summer season is to juice them. Not only is this a great way to get your daily dose of vitamins and minerals, but it's also really fun to experiment with different combinations of flavors. I like to try balancing sweet fruits with tart citrus and fresh tasting vegetables, greens, and herbs.
How about this Cucumber Melon Refresher, with hints of lime and mint for starters? With the KitchenAid® Maximum Extraction Juicer, you could be savoring this sweet concoction and enjoying a good portion of your daily fruit and vegetable servings with very little time or effort. I love the energy boost I get when I let my juicer whip up something healthy for me!
Juicing takes very little time and planning because you can always come up with something delicious just by shopping in your own fridge. I had a few cantaloupe melons that were ripe and ready to be used, and then I looked in the vegetable bin to see what would complement their sweet, musky flavor. Cucumbers and mint are so refreshing, while carrots add a nice boost of color, Vitamin A and Beta Carotene.
I cleaned and prepped my ingredients, and turned on the KitchenAid® Maximum Extraction Juicer. This Juicer has a wide chute and slices fruits and vegetables before extracting the juice, which makes my job easy. It's so fun to watch it do its thing – even my three little boys came running to the kitchen to check it out and get in line for a taste!
The leftover pulp from the juiced fruits and vegetables can be reserved for other recipes like vegetable fritters or quick breads, and also for composting.
When it's time to clean up, the juicer parts are easily removed, and can be washed in the top rack of my KitchenAid® Dishwasher with Dynamic Wash Arms. After remodeling our kitchen a few years ago with all new KitchenAid® appliances, we added this new dishwasher to our collection just recently. One of the features I love is the Bottle Wash feature on the top rack, specially designed to clean taller items with small openings. How genius is that? I also love how quietly it runs.
So make the most of summer and all it has to offer. Start your day with a glass of freshly extracted juice from the best fruits and vegetables of the season, and then get out and enjoy the sunshine!
Cucumber Melon Refresher
Makes 3 1-cup servings
INGREDIENTS
1 cantaloupe melon, peeled, seeded, and sliced
1 English cucumber, peeled
1 cup baby carrots
2 small limes, peeled
4 mint leaves
DIRECTIONS
Turn on the KitchenAid® Maximum Extraction Juicer. Add the cantaloupe, cucumber, limes, carrots and mint into the chute, waiting for the hopper to clear in between each addition.
When all of the ingredients have passed through the juicer, switch the juicer from the "ON" to "REVERSE" setting to make sure all the juice has pressed through the strainer basket.
Pour the juice into glasses and enjoy immediately.

Print
*The Contributor of this post has been compensated by KitchenAid for this post, but this post represents the Contributor's own opinion.*