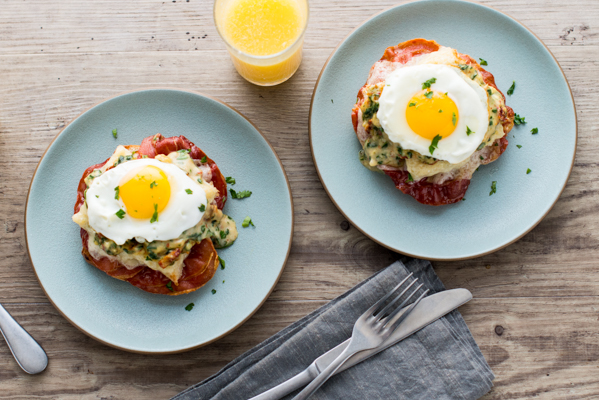 I've never been to France but it is a destination on my bucket list. I can't wait to see the sights and experience the museums but my main reason to go will be for the food. I dream of eating buttery pastries, savory tarts, hearty Cassoulet and creamy fondues. But the first thing I'd order is a Croque Madame. It might be a few years until my dream comes true. So for now I can make a Croque Madame in my own kitchen. A Croque Madame is a classic ham and cheese sandwich covered in béchamel sauce and topped with a fried or poached egg.
There is nothing low calorie about this decadent sandwich but you will enjoy every bite of it. I have made different versions of this sandwich but my favorite one uses prosciutto. The béchamel sauce is enriched with spinach and sun dried tomatoes. The prosciutto is cooked to a crisp and the sandwich is made on focaccia bread. If focaccia bread is not available, ciabatta or another Italian roll can be substituted. There are several steps in this recipe and the first thing I do is get the prosciutto crispy. Prosciutto is a thin sliced Italian ham. It is salty and melts in your mouth. I lightly fry it in olive oil to get it crispy.
Next I make the béchamel sauce. This creamy rich sauce is so good you might want to make extra for a batch of lasagna or to add on top of your vegetables.
I love cooking with my KitchenAid® Tri-Ply Copper 10-Piece Set. The 10″ Skillet is perfect to saute the prosciutto while the 1.5-Quart Saucepan with Lid is the perfect size to make a small batch of sauce. The three layer design makes for even heat and easy cooking. After the prosciutto and béchamel sauce are ready, it's time to assemble the sandwiches and start broiling the inside of them. I use KitchenAid® Professional-Grade Nonstick Sheet Pans to broil the sandwiches. If I am doing two at a time I use the quarter sheet, and if I'm doing four at a time I use the half sheet.
The KitchenAid® Double Oven Range with Even-Heat™ Convection makes cooking simple. A broiler is located in both the upper and lower oven. It's easy to set and heats up quickly. Nothing complicated here. For the best broiling experience, here are some broiling tips: Line your baking pans with parchment paper. There will be no mess to clean up. Just throw the paper away. Preheat the broiler before cooking. Things will move very quickly this way once the food is in the oven. You can eat in no time. Make sure to watch closely while you are broiling at high heat. No one wants burnt food. Adjust your oven rack so the food is about 4 to 6 inches from the heat. Always use fire retardant oven mitts when checking your food. My decadent sandwiches go in the oven covered in béchamel sauce and come out looking perfectly golden brown.
I fry up a few eggs right before the sandwiches are done. I love having a griddle right on the top of my KitchenAid® Double Oven Range with Even-Heat™ Convection. It is really convenient and the perfect size to cook just a few eggs at a time.
The eggs get placed right on top of the sandwich. Almost everything tastes better with a fried egg on top. These are the type of sandwiches, you could eat for breakfast, lunch or dinner. If I close my eyes and take a bite, I can almost imagine that I am in France.
Croque Madame with Crispy Prosciutto, Sun Dried Tomatoes and Spinach
Makes 4 sandwiches
INGREDIENTS
For the crispy prosciutto
2 tablespoons olive oil 4 to 6 ounces thinly sliced prosciutto
For the béchamel sauce
2 tablespoons unsalted butter 2 tablespoons all-purpose flour 1 1/4 cups whole milk, plus an extra tablespoon or two if needed 1 cup baby spinach, finely chopped 1/4 cup sun dried tomatoes, chopped 1 teaspoon dried basil
For the sandwiches
4 focaccia rolls (4 to 5 inches each)* 10 to 12 ounces sliced Havarti cheese (16 to 20 slices)
For the fried eggs
4 eggs Salt and pepper to taste 1 tablespoon finely chopped parsley for garnish
DIRECTIONS
Position an oven rack in the upper part of the oven and preheat the broiler to 450 degrees.
For the crispy prosciutto
In a KitchenAid® Tri-Ply Copper 10″ Skillet, heat the olive oil on medium high heat. Add the thin slices of prosciutto to the pan and cook for a few minutes on each side until crispy. Drain on a plate lined with paper towels. Repeat with all the prosciutto.
For the béchamel sauce
Melt 2 tablespoons of the butter in a KitchenAid® Tri-Ply Copper 1.5-Quart Saucepan over medium heat. When the butter is melted, add the flour and stir for 1 to 2 minutes. Slowly whisk in the milk, and bring to a simmer. Reduce heat to low. Add the spinach, sun dried tomatoes and basil. Cook for 3 to 4 minutes, stirring constantly until the sauce thickens. Remove the sauce from the heat and set aside until ready to use. If the sauce thickens too much, another tablespoon or two of milk can be added.
For the sandwiches
Line a KitchenAid® Nonstick Sheet Pan with parchment paper. Place the rolls on the sheet and under the broiler for about 3 minutes or until lightly toasted. Remove from the oven and slice the rolls in half. Place the bottom halves of the rolls on the baking sheet. Lay the prosciutto and cheese on each roll, reserve 4 slices of cheese. Broil the sandwiches for 2 minutes, or just until the cheese has melted. Top with remaining roll haves and cheese on top. Spoon the béchamel sauce on top of the cheese. Broil the sandwiches for about 3 to 4 minutes or until sauce starts to bubble and brown.
For the fried eggs
While the sandwiches are broiling, melt 1 tablespoon of butter on medium heat on a nonstick flat grill or pan. Once the butter starts to sizzle, crack the eggs into the pan. Cook for 4 to 5 minutes or until the whites are set. The eggs can be flipped over if you prefer more cooked eggs. Garnish the egg with chopped parsley. Pull the sandwiches out of the oven and carefully put one on each plate. Top with a fried egg. Season with the salt and pepper to taste.**
Notes
*Focaccia rolls can be found at most grocery stores, but ciabatta rolls or 4 to 5 inch pieces of focaccia bread can be substituted. **Be careful about the amount of salt you use to season with as sun dried tomatoes and prosciutto already contain a good amount of salt.
Print
*The Contributor of this post has been compensated by KitchenAid for this post, but this post represents the Contributor's own opinion.*