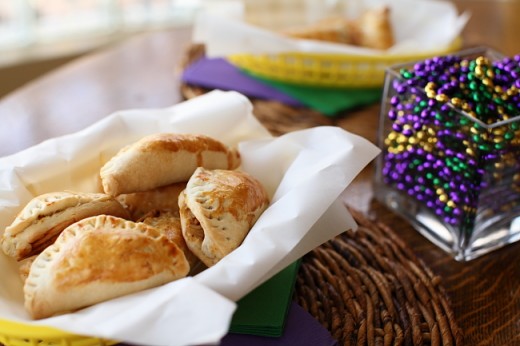 Mardi Gras is one of those holidays that is so fun to celebrate just because. You don't have to live in New Orleans or be vacationing there to laissez les bons temps rouler, right? Of course not! So let's do just that today!
Two rules of thumb that I generally stick to when planning a Mardi Gras fiesta are:  1) Follow the theme of Fat Tuesday and serve in abundance, and 2) Go all out when it comes to decorating – who doesn't love the gorgeous gold, green and purple colors of Mardi Gras? So I approach both the menu and the décor for my Mardi Gras-themed celebrations with abandon. Which is where these empanadas come in!
When I'm serving a large menu I usually give myself permission to take shortcuts; pulling off a generous spread and preserving your sanity necessitates simple quick fixes like using a prepared pie crust for your empanadas.
I also allow myself to use my KitchenAid® Stand Mixer to mix the filling for my empanadas. Why? The filling is flavored with a homemade Creole spice mix, which requires folding a number of individual spices into your rice, beans and sautéed vegetables:  you want to be sure that all of your ingredients are thoroughly blended, and my KitchenAid® Stand Mixer gets the job done in a snap.
These empanadas are snack-sized ones as opposed to meal-sized ones; I used a 3" circular cutter to create rounds that, when stuffed and folded, yield empanadas that are almost the exact same size as Chinese dumplings.
See what I mean? Luscious savory finger food that is simple to prepare, bakes off in no time, and can be polished off in just a bite or two.
Another reason why these empanadas are excellent for entertaining is that they can be served straight from the oven or at room temperature. The Creole rice and bean filling remains extremely flavorful and the egg-washed, baked pastry keeps everything neat and tidy no matter how far in advance you prepare.
And now your Mardi Gras party is off and running! Don't forget the beads for your guests, which they can be invited to throw to the cook if they're pleased with the empanadas. Note to the cook:  expect to be wearing a full set of beads by the end of the night!
Creole Empanadas
Makes 40 snack-size servings
INGREDIENTS
1 tablespoon extra virgin olive oil
1 cup diced carrot
1 cup diced celery
2 teaspoon minced garlic
1-15 ounce can kidney beans, drained and rinsed
4 cups cooked long grain white rice
1 tablespoon paprika
2 teaspoons onion powder
1 teaspoon ground black pepper
1 teaspoon ground white pepper
1 teaspoon salt
1/2 teaspoon ground oregano
2- 2 sheet packages of 9" round pie dough (Note that you'll need 4 pieces of 9" round pie dough total for this recipe.)
1 large egg, lightly beaten
DIRECTIONS
Preheat oven to 425°.
Warm olive oil in a large heavy-bottomed skillet over medium heat. Add carrot and celery and sauté until softened, approximately 12 minutes. Add garlic and sauté for just 3 minutes more. Remove cooked mixture to the bowl of your KitchenAid® Stand Mixer. Add beans, rice, paprika, onion powder, black pepper, white pepper, salt and oregano, and mix on low speed until seasoning is evenly distributed and filling mixture is uniform, approximately 2 minutes. Set aside.
Meanwhile, roll out pastry sheets and, using a 3" cutter, cut out rounds for empanada shells (you can press together, re-roll and cut any pastry scraps that remain in order to get all of the shells you'll need). Top each shell with 1-2 teaspoons of the filling mixture, carefully wrapping and pulling the edges of the pastry around to seal in a half-moon shape, and press the edges together with a fork to lock. Place the formed empanadas on sheet trays lined with parchment paper and finish each with a light brush of beaten egg. Bake for 16-18 minutes or until empanadas are slightly puffed and golden brown. Remove and serve immediately or store in a covered container and serve at room temperature.
Print
*The Contributor of this post has been compensated by KitchenAid for this post, but this post represents the Contributor's own opinion.*