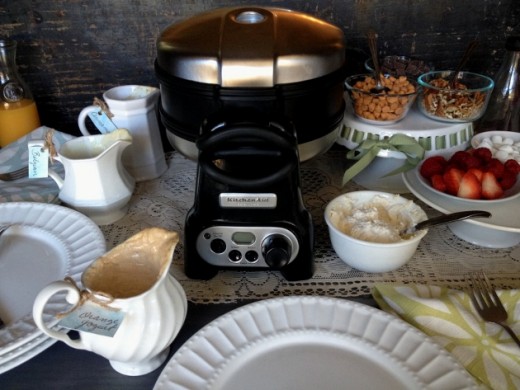 Some of the most memorable times we've had in the kitchen with family and friends have been interactive rather than conventional. We set aside formalities, appreciating instead the simple pleasure that comes from creating a meal with one another. The same is true with our breakfast waffle bar. Rather than a traditional one where you grab your premade waffle and assemble, we prefer to let everyone design his or her dream waffle from start to finish.
You can offer a variety of batter options, which is easy when you make the batter the evening before and refrigerate for the following morning. We have found that three-flavor options are just enough without being too much. When choosing your toppings channel your inner child!
Set your waffle bar up so that the prep and traffic flow move smoothly because with the KitchenAid® Waffle Baker two people can work on their waffles simultaneously.  Now simply preheat your waffle baker and let the fun begin.
The temperature gauge at the top will let you know when the waffle baker is ready to bake.
Select and pour whichever batter you are craving into the wells. After that, the creative possibilities are endless.
Rotate the waffle baker, open the second well and repeat letting the next person start their waffle or build yoursef another clever waffle.
If you or a loved one are a traditionalist, the waffle bar will still provide an entertaining breakfast experience.
A waffle bar allows you to be a kid again, mixing all of your favorite decadent treats be they sweet or savory. It's even better when you get to build your waffle from scratch, relishing the sounds and aroma of waffles baking at your finger tips.
See, creating your own waffle bar is a snap! Never underestimate the thrill and fascination of playing with food. Start your next get together off right by turning breakfast, brunch or even birthdays into a fun memory that will become a tradition all its own.
Orange Yogurt Waffles with Orange Whipped Cream
INGREDIENTS
For the whipped cream
1 cup heavy whipping cream
1/2 cup orange juice
1 1/2 teaspoons grated orange peel
1 teaspoon vanilla
For the waffles
1 cup all purpose flour
3/4 cup whole wheat flour
1 1/2 teaspoon baking powder
1/2 teaspoon baking soda
1/2 teaspoon kosher salt
1/3 cup sugar
1 large egg
1/2 cup buttermilk
1/2 cup orange juice
1/3 cup vanilla yogurt
4 tablespoons butter, melted
DIRECTIONS
For the whipped cream
Boil the orange juice and 2 tablespoons of sugar in a small saucepan until reduced to approx. 1/4 cup, stirring occasionally for about 4 minutes. Mix in the orange peel. Set the syrup aside to cool.
Whisk the cream, vanilla and 3 tablespoons of orange syrup in a KitchenAid® stand mixer on medium speed until soft peaks form.
For the waffles
In a mixing bowl, whisk flour, baking powder, baking soda, salt, and sugar. In another bowl, whisk the egg, buttermilk, orange juice, yogurt, and butter. Stir the wet mixture into the dry ingredients.
Preheat your KitchenAid® Waffle Baker.
Pour approximately one cup of the batter into the preheated KitchenAid® Waffle Baker, close, flip and repeat adding another cup of batter to the bottom well. Set the baker's timer, rotating once more while baking. These waffles will bake in approx. 3 to 4 minutes. Carefully remove the waffles using a fork or rubber spatula. Repeat the process with the remaining batter.
Serve with whipped cream and orange slices, enjoy!
Tip: Make this recipe ahead for quick easy waffles. If need be this recipe can be doubled, stored in refrigerator until the following morning.
Print
*The Contributor of this post was provided with a free waffle baker by KitchenAid for this post, but this post represents the Contributor's own opinion.*