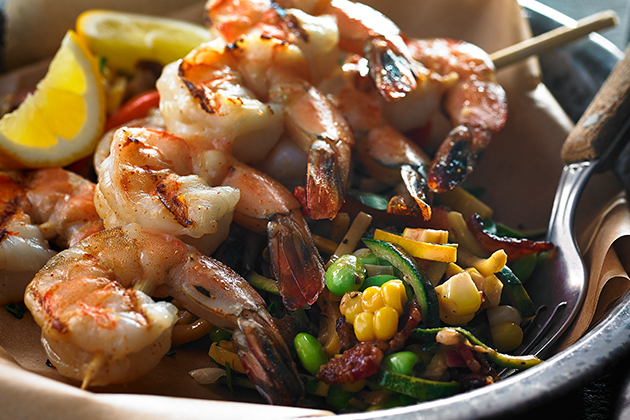 Creamy Zucchini Succotash with Grilled Shrimp Skewers
Makes 4 servings
INGREDIENTS
1 large zucchini (approx. 8" x 2")
1 large summer squash (approx. 8" x 2")
5 strips bacon, cut in 1/4" pieces
1/2 cup finely chopped shallot
1 cup thinly sliced sweet red pepper
1/2 teaspoon minced fresh garlic
1/2 teaspoon kosher salt
1/4 teaspoon pepper
1/2 teaspoon fresh thyme leaves
1/2 cup dry white wine
1 cup fresh or frozen corn, thawed
1 cup shelled fresh or frozen edamame, thawed
1/2 cup heavy cream
1 tablespoon lemon juice, plus more for squeezing
1⁄3 cup chopped flat leaf parsley
2 tablespoons torn basil leaves
Lemon wedges
SHRIMP
1 tablespoon lemon juice
1 teaspoon seasoning salt
1/4 teaspoon pepper
1/2 teaspoon minced fresh garlic
2 tablespoons oil (canola or safflower)
1 pound shrimp (26-30 count) peeled, deveined, tail removed
8 (8-inch) bamboo skewers, soaked in water 30 minutes
DIRECTIONS
Marinate shrimp by combining lemon juice, seasoning salt, pepper, garlic and oil in shallow dish. Thread shrimp onto bamboo skewers and place in dish, turning to coat in mixture. Refrigerate until ready to grill (no longer than 20 minutes.)
Attach Spiralizer Attachment to the KitchenAid® Stand Mixer. Trim ends of zucchini and squash. Center zucchini on fruit and vegetable skewer; attach to Spiralizer. Attach fine spiralizing blade and position at end of zucchini. Turn stand mixer to speed 4 and process until blade reaches end of zucchini. Repeat with summer squash. Cut spiralized vegetables into 4 to 6 inch lengths.
Preheat grill or grill pan to medium-high heat. Rub grill grates or grill pan with oil.
Heat a 12-inch skillet over medium heat. Add bacon, cook until crispy, about 4 minutes. Remove with slotted spoon to paper towel lined plate. Pour off all but 1 tablespoon bacon fat. Add shallots, peppers and garlic to pan, season with salt, pepper and thyme and cook 2 to 3 minutes or until softened. Add wine to pan, scrape up any browned bits. Simmer until reduced by half, 1 to 2 minutes.
Grill shrimp, cooking until opaque all the way through, about 5 minutes. Remove cooked shrimp to plate. Covered with foil to keep warm. Add corn, Edamame and spiralized zucchini and squash to shallot mixture. Cook, stirring over medium-heat for 4 minutes. Add cream and lemon juice. Cook over medium-high heat 2 minutes, stirring constantly, until slightly thickened. Stir in parsley and bacon. Divide between 4 plates, top with shrimp skewers, torn basil and lemon wedges.
Print
*The Contributor of this post has been compensated by KitchenAid for this post, but this post represents the Contributor's own opinion.*