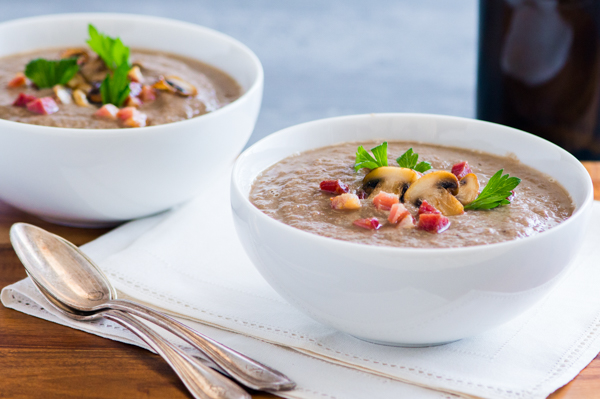 Cooking with beer is a great challenge, one I'm fairly familiar with running a blog centered on the subject. Stouts are a great place to start if you want to take on such a challenge in your own kitchen, the malty notes and low hop profile give them a versatility that reaches from chocolate cakes to braised pork.
This soup is a great example of the power of the stout, the darker beer give a meatiness to mushrooms. Roasting the mushrooms as well brings out a depth of flavor that might be missed otherwise. They come out of the oven with beautifully rich, dark, color that reminds me of the stout they're about to be simmered in.
I like my soups creamy, velvety and thick (feel free to thin this with a bit of broth), and to be honest I wondered if that was possible with a non-commercial blender.
I was immensely thrilled with how beautiful the texture of this soup came out with the KitchenAid® Diamond Blender, so silky and creamy.
Now, I'm not one to get overly enamored by a countertop appliance (who am I kidding? Yes I am!), and this did the trick, it's a powerhouse.
It's also large enough to handle a large pot of soup without breaking a sweat. Blend the soup on the liquify setting for that fantastic creamy, velvety texture.
If you're afraid of a beer flavor that is too high for your liking, use 3/4 cup stout and 3 3/4 cup chicken broth instead of the listed ratios. And don't forget to serve this with a rich tall stout with notes of smoke or spice.
Creamy Mushroom Stout Soup with Crispy Pancetta
INGREDIENTS
16 weight ounces crimini mushrooms, sliced (about 6 cups)
8 weight ounces white button mushrooms, sliced (about 3 cups)
2 tablespoons olive oil
1/2 teaspoon salt
1/2 teaspoon pepper
1 cup diced pancetta (omit for vegan)
1 tablespoons butter (use 3 tablespoons olive oil for vegan)
1 white onion, chopped
2 cloves garlic, minced
1 cup stout
3 1/2 cups chicken broth (use vegetable broth for vegan)
1/4 cup cream (use almond milk for vegan)
1/2 teaspoon salt
1/2 teaspoon black pepper
Pinch cayenne
1/4 teaspoon smoked paprika
1/2 cup chopped scallions (green parts only)
DIRECTIONS
Preheat oven to 425.
In a large pot over medium heat, add the pancetta, cook until dark pink and slightly crispy, about 6 minutes. Remove from pan with a slotted spoon, drain on a stack of paper towels. Add the butter and the onions to the pancetta fat in the pan, reduce heat to medium, and cook until onions have caramelized, stirring occasionally, about 15 to 20 minutes (don't cook on too high heat or the onions will burn before they caramelize).
Place mushrooms on a rimmed baking sheet, toss with olive oil, salt and pepper. Roast for 8 minutes, toss and roast for an additional 8 minutes or until dark brown.
Add the stout to the pot, scraping to deglaze the pan. Add the mushrooms and the chicken broth, simmer for 10 minutes.
Remove from heat. Pour into a KitchenAid® Diamond Blender, run on the liquify setting until smooth and creamy, about 3 minutes.
Pour that soup back into the pot, add the cream, salt, pepper, cayenne and smoked paprika. Bring to a low simmer. Pour into serving bowls, top with pancetta and scallions.

Print
*The Contributor of this post has been compensated by KitchenAid for this post, but this post represents the Contributor's own opinion.*