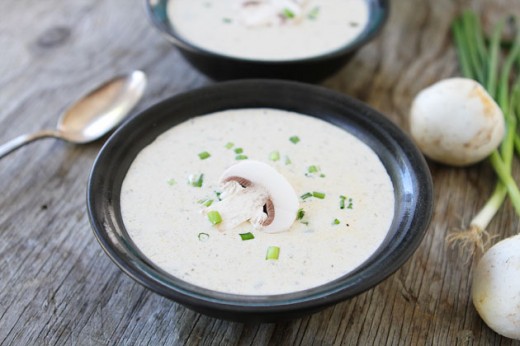 I've always been a vegetable lover and mushrooms have always been one of my favorite vegetables. Not only are they easy to cook with, but they also have a hearty and rich quality that compares to the consistency of meat.
Since the weather has turned cooler, I often find myself craving a hearty and filling bowl of warm soup. Mushroom Soup is a staple in our kitchen when it's cold outside. This soup is simple to make and always hits the spot.
There are very few ingredients involved in this soup and mushrooms are the stars. I like to choose the best quality button mushrooms I can find. I look for mushrooms that are firm and plump, with a tight underside and always avoid mushrooms that show any signs of wrinkles or slimy spots. Before using my mushrooms I also like to take special care to clean them properly without sacrificing their integrity or flavor. Since mushrooms are so porous, if they are exposed to too much water, they will absorb it and can become mushy. Therefore, the best way to clean your mushrooms is to use very little, if any, water. I like to simply wipe them with a damp paper towel. You can also use a mushroom brush to clean them.
Once you have all of your ingredients on hand this recipe is very straightforward and uncomplicated. Part of why it is so easy to make is because of my trusty KitchenAid® Hand Blender. It is the perfect accessory for blending, pureeing, chopping, whisking and crushing with ease. All you need is the right attachment and you are set! KitchenAid offers hand blenders in 2-speed, 3-speed: and 5-speed, in the corded models, and 5-speed in the cordless model which all help provide control for foods like smoothies, soups or even baby food.
The KitchenAid® hand blender is easy to use and has a soft grip handle that offers a non-slip and comfortable grip while blending all of your ingredients. When you're finished using your hand blender the blending arm twists off for a quick and easy cleanup and best of all is dishwasher safe! The hand blender definitely makes blending up my ingredients for this mushroom soup a synch. Often times I like to make a large batch of this soup and when doing so, the long blending arm of the KitchenAid hand blender allows me to reach deep into a larger pot to do the job easily.
The simplicity of this soup is just as attractive as the rich flavors and as soon as you have chopped your mushrooms and sautéed them in your soup pot, you are only a few steps away from enjoying a warm bowl with a nice piece of crusty bread. Toss in the rest of your ingredients, simmer and use your KitchenAid® hand blender and your done! For this recipe, I like to remove half of the soup before blending the remaining half. By adding back in the reserved portion it adds a nice texture to the soup with bits of meaty mushrooms in each bite; and the mushrooms add such a deep and earthy flavor to this soup that there is no need to add many other ingredients to distract from that rich flavor; but the cream and paprika add a nice silky texture with a little pop of heat. This recipe is easy to make and even easier to eat! I hope you will warm up with a bowl on a chilly day.
Creamy Mushroom Soup
INGREDIENTS
1/2 cup butter
1 pound button mushrooms
5 green onions, chopped
3 tablespoons all-purpose flour
1 cup vegetable broth
1 quart half and half
1 tablespoon paprika
Salt and black pepper, to taste
DIRECTIONS
Chop all of your mushrooms into very tiny pieces. Sauté your mushrooms and onions with butter in a soup pot over medium heat until the mushrooms release their water. Turn off the heat and sprinkle the sautéed mushroom mixture with the flour; let sit for a few minutes. Add the vegetable broth, stir, and return to medium heat for about 5 minutes.
Add the half and half and let the soup simmer until all of the ingredients are heated through. Add the paprika to the soup and stir.
With a ladle, remove half of the soup into a large bowl. Using your KitchenAid® hand blender, blend the soup that is left in your soup pot. Once blended, add the reserved soup back into the pot, stir, and let it heat through for about 3 minutes. Season soup with salt and pepper. Ladle soup into bowls and serve warm.
Print
*The Contributor of this post has been compensated by KitchenAid for this post, but this post represents the Contributor's own opinion.*