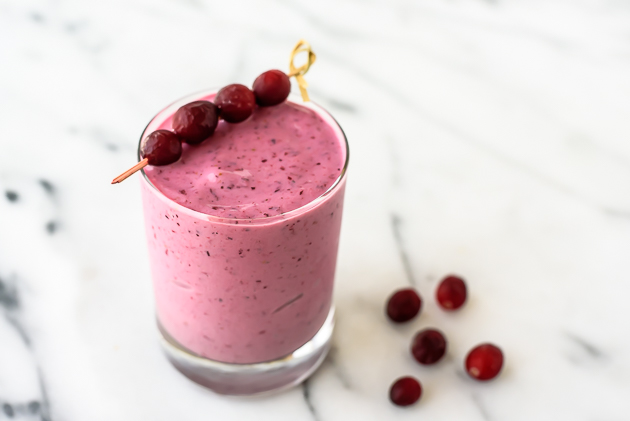 When it comes to kicking off a new year, I am the queen of big dreams and good intentions. Whether it's reading the classics, learning to crochet, or become a zen yoga master, I'm guilty of choosing goals that are both overly ambitious and difficult to measure.
In 2016, I'm changing my approach. Instead of aiming for complete habit overhauls (or forcing myself into hobbies I feel like I should enjoy but don't), I've decided to focus on doing one small thing each day that makes me happier and healthier. Whether it's calling a friend, squeezing in a set of crunches, or reading an interesting news article, so far I've seen that taking a few minutes for these small actions has brought more joy to my day.
This Cranberry Bliss Smoothie is a recent recipe I've added to my routine, and it makes me oh so happy and healthy too! The ingredients are simple, the flavor is sublime, and it keeps me powered all morning long.
For the fruit, I chose vitamin-rich cranberries, along with mixed berries, and a banana to balance their tartness. I prefer to use frozen fruit in my smoothies because it keeps them nice and thick without needing ice, which dilutes their flavor. Vanilla Greek yogurt adds satisfying protein and tastes lovely with the berries. I bumped up the vanilla profile even more with a splash of vanilla extract, then added a touch of almond butter for extra yumminess and to make the smoothie more filling.
Because I enjoy my smoothies on the thicker side, I'm hooked on making them in my KitchenAid® Torrent™ Magnetic Drive Blender. This machine is powerful! No matter what I throw at it—ice, chunky soups, the thickest of smoothies—it blends them like a dream. I also love the easy settings, which are customized according to the type of recipe. From milkshakes to pestos, this baby can handle it all. As an added bonus, it's dishwasher safe too!
To make the Cranberry Bliss Smoothies, simply place all of the ingredients into the Torrent™ Blender and select the smoothie setting. The blender will handle the rest.
Whether you are looking for a wholesome breakfast, healthy afternoon snack, or post workout reward, these creamy, dreamy Cranberry Bliss Smoothies are sure to make you smile.
Be sure to share your take on this Cranberry Bliss Smoothie recipe with us on Instagram using #MadeWithKitchenAid for a chance to be featured.
Cranberry Bliss Smoothie
Makes 1 smoothie
INGREDIENTS
3/4 cup unsweetened vanilla almond milk
1 large banana, cut into slices and frozen
1/2 cup frozen cranberries (not cranberry concentrate)
1/2 cup frozen mixed berries
1, 6-ounce container non-fat vanilla Greek yogurt
1 tablespoon unsalted almond butter
1 teaspoon pure vanilla extract
DIRECTIONS
Place all of the ingredients in the KitchenAid® Torrent™ Magnetic Drive Blender.
Select the Icy Drinks/Smoothie setting, and puree until smooth. Enjoy immediately.

Print
*The Contributor of this post has been compensated by KitchenAid for this post, but this post represents the Contributor's own opinion.*