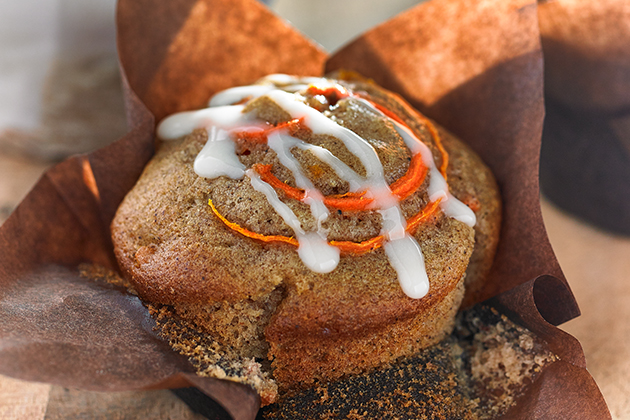 Country Wheat Carrot Cake Muffins with Buttermilk Glaze
Makes 12 servings
INGREDIENTS
For muffins
2-3 large carrots (1 1/2-2 inches diameter), peeled
1 1/2 cups all-purpose flour
1 cup whole wheat flour
2 teaspoons baking powder
1/2 teaspoon baking soda
1 1/2 teaspoons cinnamon
1/4 teaspoon nutmeg
1/2 teaspoon salt
2 eggs, separated
1⁄3 cup oil (safflower or canola)
1 1⁄3 cup low fat buttermilk*
3/4 cup sugar
1 teaspoon vanilla
For buttermilk glaze
1 cup powdered sugar
1/2 teaspoon vanilla
2 tablespoons low fat buttermilk
DIRECTIONS
Preheat oven to 375°F.
Spray 12-cup regular sized muffin pan with non-stick cooking spray or line with cupcake liners.
Attach Spiralizer Attachment to the KitchenAid® Stand Mixer. Trim ends of carrots. Center carrot on fruit and vegetable skewer; attach to Spiralizer. Attach fine spiralizing blade and position at end of carrot. Turn stand mixer to speed 4 and process until blade reaches end of carrot. Cut spiralized carrots in half to form half-circles of carrot, yield about 1 1/2 cups carrot. Remove Spiralizer Attachment.
In a medium bowl, combine all-purpose flour, whole wheat flour, baking powder, baking soda, cinnamon, nutmeg and salt.
Attach bowl and wire whip to Stand Mixer. Add egg whites to bowl and whip on medium-high speed until stiff peaks form, about 1 minute. Remove whipped egg whites to a separate bowl. Add egg yolks, oil, buttermilk, sugar and vanilla to mixer bowl. Replace wire whip with flat beater. Mix on medium speed until combined. On low speed, gradually add dry mixture to wet mixture, mixing until just combined. Mix in carrots using low speed. Fold in half of the whipped egg whites on lowest speed. Fold in the remaining half by hand.
Using prepared muffin pan, fill each cup about 2/3 full. Bake 25 minutes or until an inserted toothpick comes out clean. Remove muffins from pan and cool about 10 minutes. Drizzle with glaze while slightly warm.
For buttermilk glaze, attach clean bowl and flat beater to Stand Mixer. Add sugar, vanilla and buttermilk, mix on low speed for 1 minute or until well combined. Scrape down bowl and finish by beating on medium-high for 30 seconds.

Print
*The Contributor of this post has been compensated by KitchenAid for this post, but this post represents the Contributor's own opinion.*