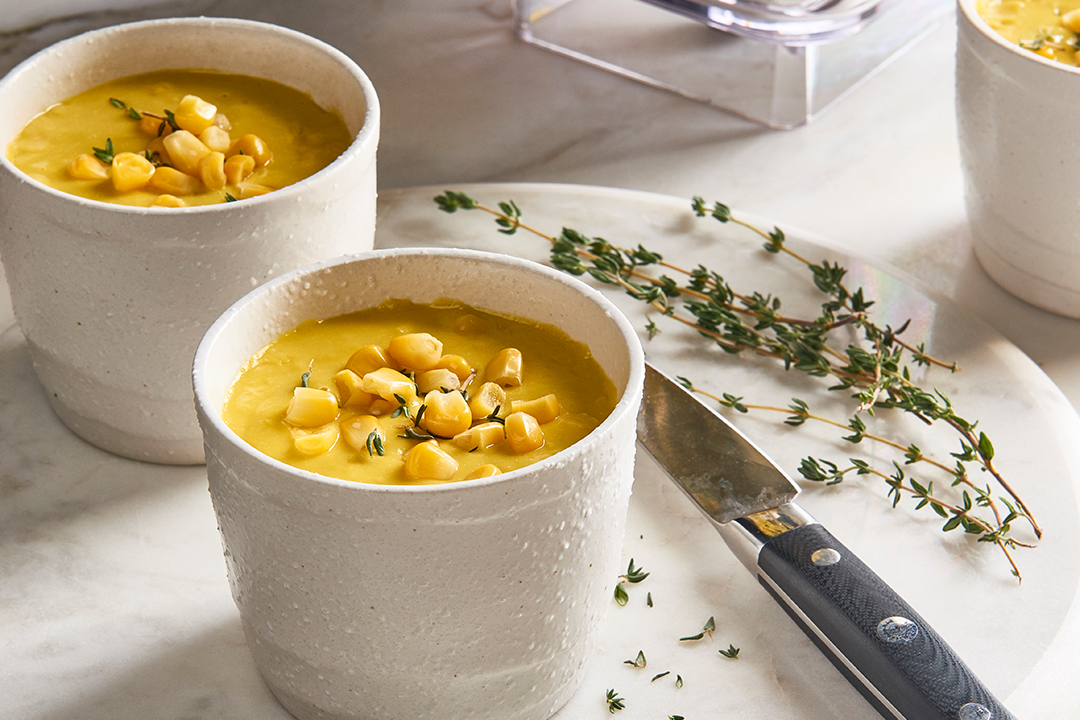 Corn Chowder
Makes 4 servings
INGREDIENTS
6 cups (990g) frozen yellow sweet corn kernels, defrosted
1 1/2 cups vegetable broth
1/3 cup (45g) raw unsalted cashews
1 tablespoon fresh lemon juice
3/4 teaspoon finely chopped fresh thyme (2 sprigs) (optional)
3/4 teaspoon sea salt, plus more to taste
1/2 teaspoon onion powder
1/2 teaspoon garlic powder
1/4 teaspoon ground turmeric (optional)
Pinch of cayenne pepper (optional)
DIRECTIONS
Throw 4 cups of the corn, the broth, cashews, lemon juice, thyme (if using), salt, onion powder, garlic powder, and turmeric and cayenne pepper (if using) into the blender jar of the KitchenAid® Pro Line® Series Blender. Secure the lid, and set the blender to the Adapti-Blend™ Soup program. Blend until the machine turns itself off. Alternatively, blend for about 5 minutes, starting on speed 1 and gradually increasing to speed 10.
Stir in the remaining 2 cups of corn, and leave to sit for a minute so that the hot soup can warm up the corn. Season with salt, to taste. Serve with a tiny sprinkle of cayenne pepper or black pepper.
Soup will come out of the Blender hot.
Print
*The Contributor of this post has been compensated by KitchenAid for this post, but this post represents the Contributor's own opinion.*